FBU - Fletcher Building profile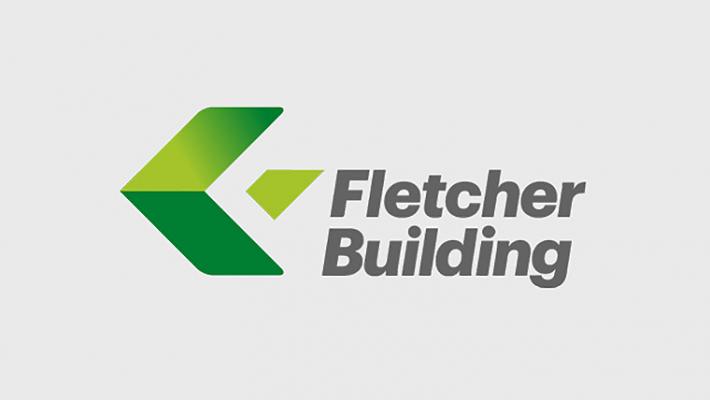 This is a basic profile of an NZX50 listed company. It is not investment advice. We recommend you contact a qualified adviser if you need more information.
Fletcher Building
Directory
NZX code:
FBU
Short name:
Fletcher Building
Legal name:
Fletcher Building Limited
Industry sector:
Construction
NZX50 rank:
8 of 50
Head office address:
810 Great South Road, Auckland 1061
Chairman:
Bruce Hassall
Chief executive:
Ross Taylor
Financial year ended:
June
Locations:
New Zealand, Australia, America, China
Auditor:
EY
Bankers:
ANZ, Bank of China, BNZ, China Construction Bank,
Citibank, MUFG Bank, HSBC and Westpac.
Financial statement history
 
A. Recent trading and performance summary:
 
Total
revenue
NPAT
Dividend
per share
fye June
bln
mln
cents
2016
$9.0
$462
39
2017
$9.4
$94
39
2018
$9.5
($190)
0
2019
$9.3
$164
23
2020
$7.3
($196)
0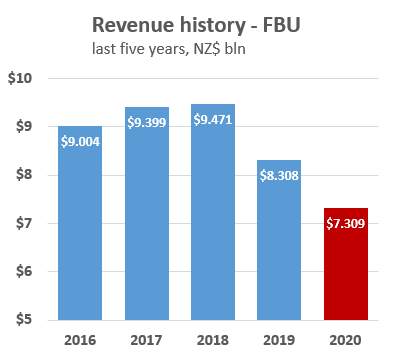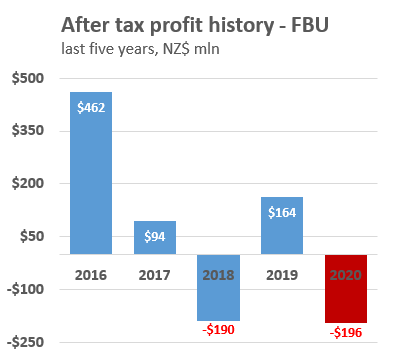 B. Recent financial position summary:
 
Total
assets
Total
Liabilities
Equity
ratio
fye June
bln
bln
%
2016
$7.27
$3.55
51.2
2017
$7.67
$4.09
46.7
2018
$8.53
$4.40
48.4
2019
$7.71
$3.54
54.1
2020
$8.78
$5.24
40.3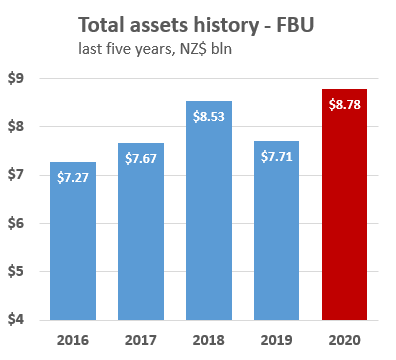 C. Recent cash flows and positions:
 
Cash
inflows
Cash
outflows
Cash and equiv. 
at year end
fye June
mln
mln
bln
2016
$660
$518
$0.4
2017
$472
$607
$0.2
2018
$668
$228
$0.7
2019
$1,067
$355
$1.4
2020
$410
$677
$1.1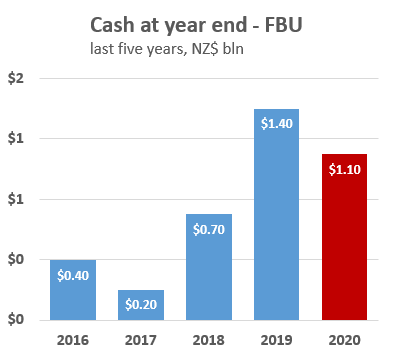 Description of trading activities 
"We manufacture building products; from insulation that keeps homes warm and dry, to cement, the foundation of built structures the world over. We operate retail businesses that distribute these products and many more to tradespeople right across the Tasman. We also build homes, buildings, and infrastructure that create communities, improve productivity, and contribute to the quality of life for people living and working in cities and regions across our markets." 
CEO profile
Ross Taylor has spent his career in the Real Estate, Construction, and Engineering sectors internationally. He has direct experience across much of the sector value chain having led businesses with activities in; investment, development, construction, product manufacturing, and resources extraction and operations. He has been the CEO of Fletcher building since November 2017.

Chairman profile
Bruce Hassall is a former senior partner and chief executive officer of PwC New Zealand he has extensive advisory background and knowledge of the corporate environment. He is also the chair of The Farmers' Trading Company Limited and Prolife Foods Limited, and is a director of Bank of New Zealand and Fonterra Co-operative Group.

Links: