While Australia chooses a muscular relationship with a newly aggressive China, ours is a quiet but determined independence, says Anne-Marie Brady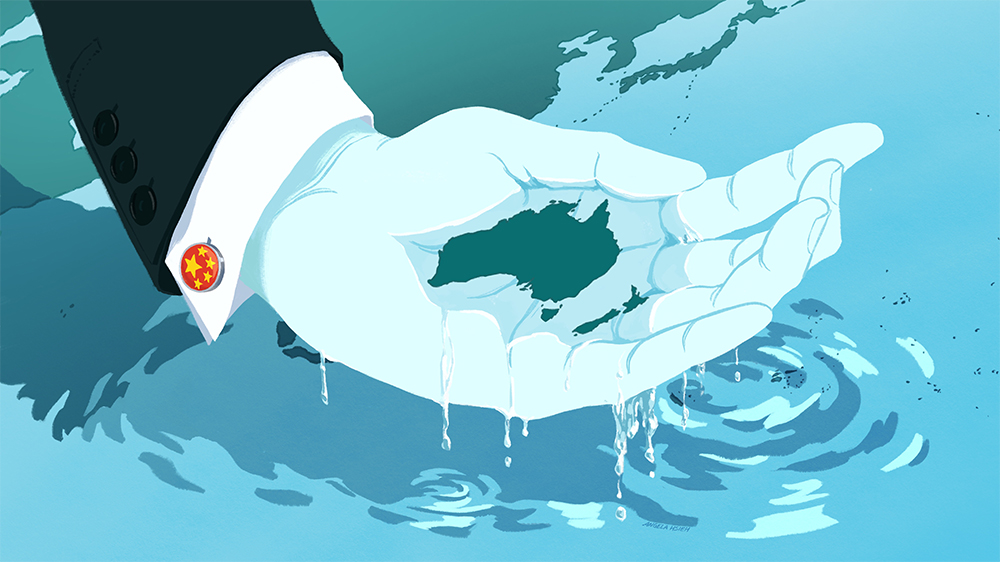 By Anne-Marie Brady
In the last few months, China has singled out and humiliated Australia with targeted economic sanctions and verbal attacks. Canada and Sweden have also been the subject of similar bullying in the last two years.
In Chinese this is called "killing the chicken to scare the monkeys".
Pundits in Aotearoa New Zealand have been nervously observing China's hazing of Australia, fearful that we will be next. So far, New Zealand exporters are actually profiting from China's spat with Australia. And there are no signs of a significant deterioration in the broader relationship. Yet the New Zealand media jump at any indication of the Chinese government's displeasure.
Why is commentary in New Zealand so jumpy about our economic and political relations with China? Australia doesn't have much to worry about from an economic point of view and just needs the courage to ride out the political noise.
Sure, the CCP government has imposed punitive tariffs on Australia's wine, beef and barley exports, and held up shipments of lobster and coal. But Australia's iron ore exports to China are the second highest ever recorded. Prices reached a seven-year high last week.
China relies on Australian minerals for stimulus efforts to kickstart their Covid economy. Westpac chief economist Bill Evans says the Australian economy will do well in 2021, thanks to strong consumer spending, falling unemployment and four per cent economic growth. He says that this will offset China's sanctions on agriculture; which will find other markets. China's economic sanctions against Australia hurt Chinese consumers and also have a wider economic cost. While the CCP government's tariffs on barley will cost Australia around $330 million, the impact on China is estimated at about $3.6 billion, as Chinese breweries rely on Australia's quality barley for beer production.
The CCP's actions are also damaging China's already weak soft power. We can expect the bullying to fizzle out, just like other times when China targeted states like Norway and Denmark. Meanwhile, Australia has attracted strong international support and sympathy in the face of China's bullying, with efforts such as a global campaign to buy Australian wine launched by the Inter-Parliamentary Alliance on China.
We are positioned in a better place
New Zealand has a solid foundation of positive political relations with Beijing, which should mean that any matters of contention can be discussed and resolved amicably. When then National Party leader Simon Bridges visited China in September 2019, he was told by a senior Politburo leader that New Zealand-China relations were at a "historic best" - under the Ardern first term government.
Last week, in his first phone call to New Zealand's new foreign minister, Nanaia Mahuta, Chinese Foreign Minister Wang Yi repeated an often-said flattery that New Zealand-China relations were an "example" to other states.
New Zealand's relationship with China is certainly unique, and unlike any we have with other states. But China is not as some would have it, New Zealand's "friend". Nor is it an ally.
"Friendship" (youyi) is a loaded term for the CCP. "Friend of China" is a phrase used to describe foreigners who toe the Party line or cooperate on specific policies. In 2003, New Zealand signed a Comprehensive Cooperative Relationship Agreement with China. Then in 2014, New Zealand and China signed a Comprehensive Strategic Partnership Agreement. In March 2017, under a National Party government, New Zealand signed the non-binding Memorandum of Arrangement (MOA) on Strengthening Cooperation on the Belt and Road Initiative (BRI) - essentially an agreement to discuss.
Since the MOA was signed, New Zealand diplomats and politicians have discussed BRI with China on a number of occasions, but it has not gone any further than talk - to China's barely veiled annoyance. BRI is an effort to create a China-centered global order, which CCP analysts refer to as Globalisation 2.0. The Ardern government has adjusted its thinking on the extent to which it wants to get involved in BRI. In response, China appears to be delaying signing the FTA upgrade, which would grant New Zealand the same terms of trade as the Australia-China FTA. In 2008, New Zealand rushed to be the first Western country in the world to sign an FTA with China, but Australia held back and got a better deal in 2015.
Nonetheless, in the twelve years since the New Zealand-China FTA was signed, New Zealand has expanded relations with China well beyond trade, to finance, telecommunications, forestry, food safety and security, education, science and technology, tourism, climate change and Antarctic cooperation, as well as military and police cooperation. In December 2019, New Zealand's China trade peaked at close to 30 percent of overall exports. Rather than being a good thing, increasingly it is understood that too much exposure to the China market brings many risks for New Zealand.
Assessing our trade dependency
The recognised definition of trade dependency is when a nation is 50 percent dependent on one market. New Zealand is dangerously dependent on the China market in some sectors. New Zealand is strategically dependent on China for 513 categories of goods; and 144 of them have applications in critical national infrastructure. New Zealand is the second most dependent on China for strategic goods of all the Five Eyes states (0.1 of a percentage point behind Australia). Meanwhile, 33 percent of New Zealand's dairy exports, 41.9 percent of meat exports, 80 percent of logs and timber exports, 95 percent of lobster exports, and 46.5 percent of wool exports go to China. 28.5 percent of New Zealand's international education income comes from China. This matters, as we know that more than any of our other markets, there is great political hazards in dealing with China. While there are also many opportunities, it is wise not to be over-dependent on it.
Though many worry that a negative turn in political relations with China will effect New Zealand's economic relationship, a 2014 report for New Zealand's Reserve Bank pointed out that the economic importance of China to New Zealand is actually less about direct trade links. Rather, of greater concern is China's impact on the terms of trade - the global prices of the things New Zealand buys and sells. Thus the extent to which the Chinese economy slows or rises, has a direct impact on New Zealand's prosperity, regardless of the extent of New Zealand's exposure to their market.
Assessing the political risks
New Zealand does have some political differences with China. Several of them are so sensitive that our politicians actively avoid discussing them publicly.
China's political interference is one of New Zealand's top national security concerns. Yet the minister in charge of national security, Prime Minister Jacinda Ardern, has said very little about it in public, clearly preferring a policy of do and don't say. The first term Ardern government shepherded a quiet case-by-case recalibration of the New Zealand-China relationship, passing a series of new legislative changes on overseas investment and political donations but calling them "country agnostic". We can expect to see more such legislation in this second term Ardern government.
A further sensitive issue in New Zealand-China relations is the extent to which we allow Chinese telecommunications access to our telecommunications network and market.
Under the terms of the Telecommunications (Interception Capability and Security) Act 2013, passed under then Minister of Communications Simon Bridges, New Zealand excluded Huawei from the core of first 3G and then 4G for telecoms companies Spark and Vodafone. Only 2degrees has full Huawei kit.
Huawei has close links to the PLA and China's Ministry of State Security. Its ownership structure links it to the CCP United Front Work Department, whose core activity is intelligence-gathering and running assets. Huawei Technologies NZ now holds 40 percent market share of New Zealand's mobile network equipment.
Huawei entered the New Zealand telecoms market in 2005, as the main financial backer of 2degrees, who are majority owned by a Māori consortium. In 2018, acting on the Telecommunications Act, the GCSB rejected Spark's proposal to involve Huawei in their roll out of 5G. 5G poses new technological challenges that, unlike 3G and 4G, cannot be mitigated against. The Telecommunications Act provides plausible deniability for the New Zealand government. Spark and Vodafone are now working with Nokia for their 5G roll out.
South Pacific tension points
China's growing military interests in the South Pacific and Antarctica are a further sensitive issue that can't be discussed publicly. New Zealand diplomats have worried for more than fifteen years that China's debt diplomacy and expansion of military links to our Pacific neighbours undermines New Zealand's influence in the region. New Zealand security depends on our Pacific neighbours being peaceful and independent and Antarctica free of conflict.
New Zealand is an export-based economy and relies on air and shipping lines being kept open. So the PLA's announcement that it is planning an ADIZ in the South China Sea, where close to 70 percent of New Zealand trade transits, is a further point of tension between New Zealand and China.
The Ardern government has spoken up publicly about several other issues of concern with China: the crackdown on the democracy movement in Hong Kong, the cruel treatment of the Uighur people, and the Chinese foreign ministry spokesperson posting disinformation about Australia. Sometimes New Zealand has issued statements on these contentious issues on its own, and sometimes with other like-minded states. Each time New Zealand has emphasised the values that underpin our foreign policy and the multilateral rules-based international order, on which our security relies. 
The Covid-19 pandemic has strengthened the power of China, and greatly weakened that of the US, UK, and EU. New Zealand, like other small and medium states, is trying to survive in a dire strategic environment. Managing the economic, social and political fallout of the Covid pandemic is one of the top priorities of Ardern second term government's domestic and foreign policy.
How we are dealing with the threats
The differences New Zealand has with China can't be wished away. Unlike the 1987 anti-nuclear dispute with the USA, New Zealand is not dealing with a partner that understands, and however begrudgingly, accepts, the concept of "loyal opposition" and an independent, values-based foreign policy. The Ardern government, like previous governments before it, is using deliberately ambiguous tactics to deter an increasingly aggressive partner, at a time when the rules-based order is being eroded on a daily basis. Our exporters are right to be worried about market access to China. China started decoupling from Western economies more than 15 years ago, when it banned companies like Facebook, Twitter, and YouTube. Now under Xi Jinping, China has adopted an ambitious plan to become self-sufficient in food and many other products.
On multiple levels, New Zealand is now pulling closer to other small and medium states to provide economic, political, and strategic support, mitigating the China risk and the ongoing absence of US global leadership.
In June 2020, Trade Minister David Parker announced a post-Covid long term trade recovery strategy, highlighting market opportunities in the EU, UK and South America. New Zealand has joined an informal group of "First Mover" nations, countries which had done well in suppressing Covid-19 and wanted to swap notes on re-opening. New Zealand was invited to join an agreement for essential cross-border travel between Korea, Canada, Singapore, and Australia. New Zealand is making good progress in concluding an FTA with the European Union, and an FTA with the United Kingdom will soon follow. New Zealand diplomats are continuing to work on passing a New Zealand-United States FTA. New Zealand with Costa Rica, Fiji, Iceland, Norway and Switzerland are in negotiations for the Agreement on Climate Change, Trade and Sustainability (ACCTS), which uses enforceable trade disciplines on fossil fuel subsidies. New Zealand has partnered with Australia to offer practical assistance to Pacific island neighbouring states to help them deal effectively with Covid-19.
The strategic challenges we face now are huge. Aotearoa New Zealand can maintain our independence and prosperity by forging new partnerships, strengthening bonds with like-minded states, and hedging on trade.
---
@Anne_MarieBrady is an expert on Chinese domestic and foreign policy, NZ foreign policy, polar and Pacific politics. More here. Her most recent books are: Small States and the Changing Global Order: New Zealand Faces the Future (Springer, 2019) and China as a Polar Great Power (Cambridge University Press, 2017).