What went wrong at Strategic Finance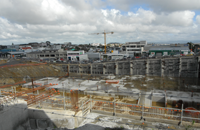 Back on June 26 I wrote the following about Strategic Finance in an article looking at how the biggest finance companies ranked in terms of our Five Survivability factors (Diversified funding, diversified lending, strong corporate or individual shareholder, an investment grade credit rating and a local bank funding line).
Strategic had none of the 5 survivability factors. Hanover Finance also had none of these factors. Both have now closed their doors.
Strategic Finance is exposed completely to residential property developers, has a (not strong) corporate backer in Allco HIT, does not have a local bank funding line and is exposed almost completely to retail debenture funding.
Allco Finance Group, which owns a stake in Allco HIT, is trying to renegotiate its own funding with its banks in Australia and is not in a position to inject capital into Strategic if needed.
Strategic has used up all its NZ$75 million funding line from BOS International (Halifax Bank of Scotland), which does not rank as a local bank. It has said it is confident it can repay maturing debentures from loans as they mature.
It has more than four times as much maturing from loans in the next three months than the cash needed to repay debentures maturing over that period. More than 80% of its loans are capitalising loans and it is currently in the process of looking for a strong corporate backer.
One loan to the Hilton Denarau project in Fiji is worth more than 60% of its equity.
After this assessment, Strategic's management and Allco HIT announced a deal whereby Bank of Scotland took a 19.9% stake in Strategic with an option to go to 49% as part of a management buy out plan that would see founder Jock Hobbs, CEO Kerry Finnigan and other executives own the rest.
In return, Bank of Scotland would double its funding line to NZ$150 million.
This plan appears however to have been scuttled as a steady stream of exiting investors turned to a torrent after the closures of Hanover Finance, Canterbury Mortgage Trust, AMP NZ Property, the Guardian Mortgage Fund and part of the AXA Mortgage Backed Bonds fund.
Bank of Scotland now wants a recapitalisation plan, which suggests debenture holders will share some of the pain through a debt for equity swap and delayed repayment schedule and possibly a lower interest rate.
What appears stunning is that Bank of Scotland agreed to double its funding line in the first place. Strategic was haemorraghing cash at an enormous rate even as it announced the capital backing deal. Strategic Finance's interim report shows it owed around 20,000 New Zealanders NZ$455.4 million worth of debentures, deposits and subordinated notes as at the end of December 2007, which was actually up from NZ$450.4 million a year earlier.
But within 7 months those debentures had slumped to NZ$300 million, Strategic has admitted.
These December 31 accounts showed that NZ$141 million worth of debentures were due to mature within the 6 months to June 30. A further NZ$115 million were due to mature in the following 6 months to December 31.
This means virtually no Strategic investors reinvested over the 7 months to the end of July and there must have been no net new money invested. This is utterly unsustainable for a company that depended on debentures for all its funding apart from a funding line from Bank of Scotland, which had been all used up by the end of June.
Strategic declined to comply with a request from the NZX in April to supply its debenture reinvestment rate. It also declined again in June to answer a similar question from interest.co.nz.
The December 31 accounts show the board approved a dividend to Allco Hit of NZ$12.6 million to be paid in March. This was irresponsible at a time when investors pulling NZ$20 million a month out of Strategic.
I am surprised the trustee for Strategic Finance, Perpetual Trust, allowed Strategic to continue on as long as it has. Perpetual seems not to have been involved at all in the decisions so far about Strategic's ownership or capital backing.
Perpetual has been the trustee for 19 of the 39 finance companies and mortgage trusts that have been frozen or put into receivership in the last 2 years.
There is now NZ$5.6 billion frozen in these trusts and companies and 171,500 investors who cannot get their money out, according to our definitive Deep Freeze list on the whole mess.
The signs were also there in Strategic's loan book. The accounts for the six months to December 31 show NZ$83.1 million worth of loans (15% of the book) were overdue, with NZ$58.3 million more than 30 days past due. It was a sign of things to come.
The collapse in the property development market, particularly for residential and resort property really kicked in from the March quarter of this year. Strategic Finance have yet to disclose their accounts for the year to June 30.
The quality of the loan book did not look great either. The biggest loan was to the developer of the Denarau Hilton resort in Fiji, which was a three stage project that would only see Strategic repaid when the third stage was complete. By mid June it was struggling to get enough pre-sales of villas for the third stage.
Strategic had a second mortgage on the Fiji resort. The first mortgage was held by Bank of Scotland and it effectively controlled the first two stages of the resort already built.
Another large Strategic loan was to the controversial NZ$250 million Soho Square development in Ponsonby. The project is currently a large hole in the ground (pictured above) with no construction work going on. It was supposed to have 25,000 square metres of commercial and retail space, including 35 shops and cafes. It was also supposed to have 53 apartments and 1,250 carparks. It was aggressively opposed by 800 submissions from Ponsonby residents as too big and out of character with Ponsonby's vibe. Bank of Scotland was also thought to be a lender to the project.
Strategic and Bank of Scotland seem to work as a pair on many of these projects.
About 44% of Strategic loans were second mortgages as at December 31. It becomes clear on seeing the links between the two that Bank of Scotland needed to back Strategic as much as Strategic needed the backing.
So what happens now?
Bank of Scotland will no doubt drive a hard bargain with debenture holders to delay repayments for up to 5 years.
It drove a hard bargain at Geneva Finance, where it was the banker behind the deal that saw debenture holders swap 15% of their investment for shares in Geneva.
Perhaps Jock Hobbs and his fellow managers will reinvest some of the NZ$200 million plus they received for selling Strategic to Allco Hit in 2006 and 2007. Here's hoping.