Here are my Top 10 links from around the Internet at 10 past 12 pm, brought to you in association with New Zealand Mint for your reading pleasure.
I welcome your additions and comments below, or please send suggestions for tomorrow's Top 10 at 10 via email to bernard.hickey@interest.co.nz.
I'll pop any surplus suggestions I get into the comment stream.
1. Food stockpiling worsens commodity price boom - This issue of rising food prices and the ensuing social unrest is not going to go away in a hurry. It was a factor in the Tunisian and Egyptian revolutions.
Here the FT.com reports some governments are stockpiling food, which is worsening the situation. Unless of course you are selling food to the world.
This is a double edged sword.
New Zealand, in theory, benefits with higher food prices, unless of course you are a consumer and want lamb for dinner.
The other risk is that social unrest in the developing countries spills over into growth slowdowns in the only parts of the world growing quickly at the moment -- the BRICs (Brazil, India, Russia and China).
For example, the prices of staples such as ginger and garlic are up more than 70% in the last year in China. The staples of eggplant and onion in India are up more than 60%.
China is desperately trying to slow its economy, with new measures announced daily to control property price inflation and food prices.
Brazil is tightening monetary policy and trying to control capital inflows.
India tightened monetary policy for the 7th time in 10 months last week.
All this is partly because America in particular is printing money and exporting inflation.
Earlier this week, Algeria bought 800,000 tonnes of wheat – much more than usual – and Saudi Arabia announced plans to double the size of its wheat stockpile.

Bangladesh and Indonesia joined the rush on Thursday, placing extraordinary on rice orders. Traders said that Jakarta, which usually buys rice in 200,000-tonne allotments, tendered for more than 800,000 tonnes. Bangladesh said it would double rice purchases this year.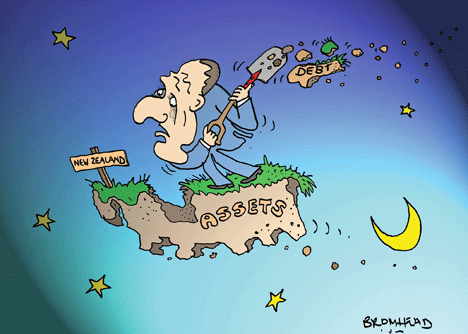 2. What's really happening with global trade? - With lots of talk about global recovery it's very strange to see the Baltic Dry Index, which measures the price of shipping bulk goods such a iron ore, coal and soy beans, continuing to slump.
Karl Denninger over at Market ticker has the story and here's the chart courtesy of Bloomberg.
I know there's a capacity (specifically, overcapacity) issue in the ship business, but this is just plain bad. How do you make money on these vessels at that sort of pricing? The decline since September, when people were pointing to a rebound starting, is stunning - and disturbing.

Yes, the solution to too much capacity and low prices is low prices - people go under, then capacity comes off, and price goes up. But remember, the mantra we keep hearing is that the economy worldwide is growing so fast.... well, if it is, why is it that bulk carriers aren't loaded to the gills and able to maintain prices?

As an anecdote I also hear regularly from associates of mine who are involved in the goods trade across national boundaries. There was a set of memos that was circulating around the holidays about expected price increases for non-bulk (e.g. container) shipments; I am now hearing that these have been rescinded.  
3. Chinese want Australian farms too - The Australian reports China is gearing up for a multi-billion dollar investment push into Australian agriculture to secure food supplies for China's 1.3 billion people.
This push has already started in New Zealand with the arrival last week of Pengxin International to buy the Crafar Farms and the activities of Agria in buying control of PGG Wrightson.
The Australian has learned that interest from Chinese buyers across the whole spectrum of Australian agribusiness has stepped up markedly in the past six months, with the sweet spot being in "under the radar" private farms, aggregation and processing businesses worth between A$10 million and A$200m.

Austrade Beijing's senior trade commissioner, Alan Morrell, said Australia was a logical investment destination for China as the nation moved to strengthen food security.

The Chinese have shown particular interest in potential grain, meat and wool purchases.

"Given the growth of the Chinese economy, the changes in consumer demand and the strategic goals of the central government, Chinese agribusiness companies likely will seek overseas investment opportunities to secure access to supplies of commodities, to strengthen research and development capabilities and to gain access to new markets," Mr Morrell said.
4. Now they're trying to counterfeit Tom Cruise - Gizmodo reports Chinese Military propagandists tried to pass off footage from the Top Gun movie as footage of a Chinese airforce exercise...
The clips in question were reportedly aired during the News Broadcast program on China Central Television, the major state television broadcast company. They supposedly showed a J-10 fighter firing a missile at another aircraft during a practice exercise.

But an internet commenter quickly pointed out that the aircraft the J-10 was shown shooting down was an F-5, an American aircraft, and the very one Tom Cruise guns down in a scene from Top Gun. Comparing frames from the CCTV broadcast (left) and Top Gun (right), well, they're lookin' pretty much identical.

So that's amusing. There's no word yet on whether or not the Chinese fighter pilots engaged in any beach volleyball after the exercises.
5. Not enough big new technology advances? - Economist Tyler Cowen writes at the New York Times that one reason why middle and lower incomes in the developed world might have stagnated is a lack of genuinely new and big technological advances in the last thirty years.
My view is the big increase in the profit share of the economy going to financial services may have something to do with widening inequality, but here's Cowen's view...
The income numbers for Americans reflect this slowdown in growth. From 1947 to 1973 — a period of just 26 years — inflation-adjusted median income in the United States more than doubled. But in the 31 years from 1973 to 2004, it rose only 22 percent. And, over the last decade, it actually declined.

Most well-off countries have experienced income growth slowdowns since the early 1970s, so it would seem that a single cause is transcending national borders: the reaching of a technological plateau. The numbers suggest that for almost 40 years, we've had near-universal dissemination of the major innovations stemming from the Industrial Revolution, many of which combined efficient machines with potent fossil fuels.

Today, no huge improvement for the automobile or airplane is in sight, and the major struggle is to limit their pollution, not to vastly improve their capabilities.
6. The problem with Greece - We hear a lot about bureaucracy in Europe and we're pretty lucky when it comes to starting businesses in New Zealand. It's reasonably easy, particularly when compared to this example in Greece of a guy who owns a brewery and wants to make and sell bottled tea.
DEMETRI POLITOPOULOS says he has suffered countless indignities in his 12-year battle to build a microbrewery and wrest a sliver of the Greek beer market from the Dutch colossus, Heineken. His tires have been slashed and his products vandalized by unknown parties, he says, and his brewery has received threatening phone calls. And he says he has had to endure regular taunts — you left Manhattan to start up a beer factory in northern Greece? — not to mention the pain of losing 5.3 million euros.

Bad as all that has been, nothing prepared him for this reality: He would be breaking the law if he tried to fulfill his latest — and, he thinks, greatest — entrepreneurial dream. It is to have his brewery produce and export bottles of a Snapple-like beverage made from herbal tea, which he is cultivating in the mountains that surround this lush pocket of the country.

An obscure edict requires that brewers in Greece produce beer — and nothing else. Mr. Politopoulos has spent the better part of the last year trying fruitlessly to persuade the Greek government to strike it. "It's probably a law that goes back to King Otto," said Mr. Politopoulos with a grim chuckle, referring to the Bavarian-born king of Greece who introduced beer to the country around 1850.
But here's the really juicy stuff.
The Greek economy is riddled with distortions — the number of trucking licenses has remained unchanged in Greece since 1971, for example, and the country is among the world's leaders in lawyers per capita. It has one lawyer for every 250 people, compared with about one for 272 in the United States.

The effect on Greek competitiveness could not be more pernicious. The cost of labor in Greece from 2005 to 2010 has been, on average, 25 percent higher than in Germany, according to a recent analysis by Variant Perception, a research firm based in London. (Ireland, Portugal and Spain also have relatively high labor costs.) Quite simply, Greece has had trouble producing goods and services that people want to buy — a result being a persistently high trade deficit that even now, amid the deepest of recessions, has hardly budged.  
7. Is China already bigger than America? - Most people think that China's economy is likely to be bigger than America's within 10 to 20 years if the current respective growth rates continue going up (for China) and sideways (for America). Here Arvind Subramanian reckons that China's economy is already bigger than America's on a purchasing power parity basis...
Some time in 2010, the Chinese economy overtook that of the United States. My calculations of GDP for 2010—which of course are subject to the uncertainty associated with all such exercises—are based on new estimates of GDP that will soon be published by the Penn World Tables (PWT) under the guidance of Professor Alan Heston at the University of Pennsylvania.

Cross-country comparisons of economic size and standards of living of the average citizen rely on two approaches. The first uses market exchange rates to convert the economic value of goods and services produced around the world into a common currency, usually the dollar. According to the IMF's latest estimates for 2010, the value of total US GDP was $14.6 trillion while that of China was $5.7 trillion.

But it has long been recognized by many economists that using the market exchange rate to value goods and services is misleading about the real costs of living in two countries. Such goods and services as medical services, retail and constructions services, and haircuts—which are not traded across borders—are cheaper in poorer countries because labor is abundant. Using the market exchange rate to compare living standards across countries understates the benefits that citizens in poor countries enjoy from having access to these goods and services.  
8. Are China's numbers real ?- Closely-watched Bejing-based economic academic Michael Pettis has written a long, detailed and ultimately provocative post wondering if China's figures on GDP can be believed.
Every country wastes investment, but China does it on a massive scale. I would argue that at least 1-2 percentage points of Chinese growth, perhaps even more, might consist of this kind of misallocated investment-driven growth. When you add the impact of misallocated investment and environmental degradation, the necessary cumulative adjustment to Chinese GDP might be huge.

For example, if the two adjustments combined range from 2 to 4 percentage points annually, over one decade China's "true" GDP (whatever that means), would be below the official numbers by anywhere from 16-31%.

Over twenty years official GDP would be overstated by 31-52%.

That means that we are massively overstating GDP today and will experience very low apparent GDP growth for many years in the future as the official number returns to some reasonable approximation of the real number.  
9. Here Yves Smith from the Naked Capitalist points to Pettis' piece.
She is sceptical too.
Having worked with the Japanese in their bubble years, I may be too conscious of the parallels to both the hype and the conditions on the ground in China. China is under more pressure (due to the state of the global economy and the expectations of its people) to keep employment high, but in the long run, building cities and office buildings that sit largely or entirely vacant is ultimately as wasteful as buying white elephant golf courses and resorts abroad.

The losses on lending against land, which went into stock market speculation and a foreign buying binge, blew back to the Japanese banking system.

As discussed earlier, the Chinese banks recovered from their 2002-3 banking crisis at the cost of considerable economic distortions, and it does not appear the officialdom can rely on the same covert bailout strategy a second time. So if they are hit again with serious loan losses, the real economy impact is likely to be more serious that the China bulls believe possible.  
10. Totally irrelevant and brilliant video - Jake Shimabukuro plays Bohemican Rhapsody on a ukelele at a TED talk. Who knew you could made a ukelele sound this good. HT Jason via email.
11. Totally irrelevant and brilliant video of Ukelele orchestra playing 'Smells like Teen Spirit' HT Gillian via Twitter