Here's my Top 10 links from around the Internet at 10 to 2 pm in association with NZ Mint.
I'll pop the extras into the comment stream. See all previous Top 10s here.
I welcome your additions in the comments below or via email to bernard.hickey@interest.co.nz.
I'm full of the joys of schadenfreude today. And I enjoy reading Rolling Stone.
1. Euro headed for the rocks - Closely watched British economist Roger Bootle writes at The Telegraph about the deep problems in Europe and concludes at some stage the Euro will break up.
He makes a compelling case.
In the end, everything is political.
It seems the people of Europe are much less convinced about the Euro project than the Euro elite.
Watch the elections and the riots. HT Colin via email.
Here's Bootle.
Debt is one facet of the euro's crisis. There are three others. The first is competitiveness. Since the formation of the euro, German unit labour costs have barely risen, but in the peripheral countries they have surged ahead – by about 30pc in Greece, Spain and Portugal. The result is that the peripheral countries are uncompetitive both inside and outside the eurozone, thereby shutting off strong exports as a route to recovery.

The second factor is the property market. In Ireland and Spain, house prices were driven up in a major property bubble. Although prices have since fallen a long way, the prospect is for further large drops.

The third factor is the weakness of the banks. Interestingly, some of the most serious problems lurk in that paragon of financial orthodoxy, Germany, where the state-owned regional banks have taken on oodles of dodgy assets.

The euro is supposedly cemented by unshakeable political will. Yet not only has the eurozone failed to establish workable union-wide political institutions, but the political situation in member countries has turned ugly.

Portugal and Belgium are without governments. Opposition to austerity is building in Greece and Ireland. President Sarkozy of France faces an uphill battle to be re-elected, not least against a revived, and euro-sceptic, National Front. In Germany, after recent electoral losses, Angela Merkel is in a weak position.
2. Oh the Schadenfreude - Stuff and NZ Herald report that Mark Hotchin gave evidence in the Rotorua District Court in 2004 that he was duped by Ponzi schemers the Papples and Tina West between 2000 and 2002. But the evidence was suppressed by a judge after he agreed that publication of evidence of Hotchin being duped would look bad to investors in Hanover Finance.
Hotchin was given permanent name suppression, which has only now been lifted after a challenge from the NZHerald. Strategic Finance boss Kerry Finnigan was also duped and also got name suppression.
If only the Rotorua District Court judge James Weir hadn't granted permanent suppression, thousands of Mum and Dad investors might not have lost over NZ$500 million in Hanover and over NZ$300 million in Strategic Finance...and counting. Thanks for that.
Here's what Hotchin pleaded in 2004 would happen if he was exposed: 
# "There would be concern over the investment strategies adopted within the Hanover organisation because of the loss of credibility and damage to my reputation."

# "Investors and third parties with whom Hanover and its entities deal could well come to the conclusion that if one of the directors of Hanover was making inappropriate investment decisions personally then he could well be doing the same for the group. This in turn could cause a lack of investor confidence and support potential for a run on funds, the possible collapse or restructure of the Group with obvious impact on its 600 employees."

# "The commercial relationship Hanover has with commercial partners would also be placed under stress. In those circumstances I anticipate that my fellow shareholder [London-based Eric Watson] and director could well request my resignation as a director."
Ya don't say. Now Hotchin is saying he welcomes the lifting of name suppression:
''I was happy to assist the Serious Fraud Office and gave evidence at the trial. My name was suppressed at the time because we wanted to protect Hanover and its investors because it was made in a personal capacity, not an investment made by Hanover.''
3. 'Free trade doesn't work' - Ian Fletcher, the author of the book 'Free Trade doesn't work' has written a fascinating letter republished on HuffPo that details 8 areas of research on free trade that is needed to inform the debate about trade before it all goes pear-shaped.
Fletcher is worried that some sort of American collapse could result in a very politicised and populised trade policy. HT John via email.
Because mammoth U.S. trade deficits are not sustainable forever, a profound change in U.S. trade relations is inevitable during the next 3-8 years regardless of any coming policy decisions and independent of any particular economic theories. A transformative crisis, be it an acute shock like the 2008 financial crisis or a period of chronic turbulence like the stagflationary 1970s, is now basically inevitable on the trade front.

The better recognized are critiques of free trade when the probable crisis hits, the less likely is an uninformed policy response to crisis driven by a political firestorm. Addressing the issues completely and thoughtfully in advance will allow time for alternative analyses and policies to be developed and vetted. 
4. The Do Nothing plan - US President Barack Obama is set to announce a new deficit cutting plan later tonight. Here's a plan from Annie Lowrey at Slate that says the US government can return to surplus within 8 years by doing nothing.
The key is not cutting taxes for the rich and not expanding spending.
You listening John Key? Too late. He has already cut income tax rates and refused to cut spending growth for health, education and social welfare. HT Brendan via email.
So how does doing nothing actually return the budget to health? The answer is that doing nothing allows all kinds of fiscal changes that politicians generally abhor to take effect automatically. First, doing nothing means the Bush tax cuts would expire, as scheduled, at the end of next year. That would cause a moderately progressive tax hike, and one that hits most families, including the middle class. The top marginal rate would rise from 35 percent to 39.6 percent, and some tax benefits for investment income would disappear. Additionally, a patch to keep the alternative minimum tax from hitting 20 million or so families would end.

Second, the Patient Protection and Affordable Care Act, Obama's health care law, would proceed without getting repealed or defunded. The CBO believes that the plan would bend health care's cost curve downward, wrestling the rate of health care inflation back toward the general rate of inflation. Third, doing nothing would mean that Medicare starts paying doctors low, low rates. Congress would not pass anymore of the regular "doc fixes" that keep reimbursements high. Nothing else happens. Almost magically, everything evens out.
5. Today's must read - Matt Taibbi at Rolling Stone has done it again. This time he has highlighted the extraordinary story about how the US Federal Reserve handed over US$220 million of bailout money to the philanthropist wives of two Wall St bankers to buy mortgage securities.
Read it. Please. You will laugh. You will rage.
HT Kevin.
Christy Mack is the wife of John Mack, the chairman of Morgan Stanley. Susan Karches is the widow of Peter Karches, a close friend of the Macks who served as president of Morgan Stanley's investment-banking division. Neither woman appears to have any serious history in business, apart from a few philanthropic experiences.

Yet the Federal Reserve handed them both low-interest loans of nearly a quarter of a billion dollars through a complicated bailout program that virtually guaranteed them millions in risk-free income.

It's hard to imagine a pair of people you would less want to hand a giant welfare check to — yet that's exactly what the Fed did. Just two months before the Macks bought their fancy carriage house in Manhattan, Christy and her pal Susan launched their investment initiative called Waterfall TALF. Neither seems to have any experience whatsoever in finance, beyond Susan's penchant for dabbling in thoroughbred racehorses. But with an upfront investment of $15 million, they quickly received $220 million in cash from the Fed, most of which they used to purchase student loans and commercial mortgages.

The loans were set up so that Christy and Susan would keep 100 percent of any gains on the deals, while the Fed and the Treasury (read: the taxpayer) would eat 90 percent of the losses. Given out as part of a bailout program ostensibly designed to help ordinary people by kick-starting consumer lending, the deals were a classic heads-I-win, tails-you-lose investment.
6. Is the new Chinese soya boom for real? - Bloomberg reports that Chinese Soya bean imports surged 51% in March from a year ago, while copper imports rose 29%.
Beijing based monetary economist Michael Pettis reports via his weekly email (that I can't link to) that he's hearing from commodity market traders that Chinese property developers may well be using soya inventories as another form of collateral upon which to borrow offshore cheaply and get around the local curbs on lending to developers.
Chinese property developers have already used this tactic with copper. Now they're apparently doing it with Soya beans. This is not a stable or sustainable situation...
Here's more from Bloomberg on China's insatiable demand for pork and the soya meal the pigs eat.
7. The one percenters - Joseph Stiglitz's epic Vanity Fair piece on how America is now governed by the richest 1% for the 1% has gone viral. I mentioned it in a top 10 last week. Now the Chicago Sun Times movie critic Roger Ebert has written his own take on this issue. It's passionate and well worth a read. Ebert is right on the money.
Day after day I read stories that make me angry. Wanton consumption is glorified. Corruption is rewarded. Ordinary people see their real income dropping, their houses sold out from under them, their pensions plundered, their unions legislated against, their health care still under attack. Yes, people in Wisconsin and Ohio have risen up to protest these realities, but why has there not been more outrage?

The most visible centers of these crimes against the population are Wall Street and the financial industry in general. Although there are still many honest bankers, some seem to regard banking and trading as a license to steal. Outrageous acts are committed and go unpunished.

The largest financial crime in American history took place and resulted in no criminal charges. Then the money industries and their lobbyists fought tooth and nail against financial regulation. The Republicans resisted it, but so did many Democrats. Partially because of the Supreme Court decision allowing secret campaign contributions, our political system is largely financed by vested interests.

We know that Bernie Madoff went to jail. Fine. No Wall Street or bank executive has been charged with anything. It will never happen. The financial industries are locked an unholy alliance with politicians and regulators, all choreographed by lobbyists. You know all that.

What puzzles me is why there isn't more indignation. The Tea Party is the most indignant domestic political movement since Norman Thomas's Socialist Party, but its wrath is turned in the wrong direction. It favors policies that are favorable to corporations and unfavorable to individuals. Its opposition to Obamacare is a textbook example. Insurance companies and the health care industry finance a "populist" movement that is manipulated to oppose its own interests. The billionaire Koch brothers payroll right wing front organizations that oppose labor unions and financial reform. The patriots wave their flags and don't realize they're being duped.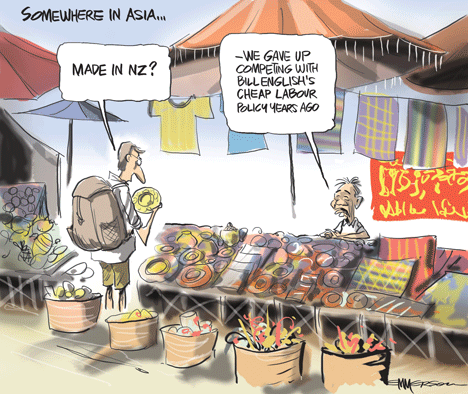 8. How a US bank laundered billions - Roger Ebert linked to this Observer article on how US bank Wachovia helped a Mexican drug cartel launder billions of dollars. I've been meaning to link to it for a week or so. Here it is now.
The details are shocking. And no one is being imprisoned...
Criminal proceedings were brought against Wachovia, though not against any individual, but the case never came to court. In March 2010, Wachovia settled the biggest action brought under the US bank secrecy act, through the US district court in Miami. Now that the year's "deferred prosecution" has expired, the bank is in effect in the clear. It paid federal authorities $110m in forfeiture, for allowing transactions later proved to be connected to drug smuggling, and incurred a $50m fine for failing to monitor cash used to ship 22 tons of cocaine.

More shocking, and more important, the bank was sanctioned for failing to apply the proper anti-laundering strictures to the transfer of $378.4bn – a sum equivalent to one-third of Mexico's gross national product – into dollar accounts from so-called casas de cambio (CDCs) in Mexico, currency exchange houses with which the bank did business.

"Wachovia's blatant disregard for our banking laws gave international cocaine cartels a virtual carte blanche to finance their operations," said Jeffrey Sloman, the federal prosecutor. Yet the total fine was less than 2% of the bank's $12.3bn profit for 2009. On 24 March 2010, Wells Fargo stock traded at $30.86 – up 1% on the week of the court settlement.
So why did Wachovia allow this? 
At the height of the 2008 banking crisis, Antonio Maria Costa, then head of the United Nations office on drugs and crime, said he had evidence to suggest the proceeds from drugs and crime were "the only liquid investment capital" available to banks on the brink of collapse.

"Inter-bank loans were funded by money that originated from the drugs trade," he said. "There were signs that some banks were rescued that way." 
9. The problem of moral hazard - A lot of people worry about how George Soros might beat up the Reserve Bank.
However, Soros seems to be one of the few in the global investment community who seems to care about how many of the instabilities in the global financial system have not been fixed.
Here Bloomberg reports on why Soros believes 'moral hazard looms larger than ever' over the system.
"The evidence is overwhelming that the first priority of the authorities is to prevent a market collapse, and everything else has to take second place," Soros, chairman of Soros Fund Management LLC, said yesterday at a conference in Bretton Woods, New Hampshire.

Europe's refusal to allow members of the monetary union to restructure their debt has added to moral hazard in the financial system, Soros said. Portugal will start negotiations with the European Union and the International Monetary Fund this week on a rescue package estimated at 80 billion euros ($116 billion). The country was forced to seek aid, following Greece and Ireland, after its budget gap helped drive up borrowing costs.

"Look at the situation in Europe, for instance, where authorities are insisting on no renegotiation or restructuring on outstanding debt because that could possibly provide a financial banking crisis," Soros said. "At the present we bail out, but in the future we will bail in. It has absolutely no credibility."
10. Totally Jon Stewart explanation of the US budget shutdown shenanigans. Entertaining.