Here's my Top 10 links from around the Internet at 10 am  in association with NZ Mint.
I'll pop the extras into the comment stream. See all previous Top 10s here.
I welcome your additions in the comments below or via email to bernard.hickey@interest.co.nz.
Jon Stewart discusses Arnold Schwarzenegger's testicles below. I'm off into the Budget lockup. Out after 2pm.
1. China looking elsewhere - The China Daily reports the Peoples Bank of China has disclosed it has reduced its holdings of US Treasuries for the fifth month in a row to reduce its reliance on American foreign reserves.
It said it was diversifying into other sovereign debt.
I wonder how many of the deluge of New Zealand government bonds issued in the last couple of months have been bought by the Chinese.
Demand for New Zealand bonds has been particularly strong.
Perhaps this is the reason.
The biggest buyer of US Treasury debt cut the amount of its holdings by US$9.2 billion, less than 1 percent of the total it possesses, a month after it had unloaded $600 million worth of the bonds.

Throughout the same period, China bought long-term Japanese treasury bonds worth 234.5 billion yen ($2.9 billion), the biggest purchase of debt China has made within a single month in more than six years.

"The central bank is continuing its strategy of diversifying the $3 trillion it holds in foreign exchange reserves," said Lin Songli, an economist at Guosen Securities Co Ltd.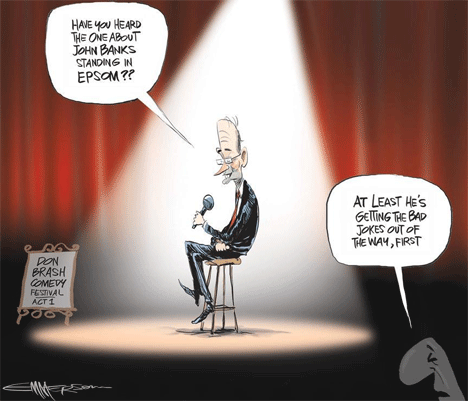 2. Yuan as global reserve currency? - Reuters reports the European Union President saying China's Yuan will one day be a global reserve currency.
"We live in a multi-polar world and a multi-currency world more and more, and that's the case for the rise of the euro as a reserve currency. The dollar stays as an important currency," Van Rompuy said during a visit to a Shanghai business school.

"But in the upcoming decades, there will be huge changes and in the far future the Chinese currency will play a role," he added. "The Chinese currency will play a major role in world reserves because China is so important in world trade and currency; money follows trade."

For that to happen, however, China would need to make the yuan -- also known as the renminbi, or people's currency -- fully convertible, and the government has given no clear indication of when that might happen.

Beijing has been trying to increase the global clout of its currency by promoting foreign trade settlement in yuan and signing bilateral currency swaps with other countries.
3. Don't worry - Be happy. Do something nice for someone. The Globe and Daily Mail reports on research saying the happiest people are the givers. HT Amanda.
In a study of 700 people, to be published in the spring issue of the Journal of Happiness Studies, participants performed good deeds for another person for less than 15 minutes a day, over the course of a week, either by actually helping them out, or just being supportive. The participants showing compassion still felt the effects six months later – and reported significantly larger increases of self-esteem and happiness than the control group.

"What's amazing is that the time investment required for these changes to occur is so small," said Myriam Mongrain, associate psychology professor in the faculty of health. "We're talking about mere minutes a day."
4. Oyster Herpes - Sorry couldn't resist. Bloomberg reports a big problem in France.
A deadly virus is stalking France's coastline, killing at least 60 percent of the young oysters there since 2008. Japan's earthquake and tsunami may have wiped out the latest rescue plan.

The March 11 natural disasters destroyed the fishing industry inMiyagi prefecture, which produced 80 percent of Japan's oyster seeds in 2009. That is forcing France to abandon plans to import and breed Miyagi's Pacific oyster species, and find another solution for diners seeing fewer, and more costly, options.
5. Finally they fess up - Reuters reports on how the European Union has finally started talking about 'restructuring' Greece's debt. It's more extend and pretend.
Europe's top financial officials broke a taboo on Tuesday and acknowledged for the first time that Greece may have to restructure its debts, a move which could stoke Europe's sovereign debt crisis.

Speaking on the sidelines of an EU finance ministers' meeting, Jean-Claude Juncker, chairman of the 17-country Eurogroup, said there was a need to move toward what he called a "soft restructuring" of Greek debt.

Other officials suggested the term implies debtholders agreeing on a voluntary basis to accept later repayment.
6. Couldn't resist the pictures - The Economist reports on a battle between Europe (top pic) and America (bottom pic) to build the world's fastest helicopter.
7. Chardonnay socialist - Slate looks at how the potential head of France's Socialist Party can afford a US$3,000 a night hotel room.
The press also revealed that Strauss-Kahn and his wife, Anne Sinclair, a prominent television personality, wealthy in her own right, travel between a $4 million home in Georgetown, two multimillion-dollar apartments in Paris, and a holiday riad in Marrakech. "It tends to prove that the IMF's managing director…has, to some extent, lost contact with 'real life,' " France Soir wrote, "By blindness, by remoteness, by intoxication?"

The broader charge that IMF and World Bank executives live too well on generous expense accounts while aiding—and sometimes imposing austerity on—some of the world's poorest and most distressed economies is not new. Last year, for instance, the two institutions came under fire for giving employees generous pay raises. "We greatly value the hard work and expertise of bank staff," a spokesman for Britain's Department for International Development told the Washington Post.
8. Balance sheet recession - Richard Koo from Nomura gives more detail here about the developed world's balance sheet recession and why the money printing is not working. HT Houses and Holes at MacroBusiness.
9. Spanish protest - CNN reports on how protestors in Spain are gathering for massive protests around regional elections. The jobless rate is 21%.
"The economy and unemployment are key to the protest because that binds all of us together," said Jon Aguirre Such, a spokesman for the Real Democracy Now, one of many groups convening the demonstrations.

"In this crisis, while some have gotten rich, most people have less income," Aguirre said.
10. Couldn't resist - Jon Stewart does Anie.