US house prices collapse: is home ownership still a prized asset and an aspiration?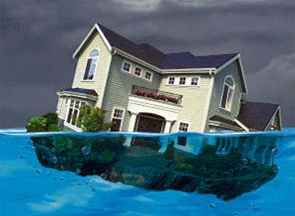 By Neville Bennett
Robert Shiller says US home prices have fallen 34% from their peak in Q1 2006. This means that US houses have fallen more recently than they did in the Great Depression.
This is one of the greatest bubbles in history, with millions of people wagering large sums on the proposition that property would always appreciate.
I think it worthwhile to look at the bubble mentality as an important phenomenon in its own right.
It is also interesting to ask how Americans are reacting to the searing experience of a property slump. They have seen a multitude of foreclosures, and a huge number are underwater with the mortgages. Do they still think houses are a good investment? Do they think that home ownership is an ideal?
Home ownership is really important to American even after the slump in prices. A recent NY Times/CBS poll reveals that almost 90% say it is a vital part in the American Dream.
When a Kiwi studies the poll, it is clear that the US culture is different. The US culture expects the state to be very active in the housing market on the side of the consumer, while the Kiwi thinks the state should be hands off, and neutral to markets forces. The only issue that I am aware of is that a large number of NZ people think housing is not a level-playing field, and many believe there should be capital gains tax on non-family homes.
Americans support helping people in financial distress over housing, but Kiwis are merely sympathetic. Support for people in housing-distress is greater than support for people in unemployment.
An extraordinary 53% say that government should give direct financial assistance to those having trouble paying their mortgages, and 45% say the government should be doing more to improve the housing market.
This is eye-rubbing stuff!
Surely one would expect more libertarian, free-market ideology in the US? Well, only 16% said the government should be doing less.
One wonders if the recession is making the Americans more receptive to the state looking after its citizen's welfare after the recession. There was loud opposition to the extension of health benefits but that could have been from a noisy, well-funded minority funded by insurance lobbies. I hear little about the shame of 44 million people on food stamps; this is 1 in 7 nationally, but over 20% in Oregon and Mississippi.
In the poll almost no-one opposed tax relief on mortgages. This is usually regarded as a boon for the middle class. This kind of tax relief pertains elsewhere, notably the UK which has long espoused the ideal of a 'property-owning democracy'. My memory is a little suspect now, but did New Zealand have this concession before the Roger Douglas bonfire?
The US Federal Government did intervene in the property market by giving tax credits too on the purchase of new houses. This has now lapsed, and President Obama's housing record meets with 45% disapproval and a lukewarm 36% approval rating.
Who to blame for the crash? I may be wrong but Kiwi's tend to think that individuals should take responsibility for their actions. So if a person has to sell because they could not service their mortgage, Kiwi's will generally say "Bad Luck!' they bought at the top of the boom" etc and they might say the bank's have a share of the responsibility because they offered 100% mortgages.
The American's extremely rarely blame people for taking on too much, even the sub-prime borrowers. Readers may not know that the US government, Federal and State actually pressed financial institutions to widen home ownership with extremely liberal loans. In 1999, Fannie Mae came under pressure from the Clinton administration to expand mortgage loans to low and moderate income borrowers by increasing the ratios of their loan portfolios in distressed inner city areas. The US somehow thought home ownership could somehow be engineered, even for those who could not service a prime mortgage. The US public are now hot against both regulators and lenders.
Americans still want to buy houses, but only 49% think it is a safe investment. 45% think it is risky.
This is a massive change, previously generations though housing was the safest investment (as Kiwi's still tend to do?). Like Kiwis, American generally dismiss the stock exchange as a vehicle for saving. Their preference is a 401k (retirement account, some similarities to KiwiSaver) (41%), a house (26%) and savings account (22%).
[The Greek crisis may come closer to average Americans than they think: very large numbers have money market accounts, the managers of which naturally chase yield. This yield has taken them to Europe, and a Lehman-like moment could see these funds in difficulty.]
The size of the deposit is vigorously debated in the US. Lenders have now opted for 20% deposit on a house (which was the standard for decades). 58% support this but 36% say it keeps too many people from being housed.
Robert Shiller researches expectations. In 2005 he interviewed a large group of homebuyers and asked how much houses would appreciate by in the next decade. The median expectation was 7% p.a. That meant that house prices would double by 2015.
This is fascinating as it reveals a huge group of people were making the biggest investment of their lives in the expectation that it would be money for jam. This was not seen as unreasonable at the time as house prices increased at almost 10% p.a. 1997-2006. So ever increasing house prices seemed normal.
It also was the way to riches. It was easy to do too, as the US had lots of financial institutions offering 30-year mortgages at about 6.8%.
Shiller repeated the survey this year and the median expectation was that house prices would increase by 3% p.a. This is lower than the prevailing 30-year mortgage interest rate (4.5%-5%) so housing is no longer viewed as the path to riches. But Shiller seems confused because he also says the expectation in 2011 is for 1%p.a. This lower expectation means that demand for housing will be very flat and be a brake on the economy for some time to come.
Americans are undergoing great misery in this recession.
High unemployment means even those in employment must have anxiety about redundancy, about a quarter of mortgages are underwater. Many people wonder how they are going to put food on the table but many politicians are more concerned with tax cuts for the rich and are holding out for them by stalling other legislation. They are also bewildered.
A house had always seemed to be a most desirable asset. They still want them, but for many they are a liability at present.
--------------------------------
* Neville Bennett was a long-time Senior Lecturer in History at the University of Canterbury, where he taught since 1971. His focus is economic history and markets. He is also a columnist for the NBR.
nevillebennett@clear.net.nz
www.bennetteconomics.com