Here's my Top 10 links from around the Internet at 6 pm in association with NZ Mint.
I welcome your additions in the comments below or via email to bernard.hickey@interest.co.nz.
I'll pop the extras into the comment stream. See all previous Top 10s here.
What a week...
1. 'Debt is a snare and a delusion' -  GMO Fund Manager Jeremy Grantham has written plenty of provocative and counter-intuitive things in the past.
Now he was written a real doozy questioning the entire basis for modern multi-national, free-market capitalism and the debt complex that underpins it.
He is saying that somehow wages of average workers need to be raised.
He is saying the unsustainable mortgage debt of many average workers needs to be forgiven.
He is saying taxes need to be increased for the wealthiest.
He is saying debt needs to be made less attractive. He describes it at a snare and a delusion.
All heretical things to say by one of the Masters of the Universe. Remember, Grantham runs a US$100 bln hedge fund and doesn't bother to handle investors worth less than US$10 mln.
Today the artificial sugar-coating of increasing debt has been removed and we must live with the reality that an average hour's work has not received a material increase for 40 years.

Without increased debt and without gains in hourly wages, how can there be sustained broad gains in consumption? Only Chanel suits, Hermes scarves, BMWs, and their ilk have very strong sales, and these top-end items are just too small a fraction to carry the day. If we want to dig out of our current morass, don't we have to change this equation and isn't the most direct way of doing this to divide the pie more evenly? That would mean lower income and sales taxes for the bottom 75% of earners and higher taxes for the top 10%!

We have allowed the vagaries of globalization and the plentiful supply of cheap Chinese labor to determine our income distribution, which has become steadily steeper, to the point where we have become one of the least egalitarian developed societies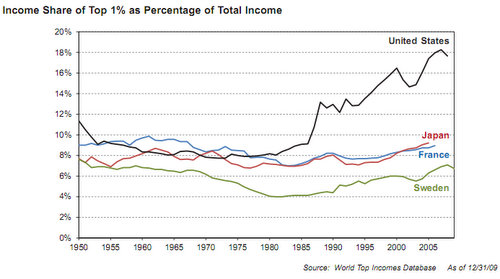 2. Lender's remorse - Bloomberg's Adam Minter points to the growing public anger through micro-blogs in China about the amount of money the government has lent to America's government.
3. Righteous indigation - How dare Britain's politicians accuse a bunch of looters of being "sick" and stealing. \
This letter to David Cameron's parents from Nathan Tapley captures the incredulity nicely (HT SirWB via Twitter):
Of course, Mr and Mrs Cameron, your son is right. There are parts of society that are not just broken, they are sick. Riddled with disease from top to bottom.

Just let me be clear about this (It's a good phrase, Mr and Mrs Cameron, and one I looted from every sentence your son utters, just as he looted it from Tony Blair), I am not justifying or minimising in any way what has been done by the looters over the last few nights. What I am doing, however, is expressing shock and dismay that your son and his friends feel themselves in any way to be guardians of morality in this country.

Can they really, as 650 people who have shown themselves to be venal pygmies, moral dwarves at every opportunity over the last 20 years, bleat at others about 'criminality'. Those who decided that when they broke the rules (the rules they themselves set) they, on the whole wouldn't face the consequences of their actions?

Are they really surprised that this country's culture is swamped in greed, in the acquisition of material things, in a lust for consumer goods of the most base kind? Really?
(BTW check out the great photoshop action in the picture above showing looters leaving Number 10...)
4. "Corporations are people" - Republican Presidential candidate Mitt Romney actually said this when arguing for corporate tax cuts paid for by cuts for social welfare and public health care.
After receiving jeers from the audience over the quote, he elaborated: "Everything corporations earn goes to people. Where do you think it goes? Whose pockets? People's pockets. Human beings, my friend."

Romney went on to suggest raising the retirement age rather than increasing taxes on business in order to fix entitlement programs' shortfalls.
5. Why Europe's banks matter - Bloomberg writes a nice editiorial on why we should care about European banks.
The euro area's debt troubles are probably the single largest threat to the global economy.

European bank troubles matter for the U.S. and the rest of the world, in part because the money-market funds in which millions of U.S. households keep their savings have invested heavily in European bank debt. Trouble at money-market funds would disrupt the short-term lending markets on which U.S. companies depend to pay suppliers and their own workers. Much as after the Lehman Brothers Holdings Inc. bankruptcy, the resulting credit freeze could force companies to slash production and fire workers, triggering a sharp recession in the world's largest economy.

Ideally, Europe would conduct stress tests showing exactly how much banks can lose and immediately announce how they will raise the necessary capital, much as the U.S. did in 2009. But no stress test can be credible until European leaders own up to the fact that some governments can't pay all their debts, define the losses investors will take and put a system in place to guarantee the debts that can be paid.

As Bloomberg View has advocated, the best route to clarity -- and stability -- would be for all the governments of the euro area to issue new bonds guaranteed by a unified finance ministry with taxation power. Investors would exchange the debt of individual governments for the euro bonds, probably at discount rates that would erase some of the debt at the investors' expense. The remaining sovereign debt would be sustainable. Banks and investors would know the extent of their losses. It won't be pretty, but ultimately the bloodletting will have to happen.
6. The feral rich and the feral poor - The Telegraph's Political Editor Peter Oborne has written a great piece challenging the politicians in Britain who criticise the rioters. HT SirWB via Twitter.
There was something very phony and hypocritical about all the shock and outrage expressed in parliament. MPs spoke about the week's dreadful events as if they were nothing to do with them.

I cannot accept that this is the case. Indeed, I believe that the criminality in our streets cannot be dissociated from the moral disintegration in the highest ranks of modern British society. The last two decades have seen a terrifying decline in standards among the British governing elite. It has become acceptable for our politicians to lie and to cheat. An almost universal culture of selfishness and greed has grown up.

It is not just the feral youth of Tottenham who have forgotten they have duties as well as rights. So have the feral rich of Chelsea and Kensington.

A great deal has been made over the past few days of the greed of the rioters for consumer goods, not least by Rotherham MP Denis MacShane who accurately remarked, "What the looters wanted was for a few minutes to enter the world of Sloane Street consumption." This from a man who notoriously claimed £5,900 for eight laptops. Of course, as an MP he obtained these laptops legally through his expenses.
7. Washington is broken - WSJ's Washington Wire blogs about how one of the new members of the 'super committee' to reduce America's budget deficit is already touting his new super powers to lobbyists to raise funds.
Food seems to be very expensive when bought at a fundraising dinner...
Political supporters of  Rep. Xavier Becerra (D., Calif.), one of the appointees to deficit-reduction committee, have already figured out how to raise revenue—by touting his seat on the panel to raise money for his political campaign.

About two hours after House Minority Leader Nancy Pelosi named Mr. Becerra to the committee on Thursday, a political supporter began notifying Wall Street lobbyists about a $1,500-per-person fund-raising event on Aug. 31.

An emailed invitation from Jim Hart, an official with the Investment Company Institute, noted that it will feature Mr. Becerra, who is "not only vice chairman of the Democratic Caucus, but who also has just been named to the new deficit reduction committee." It promised attendees "a glimpse into what will most assuredly be the primary topic of discussion between now and the end of the year."

"This will be Mr. Becerra's first event since being named to the commission and may be one of the first for any of the twelve members of the group," the invitation continued. "This even could give all attendees a glimpse into what will most assuredly be the primary topic of discussion between now and the end of the year."
8. A CreditAnstalt moment - If you think I am a gloomster, have a read of International Politics Professor Daniel Drezner at Foreign Policy on why the global economic outlook may actually be worse now than in 2008 and as bad as 1931...
 First, the governments that bailed out the financial sector are now themselves the object of financial panic and political resentment. Second, the tools used to try and rescue the global economy in 2008 are partially to blame for what's happening right now. Despite all the gnashing of teeth about the Fed twiddling its thumbs, it's far from clear that a QE3 would actually stimulate anything besides a rise in commodity prices.

With both Europe and the United States unable to stimulate their economies, and China seemingly paralyzed into indecision, it's worth asking if we are about to experience a Creditanstalt moment.

The start of the Great Depression is commonly assumed to be the October 1929 stock market crash in the United States. It didn't really become the Great Depression, however, unti 1931, when Austria's Creditanstalt bank desperately needed injections of capital. Essentially, neither France nor England were willing to help unless Germany honored its reparations payments, and the United States refused to help unless France and the UK repaid its World War I debts. Neither of these demands was terribly reasonable, and the result was a wave of bank failures that spread across Europe and the United States.
9. American house prices still falling - Those wondering why America just can't seem to pull itself out of its funk should read this via The Atlantic:
The economy feels sick because we never extracted the poison of the recession. The housing bust still lives with us. The value of the typical home fell by nearly 50% in the last five years. In many cities, values are still falling. This has wiped out the most important source of net worth to most middle income families. We aren't building new homes -- housing starts are down nearly 75% from the peak -- and we're stuck in our old homes -- one fifth of mortgages are in negative equity.

This housing depression creates a negative feedback loop. Families stuck in negative equity homes close their wallets. Businesses react to low revenue by not hiring. High unemployment depresses wages. Low wages delay the purchase of more homes, which would reverse the pernicious cycle.
10. Totally Clarke and Dawe - They talk about the London riots and the global markets meltdown.