Monday's Top 10 with NZ Mint: Swiss and Japanese fire broadsides in Currency wars; Tom Friedman's theory of everything; Why money printing enriches the rich; Dilbert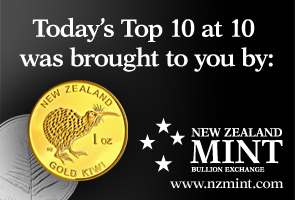 Here's my Top 10 links from around the Internet at 10 am in association with NZ Mint.
I welcome your additions in the comments below or via email to bernard.hickey@interest.co.nz.
I'll pop the extras into the comment stream. See all previous Top 10s here.
The currency wars are back...
1. Currency wars - Ambrose at The Torygraph has a excellent roundup of the desperation in Switzerland to stop their export sector being murdered by American and European money printing.
The Swiss solution?
Firstly, their own money printing.
Then, negative interest rates.
Then, a currency peg.
We'll see whether it works.
But at least the Swiss are doing something.
In a world where it's every central banker for themselves, it's good to see a large central bank actually try to defend their national interests.  The Bank of Japan is about to intervene again too.
What is ours doing about New Zealand's national interests? Nothing.
Here's Ambrose:
Kurt Schiltknecht, the SNB's former chief economist, said every measure used to curb inflows in a similar crisis in 1978 proved a "failure", including negative rates.

Eventually the bank set a target against the Deutschmark (10pc above market levels) and pledged to buy foreign currency with printed francs for as long as it took. "It worked well. After some hesitation, the market became convinced," said Mr Schiltknecht. A euro peg would be similar.
2. 'Unlimited ECB refinancing' - Daniel Gros writes at VoxEu that Greece was the canary in the mine and now all the European miners are in trouble. He suggests the ECB become the buyer of last resort.
It's a nice summary of the European problem.
Canaries were kept in coal mines because they die faster than humans when exposed to dangerous gases. When the birds stopped singing, wise miners knew that it was time to gear up the emergency procedures.

Greece, as it turns out, was the Eurozone's canary. The canary was resuscitated and a small rescue mechanism was set up to revive a further canary or two – but beyond this the warning was ignored. The miners kept on working. They convinced themselves that this was the canary's problem.
3. NZ company registry Whack-a-mole Part II - Richard Smith writes again at Naked Captalism about how easy it is for dodgy people globally to use and abuse New Zealand's way-to-easy to use/abuse company registration system to launder money.
Here's Smith:
Until they get the authentication of their registrants sorted, and better legal protections for the register, it's just a game of whack-a-mole, after all, though with several hundred billion dollars worth of international relations at stake.

You see, I wouldn't like to be in Prime Minister John Key's shoes when he explains, to US President Barack Obama, how the NZ government's inept custody of New Zealand's Company Register continues to facilitate money laundering, just after the biggest moneylaundering ring in world history was shown to depend on shoddy New Zealand registration, and four and a half years after Obama's first warning.

Nor, come to that, would I particularly relish the prospect of explaining to Prime MinisterMedvedev Putin whoever of Russia how a key component of the biggest tax fraud in Russian history was facilitated by other shoddily registered New Zealand companies.

Oh Mr Key, if you don't want New Zealand to be either an international pariah, or a laughing stock, I'd take a look at the New Zealand Company Registry and its protections right now. Perhaps there will be another 200+ parliamentary questions, about this new batch of companies, in another couple of weeks. Would that get your attention?
4. Cyprus on death watch negative - FTAlphaville points out that S&P put Cyprus on negative credit watch on Friday night. The language is damning.
We believe the fiscal position of the Cypriot government is no longer sustainable. Due to the departure of the junior coalition party, DIKO, the Cypriot government is, in our opinion, in a weaker position to pass emergency budgetary measures through parliament.

In particular we question whether, without more extensive expenditure cuts including to public sector payrolls, the government can meet next year's ambitious 2.5% of GDP general government deficit target. In our opinion, the Cypriot banking system's capacity to absorb shocks emanating from a further deterioration in Greece's public and private creditworthiness is not unlimited. Based on official comments, we believe that uncertainties remain over the timing and participation rate of the private sector in the planned bond exchange of Greek sovereign debt.
5. The  drive for Eurobonds - It seems one the latest tactics in the endless attempt for solutions in the European crisis is to create a Eurobond.
Italian Economy Minister Giulio Tremonti stepped up calls for a more coordinated response to the euro zone debt crisis, including the creation of euro bonds, ahead of a crucial Franco-German summit next week.

Tremonti returned to proposals for jointly-issued bonds that would effectively make individual governments' debt a common burden, saying they were the "master solution" to the euro zone debt crisis.
6. Spain can't pay its defence budget - El Pais reports Spain can't pay its military budget. HT Mish.
7. Be consistent -  If John Key is so keen on cracking down on how teenage beneficiaries spend their money, he should extend it to pensioners as well.
I wonder how much pension money is spent on the pokies, on cigarettes and on alchohol.
Would John Key be so keen then?
If he's going to go down this track he should be fair about it.
Here's Will de Cleene making the point well on his blog:
You do not unleash infrastructure of such complexity unless you intend to test it before widening it to others.The Young Ones are guinea pigs for a new regime of Food Stamps for all beneficiaries (excluding the Super voters, no doubt). Alcohol and tobacco for poor people bad! Pies and ice cream good!

National's paternalism is more likely to fuel a backlash than inspire fomenting youth to comply with their minders. Because, no matter how much Key tries to hide it, the jobs just aren't there.

The Young Ones are easy fodder for the blue rinse brigands, in much the same way as farmers are Labour's current scapegoats. Farmers are predictable protesters though, always with a strong "Let the Tractor do the Talking" motif. The Young Ones aren't quite as constricted in their tactics, as the last week in London has shown.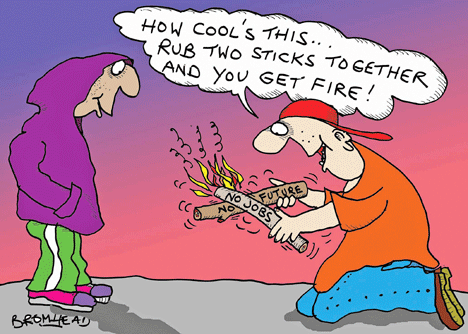 8. Why QE further enriches the rich - The Observer's Heather Stewart makes the good point that money printing or quantitative easing as it is known simply enriches the already rich and does nothing for the middle classes and poor.
 The Bank of England's recession-busting policy of buying up billions of pounds of bonds – may have contributed to social unrest by exacerbating inequality, according to one City economist.

As the Bank of England considers unleashing a fresh round of QE, Dhaval Joshi, of BCA Research, argues the approach of creating electronic money pushes up share prices and profits without feeding through to wages.

"The evidence suggests that QE cash ends up overwhelmingly in profits, thereby exacerbating already extreme income inequality and the consequent social tensions that arise from it," Joshi says in a new report.
We are increasingly taking easy credit, routine work and government jobs and entitlements away from the middle class — at a time when it takes more skill to get and hold a decent job, at a time when citizens have more access to media to organize, protest and challenge authority and at a time when this same merger of globalization and I.T. is creating huge wages for people with global skills (or for those who learn to game the system and get access to money, monopolies or government contracts by being close to those in power) — thus widening income gaps and fueling resentments even more.

Put it all together and you have today's front-page news.
10. Totally Jon Stewart at The Daily Show on the credit rating downgrade.