Opinion: What the Adidas backlash says about how consumers can reclaim profits from multi-national capitalists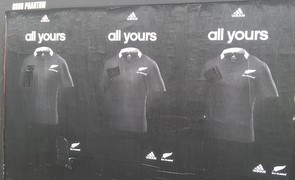 By Bernard Hickey
I was surprised when I saw this defaced billboard (pictured) on the corner of Park Rd and Kyber Pass in Auckland over the weekend.
Someone had gone out of their way to deliberately and carefully put black tape over the Adidas logo on the 'all yours' billboards advertising the new All Blacks jersey.
It wasn't the act of an impulsive teenager or a reckless vandal with a spray can or a boot. It was a restrained act of protest that shows just how badly the Adidas brand has been damaged in New Zealand.
It got me thinking about what Adidas did wrong and why the reaction has been so visceral. It got the to point last week where Adidas removed the three stripes branding from sales reps' cars. See more here at NZHerald. Socialist protestors even burnt an effigy of the Adidas brand outside Eden Park, although that had more of the feel of a stunt about it.
So why are New Zealanders so grumpy about this and what does it say about our world?
Firstly, Adidas is playing with fire in New Zealand because it is the only visible sponsor of the All Blacks whenever they play.
Adidas 'owns' the All Black jersey, yet it is a piece of national symbolism that New Zealanders feel intensely proud and proprietorial about.
Every New Zealand boy, including me, dreams of one day wearing that jersey. At 44 I realise my chances of becoming an All Black long gone, yet I still wonder if only I went to the gym more often and was slightly more talented...(well maybe a lot more talented) I could be called in as a late replacement for Ali Williams. I'm 6ft 5 inches so I harbour vain hopes.
Our heroes speak in hushed tones about how they feel when they are given their first jersey for their first test. The players often talk about honoring 'the jersey' and those who have worn it beforehand. I believe the likes of Richie McCaw when he says these things.
Despite being deeply embedded in a professional era, playing for the All Blacks and wearing that jersey seems a lot more real and honorable that just playing for any team or pay cheque.  We believe this and it's why we care about who gets in the team, how they play and whether they win.
It is special and it's no doubt why Adidas wants to connect its brand to that jersey. So Adidas and the New Zealand Rugby Union need to be careful about what they do to and with that jersey. To be fair to them, they have been until now. Apart from an ugly period in the 1990s when Steinlager was plastered across the middle, the jersey hasn't looked too much like a billboard. That's good and much better than the teams the All Blacks play against and regularly beat.
Brands are collections of emotions attached to products, services and experiences. When it works it's great.  But this attachment can cut the other way and hard. Which is what has happened over the last week and with a speed and severity that clearly caught Adidas and the Rugby Union unawares.
I think Adidas didn't quite realise how the mood about multi-national capitalism is changing and how much the power balance has shifted. It's partly about the use of new technology and access to information, but it's also about a deeper awareness of how global supply chains work and who benefits.
The social contract
New Zealand and New Zealanders have in the past embraced the openness of our economy, at least since it was opened up in the mid 1980s. We liked that we could import whatever we wanted. An entire retailing empire, The Warehouse, was built on importing cheap clothing and knick-knacks from the factories of southern China and shovelling it on cheaply.
We knew 'the deal.' Manufacturing jobs would be lost here, but we would get the benefit of cheaper imported goods.
It's even more 'the deal' when we see the New Zealand dollar rising. Yes, we would lose exporting jobs, but we would get cheap imports in return.
We also understand how multi-national corporations work. They shift their costs to the cheapest place and pass on at least some of the benefits to consumers in the form of low or lower prices.
The trouble is we're starting to work out how this shuffling of costs and assets is starting to affect jobs in the developing world and how 'the deal' isn't working for consumers in the developed world anymore. There's always been questions about whether it worked for the workers in the developing world. Some say it has helped drag hundreds of millions out of poverty. The lively debate going on inside China about the momentous social changes and disparities of wealth between the factory owners and the rural migrant workers in those factories suggest it's not wildly popular there either.
More and more of the gap between production costs in China and the selling price in America or Australia or Europe or New Zealand is being captured by the owner of the 'brand' controlling that supply chain, and ultimately their shareholders and managers.
Adidas reported on August 5 it expected earnings per share growth of 15% in 2011 on a 10% rise in sales. It expects profits to be as high as 684 million euros (NZ$1.2 billion) this year. It expects a gross profit margin of 48% of sales and an operating profit margin of 7.5% to 8% this year. See more detail here at Adidas' investor relations site.
Adidas even boasted that its tax rate had fallen two percentage points in the first half of the year to 27.5%.
Adidas' financial strength and the way it does business is emblematic of the problem gripping the global economy at the moment.
Large multi-national corporates are cutting costs to increase profits and doing so by laying off higher paid middle class workers in America and using lower wage workers in the developing world. But instead of reinvesting those profits, they are being hoarded in cash piles by shareholders worried about increasingly weak consumer spending in developed economies. It is an ominous feedback loop.
Cost cutting reduces consumer incomes. Lower consumer incomes reduce retail sales. Companies react by cutting costs by moving more production offshore. You get the drift.
See more about the problem of hoarding here in my piece from the weekend.
These companies are also increasingly playing countries off against each other to get the best tax treatment or shuffling their activities to reduce their overall tax rates. These apparently stateless companies seem to bare little allegiance to anyone except their executives and shareholders. Countries, workers and the governnents they have connections to are of a lesser importance.
We're losing faith in the model
Where once we saw the benefits of globalisation, now we're beginning to wonder.
So the least we can do is take advantage of those same forces of globalisation to 'source' our own imports from the cheapest places. We're also keen to avoid paying consumption taxes within our own borders.
This is where the real anger arises in this story.
Savvy New Zealanders know there is a huge gap between the production costs, reported to be around NZ$8 per jersey, and the recommended retail costs of around NZ$220 per jersey.
What is so surprising is that Adidas has allowed huge variances to arise between the prices online and its recommended retail price. Worldrugbystore is offering All Blacks jerseys for US$79.99 (NZ$96.00 at current exchange rates), while the same jersey retails in New Zealand for NZ$220. It surprised retailers here too, including Rebel Sports' boss Rod Duke and Champions of the World owners Gary Marshall, who both cut their retail prices. See more here at NZHerald.
This story really took off when Adidas blocked the sale and shipping of such jerseys from such websites to New Zealanders. How dare they!? That decision has since been reversed and only after a real outcry. See the Stuff story here.
What's the point of globalisation if the only ones who can 'globalise' their costs are the manufacturers, wholesalers and retailers?
In a world where it is just as easy to buy online as to go down to the store, the globalised supply chain was caught napping by its own globalisation and efficiency.
Two can play at this game and we were all rightly outraged at Adidas' attempt to create a little 'Fortress New Zealand' for its New Zealand pricing.
Where's the benefits?
The other underlying current of disatisfaction is the apparent refusal of many importers to pass on the benefits of a higher exchange rate to consumers.
As the benefits of globalisation start being questioned and as consumers become grumpier about higher living costs and stagnant incomes, globalised companies should be a lot more careful about how they operate.
Particularly when they 'own' brands as special as the All Blacks jersey.
It's not 'all yours'.
It's ours and the cartoon below by Emerson in the New Zealand Herald last Tuesday seemed to sum up how we felt.
The real question though is when does this anger widen into something larger about the way the global economy is organised.