Wednesday's Top 10 with NZ Mint: Bill Gross on what's really wrong; Australian free trade consensus breaking down; Steve Jobs' calendar; Fran wants higher taxes; Dilbert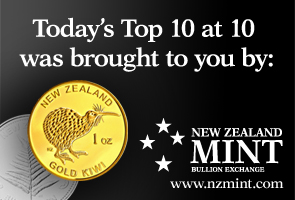 Here's my Top 10 links from around the Internet at 4 pm in association with NZ Mint.
I welcome your additions in the comments below or via email to bernard.hickey@interest.co.nz.
I'll pop the extras into the comment stream. See all previous Top 10s here.
Fran O'Sullivan's column is well worth reading.
1, Global economic marital disharmony - PIMCO Boss Bill Gross is the biggest bond fund investor in the world.
He has hundreds of analysts digging stuff up for him that isn't biased in favour of some investment bank's proprietary trading book or some politicians' voting prospects.
You could argue that he is just talking his US$1.3 trillion book of bonds. But at least you know where you stand.
His monthly missives are always worth a read.
This month he points out the rampant demand for bonds is a product of a deep disillusion with the prospects for growth given the disharmony between policy makers globally.
Here's his thinking, along with a cracking chart.
He also points out he likes non-US dollar assets with exposure to Asian growth. That, of course, includes us, and might explain why our currency is well over 85 USc less than six months after the worst natural disaster to hit a developed economy (in % of GDP) in over a century.
During the US's recent economic "recovery," real corporate profits increased by four times the amount of working wages in dollar terms, and, as the chart below shows, are 50% higher than at the turn of the century while wages remain relatively unchanged, something that has not occurred since this country's nuptials were concluded over three centuries ago. Is it any wonder that preliminary battlefield skirmishes in Wisconsin and Ohio between labor and capital promise to spread across every state of this land? (Not Texas!) Is it any wonder that Republican orthodoxies favoring tax cuts for the rich and Democratic orthodoxies promoting entitlements for the poor threaten to hamstring any constructive efforts to reduce unemployment over the foreseeable future? We are witnessing romantic love turning into a spiteful, bitter clash between partners in name only.

China, meanwhile, calmly played its cards with a decades-long plan centered around capitalistic mercantilism, a game the United States claimed to play best but somehow forgot most of the rules. Even when holding the trump card of a reserve currency, mercantilistic domination depends on making something the rest of the world wants. We don't and they do. The Chinese "object" has turned into an object lesson for developed economies that debt-financed consumerism is reaching an end. This affair then, which has sustained global growth during much of the 21st century, is vulnerable.

In the U.S., strangely enough, matrimonial discord between rich and poor has led to lower, not higher, Treasury yields as approaching recessionary winds force the Fed and private investors to favor bonds. There are limits, however. Ten-year Treasuries at 2.25% are discounting a heap of trouble (none of it strangely enough due to its own credit standing), and neither investor nor borrower may emerge from this brouhaha unscathed. We prefer the "cleaner" dirty shirt countries of Canada, Australia, Mexico and Brazil, where higher yields and more pristine balance sheets prevail.
2. Two days to sort it out - The latest comments from various FOMC members over the last couple of days and from the last meeting minutes show the US Federal Reserve's main policy making committee is deeply dvided over the need for more money printing.
Some want much more.
Some think the pledge to keep the Fed Funds Rate at 0% for two more years is already too much stimulus.
No wonder Ben Bernanke needs an extra day at next month's meeting (September 20-21)to convince them to do something.
Anything.
Here's Reuters on the Fed's divisions:
Two top Federal Reserve officials diverged on Tuesday on the need for further action by the central bank to stimulate the flagging economic recovery, underscoring the dilemma faced by Fed Chairman Ben Bernanke.

Charles Evans, president of the Chicago Federal Reserve Bank and a noted policy dove, said he favored strong central bank accommodation "for a substantial period of time," since the economy now looks to be moving "sideways."

But Naryana Kocherlakota, president of the Minneapolis Federal Reserve Bank, speaking separately on Tuesday, stopped well short of signaling support for further easing, showing he remains firmly on the hawkish wing of the Fed's policy-setting panel.
3. Good to see - The consensus about unfettered free trade in Australia is breaking down, Bernard Keane reports at Crikey.
It's good to see the issue of free trade being debated. Frankly, it hasn't worked for the middle classes of the developed world. They got cheap stuff, but lost their jobs.
Their wealth was transferred to the richest as much of the the lower manufacturing costs in China were captured as profits. The middle classes kept spending as if nothing had changed, but only could do so by borrowing from the trade surplus countries such as China and Germany.
The Chinese and Germans preached free trade but acted like mercantilists, keeping their currencies low to bolster their export sectors and build up big foreign reserves.
Let's face it. Free trade works best for mercantilists. We have to acknowledge the world is not free and fair.
It seems cynical and sad, but in the end you have to fight for your national interest and avoid the sort of social disruption we're now seeing. Otherwise you end up with a very, very rich elite running and owning these multinationals, an unemployed (mostly young) middle class and an increasingly indebted group of developed economies.
It's not sustainable and creates the sort of capital imbalances and financial market volatility that is ultimately self-destructive.
Here's Crikey (who is obviously still a beliver in the flat earth of free trade):
The successful economic reform project of the last 30 years stands at an important juncture. A key component, free trade, is under increasing pressure from organized labour, the balance of power party and conservatives, and all that stands in the way is a minority government.

Now there's a clear push for manufacturing protectionism from Sophie Mirabella, who while – like everyone else – is unwilling to cop to the protectionist label, is talking the crudest kind of protectionist rhetoric about "playing fields not being level" and "subsidized goods distorting our markets" ("our" being the key emotive word).
4. Bank profits to fall - Uber-consultants McKinsey reckon US bank returns on equity will drop to 7% from around 20% because of new regulation. I hope our Reserve Bank is watching and ready to do the same here.
Bank ROEs are headed back towards the high teens here again. That is way too high for utility businesses.
Returns at top banks will shrink two thirds unless they take action to limit fallout from tougherregulation, consultancy McKinsey said on Wednesday.

"In some businesses, a portion of the higher regulatory costs may successfully be passed on to customers," it said in a report into the world's top 13 lenders.

Based on 2010 data, the average return on equity (ROE) -- a key profitability benchmark -- was about 20 percent.

That will be slashed to about 7 percent by the introduction of tougher global bank capital and liquidity standards, known as Basel III and due in stages from 2013, coupled with other rules such as mandatory clearing of derivatives contracts.
5. Fran unloads - Fran O'Sullivan has written a strong column in the NZHerald arguing for government action on the earthquake and the economy, including a tax on the rich to replenish the natural disaster fund that has just been cleaned out.
Why hasn't the National Government urgently launched a three-point action programme to deal with the serious risks to the economy resulting from the major earthquakes in Canterbury?

The Canterbury quakes are proving to have a much more significant impact on this country than the global financial crisis which sparked the Key Government's launch of a "rolling maul" of initiatives. How hard would it be for the Government to:

* Immediately impose a special tax aimed at higher income earners to start replenishing the Natural Disaster Fund which has been exhausted by the impact of the Christchurch quakes.

* Commandeer large amounts of stable land on the outskirts of Christchurch and launch a big state-led building programme to get people safely rehoused quickly. Do this instead of allowing developers to book obscene profits at the expense of fellow citizens who have already lost enough of their equity through the quakes.

* Tell New Zealanders - including the business community - the truth about just what it will cost in future to insure residential and commercial buildings in this seismically challenged land.
6. The apparently reluctant billionaire - Apple's Steve Jobs is America's most prominent billionaire. But he's not a very prominent philanthropist, Andrew Ross Sorkin points out at the New York Times.
Despite accumulating an estimated $8.3 billion fortune through his holdings in Appleand a 7.4 percent stake inDisney (through the sale of Pixar), there is no public record of Mr. Jobs giving money to charity.

Mr. Jobs's views on charity are unclear since he rarely talks about it. But in 1997, when Mr. Jobs returned to Apple, he closed the company's philanthropic programs. At the time, he said he wanted to restore the company's profitability. Despite the company's $14 billion in profits last year and its $76 billion cash pile today, the giving programs have never been reinstated.
7. It's getting worse - The fall in Australian house prices is accelerating, Macrobusiness points out.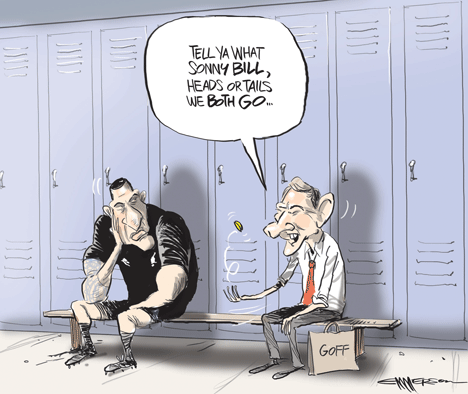 8. US inflation rate hits 4% - That's according to the Billion Prices project that measures prices online in real time.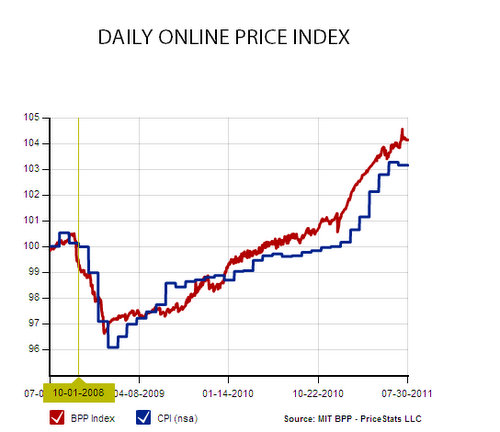 9 'Dear Ben, please print us some more money' - Testosterone Pit at Zerohedge asks Ben Bernanke for more money printing and inflation. The tongue is firmly in cheek, but the point is serious.
Real wages have been declining for ten years and fell another 1.7% since July 2010. But that's not enough. So get with it, Ben. Print more. And don't worry about the wusses out there who say that choking the middle class like that will put us into a permanent recession. Just get the banks to loan them lots of money so they can buy our stuff, and when the loans blow up, you buy them from the banks at face value. Full circle, Ben.  

The trillions you've printed and handed to us, well, we put them to work, and we created jobs in China and Mexico and Germany, and we bought assets, and it inflated prices, and now we're even richer. We're proud of you, Ben. Think of the influence you have. And not just here. Around the world, Ben! Look at the Middle East and North Africa. See the food riots, rebellions, and civil wars it caused? Thousands of people died and entire governments were toppled.... Oh, wait. That's a bad example.

And then there is Congress. We invested in them through campaign contributions and other mechanisms to get them to spend trillions of dollars every year on our products and services, and they even started a few wars, and it made us richer—without taxing our companies or us. It's a wonderful system.

But the deficits have become so huge that they exceed what the Treasury can borrow. So we're glad, Ben, that you stepped up to the plate and printed enough money to monetize the deficit. But Ben, you can't just stop now! You've got to keep at it. Or else, the whole system will blow up. Well, it'll blow up anyway, but we don't want it to blow up now. So, Ben, you don't have a choice. Otherwise, we'd lose a lot of money in our schemes, and nobody wants that.
10. Totally The Daily Show on the Republican Party