Alex's politico-economic blogroll: Nolan's outlook downgraded; Can we really blame Treasury that much? Asset sales not for debt reduction; Will anyone be as powerful as Douglas was? Cartoons
Here's my blogroll for the week.
Have a good weekend all.
1. It's going to be a bumpy ride. TVHE's Matt Nolan, an economist at Infometrics, has been pretty busy in the last couple of weeks revising his forecasts due to the European debacle.
Then came along NZ's credit rating downgrade.
My view of where we are heading has been heavily downgraded over the past week.  NZ policy makers have done a great job, the government and the RBNZ have been sensible.  NZ households have worked with what they've been given, and our businesses have responded to changing external conditions.

But Europe, and to a lesser extent the US, are mammothly incompetent.  We've now reached a point where it looks like these nations are pushing the world into a crisis – a slow moving train wreck type of crisis.  Hopefully, someone wakes up and taps the brakes soon.
And Matt has this great cartoon on the TVHE blog.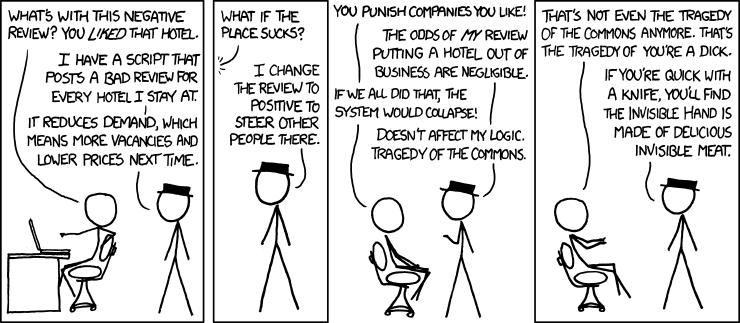 2. How much can we really blame Treasury for the losses from the deposit guarantee scheme, University of Canterbury economist Eric Crampton asks at Offsetting Behaviour.
What was crazy was extending that protection to dodgy finance companies at no risk premium. Treasury worried that giving banks cover but not finance companies would have finance company depositors pull their funds and deposit them instead into banks (about which I'd have said "meh"), but Treasury also specifically warned that they had to be charged a premium that reflected their higher risk. Instead, actuarially fair premiums weren't charged so we instead saw flight of funds into the dodgy finance companies.

Now everybody's mad that Treasury didn't do enough to stop it. Labour finance spokesman David Cunliffe was on Radio New Zealand this morning blaming Finance Minister Bill English and Treasury for the disaster. And National rightly takes some of the blame - they agreed with Cullen's rush-job deposit guarantee scheme and they subsequently didn't move quickly enough to force out the dodgy finance companies through higher insurance premiums.

I'm not really sure what Treasury could have done though once the Government had determined they weren't to charge premiums that differed by risk and while under government pressure to let everybody in. I'll have to read the Auditor General's report. It doesn't seem implausible that a Treasury juggling rather a few balls at the time could have fumbled one or two. But the root of the problem was the rush-job legislation with no provision for rationing access by differential premiums. And that goes to Cullen and Key, not to Treasury.
3. If Treasury intervened more and the company crashed, could they be held to blame? David Farrar at Kiwiblog wonders how hands on Treasury really could have been?
So the criticism is that having guaranteed the deposits, Treasury should have told some finance companies to pull their heads in, presumably with an implicit threat to revoke the guarantee if they don't.

Treasury Secretary Gabriel Makhlouf said yesterday that Treasury disagreed with the assertion that more intervention in finance companies might have reduced the fiscal risks that were an inevitable consequence of the scheme.

I suspect it would have reduced the fiscal risks. However it may have increased other risks such as reputational risks. If Treasury was acting as a sort of implicit director of a finance company and it then crashed, the company might blame Treasury for interfering and say that without the interference they would have been fine.
4. Why asset sales aren't about reducing debt. Paul Walker at Anti-dismal says the argument of Capital Gains Tax vs asset sales for debt reduction misses the point. He says you sell government assets to improve prodctivity and depoliticise those firms being sold. It's not about debt.
The point I want  to make here is that the idea that asset sales should be used to pay-off debt is wrong-headed. Having a debate about whether to use asset sales to pay for the deficit is the wrong debate to be having about asset sales. The reasons for privatisation have nothing to do with dealing with the deficit, the reasons for asset sales should hold even if you get nothing from the privatisation programme. Talking about maximising the return from asset sales to cover the deficit misses the whole point of privatisation. Asset sales are about improving the efficient and productivity of the economy. If we just worry about how much we will get for the sale of assets then we should sell all of the state assets with the firms being monopolists. But that's unlikely to do much for welfare but would cover a lot of the deficit.

The point to note is that the advantage of privatisation is that it will depoliticise the firm. The aim is to have the greatest possible "distance" between the government and the firm. Government interference in the running of a firm is impossible to eliminate completely but a good privatisation plan will result in a situation where any government interference is as obvious and politically costly as possible.

For successful privatisation it is more important to get the regulatory environment right so that competition can breakout in the industry than it is to maximise the price for which the asset is sold. Basically I'm arguing we should have lexicographic preferences, with price low on the list. Worrying about whether or not the 'family silver' was sold too cheaply misses the point, the price received can only be see as too high or low relative to the market structure the firm finds itself it. Just arguing that a higher price could be obtained with a different market structure is only useful if the new market structure improves welfare.

In short, having to cover a deficit is nether a necessary not sufficient reason for the sale of state assets.
5. Inflation components. Infographics whiz Keith Ng has devised this fantastic interactive graphic showing the make up of the CPI from 2006 til now over at Public Address. It's quite fun actually. Click through because we can't embed it.
6. The blame game. National and Labour have been having a fun ole time blaming each other for the downgrade. Anthony Robins at The Standard picks up on Key's '1-2%' quote in 2009 that's not relevant now.
The 2009 budget was another piece of well managed political theatre by National. Reneging on their irresponsible election bribe tax cuts, and knowing that they wouldn't have anything much positive to sell, they set up the threat of a credit downgrade as the litmus test of success.

Before the budget Key confidently predicted that the political humiliation of a downgrade would be avoided.  Eddie started us off with a few choice quotes yesterday, here's another from Key:

"If a downgrade were to happen, it would add 1-2% of interest on the amount the government borrows, which is around $600 million each year."

This, says Key, is to be avoided at all costs.  "That's every homeowner, every business, everybody paying 2% more. That would be irresponsible in my view for the government not to act," Key says. [emphasis added]

To make sure of the outcome, Bill English consulted with the ratings agencies (to the extent that even Tory commentators raised the alarm about Who's writing the budget?).  Sure enough post budget the agencies duly held their ratings, and the government got to enjoy the mission accomplished spin.
7. And here's Idiot Savant at No Right Turn having a go at National too.
So, to its impressive record of economic achievements - a stagnant economy, 154,000 unemployed, and record high inflation - National can now add a credit rating downgrade. Heckuva job, Bill. You've really earned your $250,000 this year. Do you want a bonus too?

Does it need to be spelled out any clearer? National is a failure at managing the economy. They've treated the country like a small business, tightened its belt, and so driven it into the ground. And contrary to their NeoLiberal dogma, the confidence fairy did not appear and make things better. Instead, the ratings agencies looked at the fundamentals of the economy and the direction National was driving it in, and reacted accordingly.

This will of course push up debt servicing costs. And you can guess what National will respond to this with: more cuts. Which will in turn deepen the death spiral, prolong the recession, and keep more kiwis out of work for longer.
8. Will a Finance Minister ever again have as much power as Roger Douglas had in the 80s? Cactus Kate thinks not. She muses on Sir Roger's valedictory speech in Parliament this week.
The speech was not one that associated at all with his last three years in Parliament. It went back to the glory days of old. In many ways that is where Sir Roger has been stuck.

I hope that history remembers Sir Roger kindly as I do for the years of his reign as Minister of Finance of 1984-88. And remembers less of his last three years in Parliament and role in ACT. His speech reflected that. Sir Roger is a politician of the past. Pre-MMP. There is nothing wrong with that and it is not a criticism. It is just the way things are and who he is and perhaps always has been. Sir Roger as Finance Minister enjoyed a period of absolute reign in 1984-88 that no politician may ever have the opportunity again. They were indeed glory days, incapable of even the slightest of re-invention.
9. Patrick Gower sings the American national anthem to the Green Party Caucus. Thank God this is over, is all I can say.
My office is next door to TV3's in the Press Gallery, and by Jeeves did Patrick practice. Their whole office joined in at time, and it's bloody loud when one of them gets going, let alone all three of them. Patty lost a bet about the result of the USA-Russia rugby game.
10. 'For God's sake, give him the bloody bank'. And that was how Kiwibank was formed after Annette King laid it down to Michael Cullen after Jim Anderton's repeated requests. It's in Anderton's valedictory below (for the first part of the speech, see here). Have a good weekend all.