Here's my Top 10 links from around the Internet at midday in association with NZ Mint.
I welcome your additions in the comments below or via email to bernard.hickey@interest.co.nz.
I'll pop the extras into the comment stream.See all previous Top 10s here.
Those Occupying Wall Street should look at Matt Taibbi's manifesto at number 9.
1. The Great Disruption - Tom Friedman writes at the New York Times about the way social protests have spread like wildfire in the last year from Tunisia to Wall Street and how a lack of physical resources and income inequality is at the heart of the problem of no growth.
He cites an Australian author and the quote below captures nicely the sense of unease growing now about the global economy's model of unending growth with limited resources.
What happens if there isn't enough oil or innovation to support this unending growth?
Who benefited from the the debt-fueled and unsustainable consumption growth of the last 20 years?
Why did the 1% get much richer and the 99% get poorer?
This particular version of capitalism seems to have failed.
Here's the quote:
Paul Gilding, the Australian environmentalist and author of the book "The Great Disruption," argues that these demonstrations are a sign that the current growth-obsessed capitalist system is reaching its financial and ecological limits. "I look at the world as an integrated system, so I don't see these protests, or the debt crisis, or inequality, or the economy, or the climate going weird, in isolation — I see our system in the painful process of breaking down," which is what he means by the Great Disruption, said Gilding. "Our system of economic growth, of ineffective democracy, of overloading planet earth — our system — is eating itself alive. Occupy Wall Street is like the kid in the fairy story saying what everyone knows but is afraid to say: the emperor has no clothes. The system is broken. Think about the promise of global market capitalism. If we let the system work, if we let the rich get richer, if we let corporations focus on profit, if we let pollution go unpriced and unchecked, then we will all be better off. It may not be equally distributed, but the poor will get less poor, those who work hard will get jobs, those who study hard will get better jobs and we'll have enough wealth to fix the environment.

"What we now have — most extremely in the U.S. but pretty much everywhere — is the mother of all broken promises," Gilding adds. "Yes, the rich are getting richer and the corporations are making profits — with their executives richly rewarded. But, meanwhile, the people are getting worse off — drowning in housing debt and/or tuition debt — many who worked hard are unemployed; many who studied hard are unable to get good work; the environment is getting more and more damaged; and people are realizing their kids will be even worse off than they are. This particular round of protests may build or may not, but what will not go away is the broad coalition of those to whom the system lied and who have now woken up. It's not just the environmentalists, or the poor, or the unemployed. It's most people, including the highly educated middle class, who are feeling the results of a system that saw all the growth of the last three decades go to the top 1 percent."
2. That's one way to do it - The Washington Post reports banks in America are knocking down buildings they have foreclosed on (mortgagee sales) to remove them from the overhang on the market that is pressing down prices. Some are even giving the homes away to community groups to renovate or destroy and turn into parks and playgrounds.
Cleveland — The sight of excavators tearing down vacant buildings has become common in this foreclosure-ravaged city, where the housing crisis hit early and hard. But the story behind the recent wave of demolitions is novel — and cities around the country are taking notice.

A handful of the nation's largest banks have begun giving away scores of properties that are abandoned or otherwise at risk of languishing indefinitely and further dragging down already depressed neighborhoods.

The banks have even been footing the bill for the demolitions — as much as $7,500 a pop. Four years into the housing crisis, the ongoing expense of upkeep and taxes, along with costly code violations and the price of marketing the properties, has saddled banks with a heavy burden. It often has become cheaper to knock down decaying homes no one wants.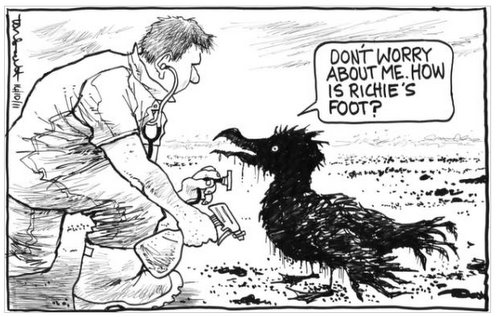 3. So much for decoupling - The Age reports the IMF has warned that the European debt crisis poses an "extreme risk" to growth in Asia, and therefore to Australia (and to us too).
John Key - Are you listening?
In a ''severe global downturn'' where Europe contracted sharply and the United States barely grew, the IMF said Australia's annual growth could be 2 percentage points lower than expected.

For 2012, this suggests the economy would slow to a paltry 1.3 per cent. Over two years, the IMF says an overseas shock would take more than 3 percentage points off the economy's expansion.

Despite last week praising Australia's economic position as ''enviable'', the IMF said the economy would not be immune from a global shock.

''Australia would be affected through a sharp decline in the demand for, and prices of, commodities, as well as likely pressure on bank funding: both would combine to have a significant negative impact on investment,'' the report said.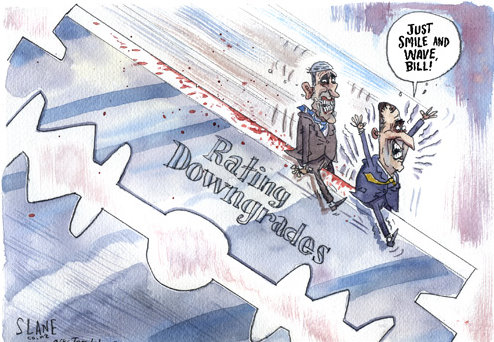 4. European banking regulators made America's look good - Jonathan Weill writes a good column at Bloomberg about the utter failure of Europe's banking regulators. He points out Belgium's Dexia was ranked very highly in the July 15 stress tests but collapsed into a government bailout 86 days later.
The stress-test exercise was a charade, just as it was a year earlier when Bank of Ireland Plc and Allied Irish Banks Plc passed their tests and collapsed soon after. Once again the rules were rigged so only a handful of unimportant banks would flunk. Everyone who was paying attention understood this.

In a way, by blowing its job so spectacularly, the European Banking Authority may have done the public a favor. Now that we have a clear point of reference, all you need to do to see what other European banks we should be worried about is look up which ones were sporting capital ratiossimilar to Dexia's.

For instance, as of Dec. 31, four other European banks that passed this year's stress tests had Tier 1 capital ratios of more than 10 percent while showing tangible common equity ratios of less than 2 percent, according to data compiled by Bloomberg. France's Credit Agricole SA (ACA) was one. The others were Germany's Commerzbank AG (CBK), Landesbank Berlin AG and Deutsche Bank AG. (DBK)

Alternatively, if you want a larger sample, click here for a chart the Italian bank Intesa Sanpaolo SpA (ISP) showed at an Oct. 6 investor meeting in London, comparing its stress-test results with those of 20 of its peers. (This was one day after news broke that government intervention at Dexia was imminent.) Touting its fourth-place finish, Intesa said its "core Tier 1 ranks among the best under the adverse scenario." And who was No. 1? Dexia, of course. So at least we can thank Intesa for the warning should the rest of Europe's banks crater.

Bottom line, if Europe's leaders want to further undermine public confidence in the region's banks, then they should keep doing exactly what they've been doing the past couple of years. A few more put-ons like the last two rounds of stress tests and we'll have the global financial crisis back to peak form in no time. Dexia's demise is only the start.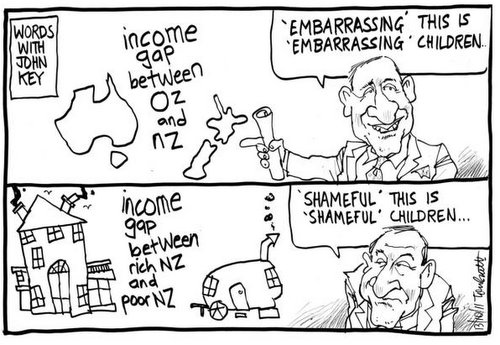 5. China's lonely power - Macrobusiness' Houses and Holes says Australia's Lowy Institute has put out an excellent paper on how difficult China will find converting its economic dominance in Asia into political or military dominance.
Regular readers will know that the schism in Australian policy on this topic has been a bugbear of mine for some time. The Great Straddle, as I call it, is the uncomfortable position we find ourselves in with the left leg of our economic dependence  headed in one direction as the right leg of our defense posture goes entirely in the other, leaving us in perennial danger of a nasty rip in the trouser.

And from the report:
The common and generally correct assumption is that lasting strategic influence is built on the back of economic power. Today, however, Beijing is confronted with the uncomfortable reality that it has been unable fundamentally to shift the strategic alignment of even one major Asian capital. While China has emerged as the largest trading partner for countries such as Japan, South Korea, India and Australia, all these countries have begun 'hedging' against China's rise, with varying degrees of intensity, by deepening strategic relations with America and each other. A similar dynamic is at work among the countries of Southeast Asia, despite the landmark China-ASEAN Free Trade Agreement coming into force in January, 2010.

By contrast, China's only true allies in the region are weak or failing states – North Korea, Burma and Pakistan. This makes China one of the 'loneliest rising powers in world history'. The reality of China's relative strategic isolation suggests two related conclusions. First, America will remain the preferred security partner and pre-eminent strategic actor in the region for a number of reasons that will be difficult to alter. And second, China's capacity for translating economic size into strategic leverage is problematic now and likely to face sharp limits into the future.
6. Swiss housing bubble - Bloomberg reports this is what happens when you slash interest rates to zero and print money. Sound familiar?
"As interest rates have fallen, many people who could not afford it before can buy a house," Alexandre Ziegler, an assistant professor of finance at the University of Zurich, said. "This has fueled demand and house prices, and could eventually result in a real-estate bubble."

In August, the SNB cut interest rates from an already record-matching low of 0.25 percent. The Swiss franc's record ascent against the euro prompted policy makers to impose a currency ceiling on Sept. 6. A similar cap in the 1970s sparked a decade of high inflation followed by a housing bubble in the 1980s.

The average price for a mid-size Swiss apartment has risen 12.5 percent since the end of 2009, according to a study by Zurich-based research consultant Fahrlaender Partner AG. In the cantons of Zurich and Geneva, prices jumped 13.7 percent and 14.5 percent, respectively.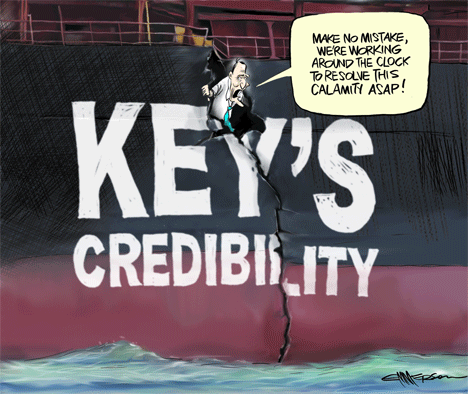 7. China hard landing - Houses and Holes also points to a fresh Credit Suisse report on China's banks.
It's still at the periphery, but more investment banks are flipping to China bears. Interestingly, this Credit Suisse report (h/t Zero Hedge) projections a huge jump in Chinese banks non-performing loans based upon precisely the two stress test outcomes that I described via the IMF earlier this week, a combined realty and exporters crunch. It is interesting to note that CS sees the likelihood that 80% of bad loans will emanate from these two sectors.
8. Occupy Wall Street  - Matt Taibbi wrote the seminal article in 2009 on Goldman Sachs as a Vampire Squid. I think it's one of those moments that created the Occupy Wall Street movement.
Here he is with some advice for the protestors.
The time is rapidly approaching when the movement is going to have to offer concrete solutions to the problems posed by Wall Street. To do that, it will need a short but powerful list of demands. There are thousands one could make, but I'd suggest focusing on five:

1. Break up the monopolies. The so-called "Too Big to Fail" financial companies – now sometimes called by the more accurate term "Systemically Dangerous Institutions" – are a direct threat to national security. They are above the law and above market consequence, making them more dangerous and unaccountable than a thousand mafias combined. There are about 20 such firms in America, and they need to be dismantled; a good start would be to repeal the Gramm-Leach-Bliley Act and mandate the separation of insurance companies, investment banks and commercial banks.

2. Pay for your own bailouts. A tax of 0.1 percent on all trades of stocks and bonds and a 0.01 percent tax on all trades of derivatives would generate enough revenue to pay us back for the bailouts, and still have plenty left over to fight the deficits the banks claim to be so worried about. It would also deter the endless chase for instant profits through computerized insider-trading schemes like High Frequency Trading, and force Wall Street to go back to the job it's supposed to be doing, i.e., making sober investments in job-creating businesses and watching them grow.

3. No public money for private lobbying. A company that receives a public bailout should not be allowed to use the taxpayer's own money to lobby against him. You can either suck on the public teat or influence the next presidential race, but you can't do both. Butt out for once and let the people choose the next president and Congress.

4. Tax hedge-fund gamblers. For starters, we need an immediate repeal of the preposterous and indefensible carried-interest tax break, which allows hedge-fund titans like Stevie Cohen and John Paulson to pay taxes of only 15 percent on their billions in gambling income, while ordinary Americans pay twice that for teaching kids and putting out fires. I defy any politician to stand up and defend that loophole during an election year.

5. Change the way bankers get paid. We need new laws preventing Wall Street executives from getting bonuses upfront for deals that might blow up in all of our faces later. It should be: You make a deal today, you get company stock you can redeem two or three years from now. That forces everyone to be invested in his own company's long-term health – no more Joe Cassanos pocketing multimillion-dollar bonuses for destroying the AIGs of the world.
9. Totally irrelevant video - Some gentle Irish fun in an ad for apple cider.
10. Totally Clarke and Dawe video for the weekend -  On Carbon Tax The Movie
"Some small arms fire was observed."