Here's my Top 10 links from around the Internet at midday in association with NZ Mint.
I welcome your additions in the comments below or via email to bernard.hickey@interest.co.nz.
I'll pop the extras into the comment stream.See all previous Top 10s here.
Bill Moss' whistleblowing is my highlight today.
1. What a Macquarie millionaire really thinks - Bill Moss, a former executive director of Macquarie Bank, has pulled back the veil on Australia's property price bubble.
He effectively says Australian commercial property is a debt bubble in a speech reported in The Australian.
This is extraordinary.
One the architects of Australia's own millionaire's factory at Macquarie Bank is saying that property prices are overvalued in a world without debt.
He's saying that young Australians have been locked out.
He actually says most of Australia's wealth has come from asset inflation via increasing debt rather than wages rising faster than living costs.
It's as if the magician has just revealed his secrets.
"Debt is necessary to inflate asset values; take it away and asset values fall," Mr Moss said. "Imagine a world with no debt and there would be less development, smaller buildings, cheaper finishes and fewer home owners.

"You will also see fewer property developers and fund managers driving around in Ferraris."

Without debt, most real estate would be cheaper, he noted. The average house would only be worth what a person could save during a lifetime without 90 per cent financing..

"Most of our wealth has not come from wages less living expenses, but from asset inflation."

Younger generations were not so lucky, he said. The under-30s missed the debt bubble and struggle to have a net worth, he said.
2. Watch the Singaporeans - Singapore is a trade-based economy that handles a good chunk of global trade into and via Asia.
It has just downgraded its growth forecast and reported an unexpected 4.5% fall in exports in September. Economists had expected a 3.5% rise, Bloomberg reported.
Singapore can often be the canary in the mine for global trade.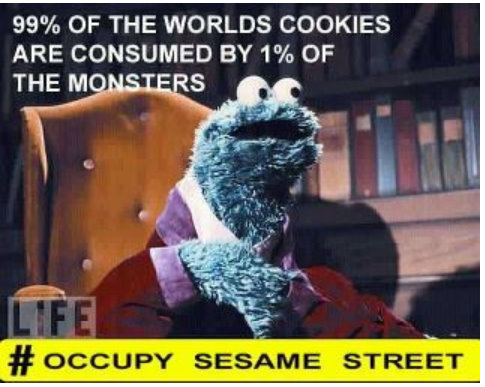 3. Where did the growth go? - All (yes 100%) of the income growth in America from 1989 to 2008 went to the top 10% of income earners, while incomes for the bottom 90% fell, this excellent interactive Economic Policy Institute graphic shows. HT John via email.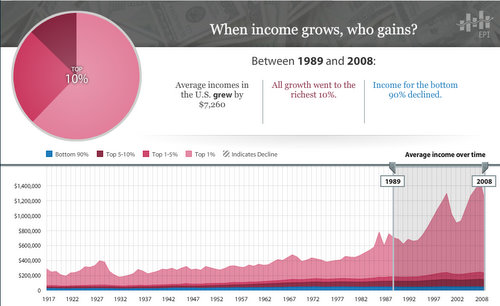 4. Fresh Chinese crackdown - WSJ reports the Chinese authorities are trying to crack down on shadow banking from within their own banks, often in the form of 'wealth management products' done off balance sheet.
It's the same old stuff. Off balance sheet vehicles to invest in property that are set up and run by banks.
Where have we seen that before?
China's banking regulator has issued new rules to rein in off-balance-sheet lending by banks that has stoked fears about excessive credit growth and the long-term stability of the country's financial system.

In a directive marked "extra urgent," according to people who have seen the document, the China Banking Regulatory Commission banned banks from moving loans off their books by repackaging them into investment products—an increasingly popular practice among banks trying to get around Beijing's lending controls aimed at bringing down inflation.

The move comes amid a surge in "shadow finance" in China, a term encompassing all kinds of credit created outside formal bank-lending channels, including loans arranged by banks but not recorded in their balance sheets. The informal credit boom has led to concerns about a potential increase in bad debt in the country's vast banking sector, adding to worries over Beijing's long-touted ability to manage its overall economy.
5. NZI Insurance's 'error' - Martin van Beynen writes at The Press about one couple, Grant and Dorothy Catchpole, who were told by NZI their house could be repaired when it obviously couldn't. NZI have since reversed their position, but it may be a sign insurers are playing silly buggers to save money.
NZI seemed to change its stance only after being approached by The Press.
In July, NZI assessors confirmed verbally within minutes of seeing the house that it was not repairable. The house had cracks in the concrete-slab foundation, bricks falling off the walls, varying levels and liquefaction beneath it. The Catchpoles were devastated to learn last month that NZI had declared the house repairable for $94,000.

Grant Catchpole believed the insurance company was "trying it on" because total replacement and various extras in the policy would cost it substantially more.

"I requested a copy of their repair assessment and there was no money allocated to repair the slab foundation, nothing to replace the cladding [bricks]. It was a total nonsense. I got stuck into them and requested another opinion."

A rebuild expert from Hawkins Construction did another assessment and agreed with the Catchpoles. "How many people are the insurance companies trying this on with and getting away with it? I have heard of people just giving in because they are too stressed out," Catchpole said.
NZI have responded to this. Here is their comment.
NZI says it has been consistent in it's stance to offering ongoing insurance to customers and did not 'change' it's view in response to questions from The Press. It is determined to assist it's customers and found the Press headline suggesting insurance is "worse than the earthquake" offensive to all those in the industry working to help with it's part of the rebuild.
6. Today's must read - I linked to a Nouriel Roubini OpEd in Project Syndicate a few days ago, which seemed to sum up so much about what is wrong with the very financialised version of US-style capitalism that has caused the world's economic problems in recent years. HT AndrewJ from memory.
Now he has put out a much longer paper on the topic and it's a cracker.
The squeezed and sinking 99% and the thriving top 1% (as the Occupy Wall Street protestors have it) may be a simplification of a highly complex situation. But it resonates with a deeper truth that unfettered free markets, deregulation and globalization have not benefitted all and that some of their pernicious consequences are associated with massive job losses, mediocre income growth and rising inequality.

To save globalization and its power to increase productivity and economic growth, we need to start seriously addressing its consequences, including the rise in inequality and the stagnating real incomes of most households and workers.

The increase in private and public leverage and the related asset and credit bubbles are partly consequences of inequality: The mediocre growth in incomes of the past few decades  created a gap between incomes and spending aspirations ("keeping up with the Joneses").

In Anglo-Saxon countries (not just the U.S. and UK, but also others that followed the Anglo-Saxon economic model such as Iceland, Ireland, Spain and Australia in recent years), the response was a democratization of credit—via financial liberalization—that allowed struggling households to borrow to make up the difference between spending and income, leading to a rise in private debt. In the social welfare state economies of continental Europe, the gap was filled by the provision of public services (free education, health care, etc.), although not fully paid for with taxes, thus leading to the rise of public deficits and debt.

In both cases, such growing private and public debts eventually became unsustainable, leading to financial crisis.

Top 1% Share of U.S. Total Income at Highest Since Gilded Age
7. 'Will the hedges hold?' - Jesse Eisinger writes at ProPublica about the lack of trust now endemic in global mega-banking and why so few now believe the assurances that come out of stress tests, at least in the Northern Hemisphere.
The moment one examines almost any detail of the global financial system, faith falters once again. Take the uncertainty about the derivatives markets. Morgan Stanley has a face value of $56 trillion in derivatives. That's really nothing. JPMorgan Chase has more — amounting to the G.D.P. of large countries — a face value of $79 trillion in derivatives. If something goes wrong with just one-tenth of 1 percent of those trades, it's kablooie.

Now those are gross numbers. Many people would dismiss those totals as ridiculous and misleading. Anyone who brings them up is merely displaying ignorance. The banks' derivatives portfolios are full of off-setting trades that net out at a smaller number.

Derivatives can be dismissed as a popular bugaboo, but they really are just a symbol of the larger problem. A litany of daily stories reveals all kinds of reasons that banks don't trust each other. To take just one news item, almost at random: Bloomberg News reported the other day that a Danish bank was refusing French sovereign debt as collateral.

Nobody really knows how much exposure the American banks have to the European financial and political crisis, with the Treasury Department minimizing the issue while other outlets raise the specter of catastrophic problems.

So trust, naturally, is the casualty. "If you get in a period of stress, everyone starts questioning whether the hedges will hold up and whether the collateral is good enough," said Mr. Gulberg, the banking analyst.
8. Guess what the CEO of the world's largest bank earns?  - US$10 million? US$100 million? No. Jiang Jianqing is the CEO of the Industrial and Commercial Bank of China and earns US$150,000 a year, Reuters reports.
Any wonder why China is doing better than most at the moment?
To be fair, these are politically appointed jobs and this job is just another rung on the ladder to senior political leadership.
It's different in NZ isn't it?
We wouldn't have a senior banker give up his job to become a politician. Let's say the last two leaders of the National Party?
Or we wouldn't have a senior cabinet minister leave government to become the head of a private banking arm of one of the big four banks?
Wouldn't happen here...
Like those of his peers at other Chinese banks, Jiang's salary has consistently fallen in the past four years, from about $240,000 in 2008, and he himself said in Hong Kong last year that he hoped his pay cheque would stop shrinking.

"We can't be paid more than the regulators who oversee us," Jiang explained last year when asked about the matter. "If the regulators have to take a pay cut, we will take a pay cut as well."
9. Totally relevant great idea - This video shows how a container load of junk put into a children's playground can improve learning and make kids happier. HT Eric Crampton via twitter.
10. Totally irrelevant video from Stephen Colbert on Socialism with a Karl Marx as Father Christmas.