Friday's Top 10 with NZ Mint: The Eurozone on the brink of something awful; John Clarke and Brian Dawe discuss money printing; The problem of low interest rates; Dilbert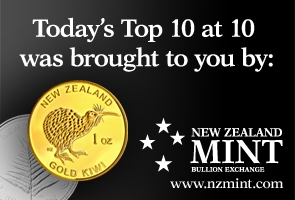 Here's my Top 10 links from around the Internet at 1pm in association with NZ Mint.
I welcome your additions in the comments below or via email to bernard.hickey@interest.co.nz.
I'll pop the extras into the comment stream. See all previous Top 10s here.
Today's number 10 is a cracker. John Clarke and Brian Dawe discuss quantitative easing. Printer instructions are discussed. Go the All Blacks!! I have a ban on exclamation marks in our articles. So the fact I used two of them in the space of one sentence shows how much I really, really want the All Blacks to win.
1. Europe's intractable problems - This weekend is shaping up as crucial for the global economy.
And it's not because of the rugby (although Go All Blacks!! again for good measure).
Believe it or not, this will be more important for our economy, for interest rates, unemployment and asset prices than anything else this year.
Europe must come up with some sort of solution or all hell will break loose.
And it's not just me saying this. The US Treasury Secretary, the IMF, the World Bank and the Bank of England have all said this in the last couple of weeks.
But the signs last night are not good for a resoulution tonight. Another summit has been scheduled for next week because the French and Germans can't agree.
The problems are fundamentally intractable. Significant parts of Europe cannot support their debts and the current measures being used to deal with that are simply driving their economies deeper into recession, thus increasing the debt burden. Germany is exporting its surplus to the rest of Europe and lending them the money to buy it, but now they can't pay.
Various attempts to try to extend and pretend the debt away, or shuffle it from one balance sheet to another, have obviously not worked.
The only long term solution is some form of debt jubilee where large amounts of debt are wiped out, banks are recapitalised and Europe creates a single fiscal authority. But voters, bankers and taxpayers have sharply divided interests in all of this and vastly unequal influence.
If a solution cannot be found the Eurozone will break up in an uncontrollable and disastrous fashion some time in the next couple of years.
Or months.
Hold on tight folks.
Here's the New York Times with the latest doubts on any deal:
Doubts grew about the effectiveness of a key proposal for stemming Europe's deepening debt crisis as it emerged that officials have ruled out a plan for the euro-zone's bailout fund to directly guarantee bond issues.

Instead, European officials are discussing a scenario in which governments issuing bonds would borrow from the bailout fund to guarantee a portion of the bond issues—a move that would increase debts for already troubled economies.
2. Band aid for a gunshot wound - Yves Smith writes at Naked Capitalist about the Euromess with clarity here, explaining the impossibility of all the fiddling working, and how precarious the banks are when they say a 44 billion euro haircut on Greek debt would bring them down.
The officialdom could patch up things for quite a while if the powers that be let the ECB monetize the debt (eventually, you could have an inflation problem, but with the EU and global economy so slack, "eventually" will take quite a while to show up).

However,everyone in positions of authority seems to believe in certain-to-fail-much-faster austerity instead. So the permissible short-to-medium term fixes involves lots of complicated programs, multi-party negotiations, and in some cases, political approvals. The timeline for the governmental maneuvering seems badly out of line with what Mr. Market requires.

The day before yesterday, Eurozone banks "threatened" that they'd have to be nationalized if the haircuts on the aforementioned Greek funding deal were increased from 21% to 50%. Note credible estimates as early last year put the level of writedowns needed on Greek debt at a minimum of 50% (75% was not an uncommon number) and Greece has undershot forecasts repeatedly since then.

The idea that nationalization is a horrible outcome to anyone other than bankers shows how far down the rabbit hole we've gone. But aside form that, recognize the implication: increasing the haircuts from 21% to 50% on Greek debt would tank banks. Even if we use the total amount of Greek debt outstanding, €350 x .29, we get €102 billion. But that figure is high, since what is relevant is the debt held by banks, not the total. A FT Alphaville story reported the private debt target for participation in the earlier restructuring plan (the goal was 90% participation) was €135 billion. Gross that up and you get €150 billion, and take 29% of that, and you get €44 billion.

If a mere incremental €44 billion loss across Eurobanks is such a devastating event, the banks are pretty wobbly as it is. Mind you, we all know that, but the banks have just said that, loudly and publicly. And pretty much no one expects the resturcturings to stop with Greece.
3. Here's why Wall St didn't tank last night - Just as Europe threatens to unravel, the US Federal Reserve poked its head above the parapet to suggest it might print a bunch more money to buy US mortgage bonds.
That kept the stock markets calm for another day. How long might that last?
Again, it's the same old stuff. Moving toxic mortgage bonds from the balance sheets of banks onto public balance sheets inside central banks.
No wonder taxpayers are grumpy.
Here's Jon Hilsenrath at the Wall St Journal on this kite flying speech by US Federal Reserve Governor Dan Tarullo.
The idea would be to target any new efforts by the central bank at the parts of the economy that are most severely impeding a recovery—the housing and mortgage markets—by working to push down mortgage rates.

Lower mortgage rates, in turn, could encourage more home-buying and mortgage-refinancing, and help the economy by freeing up cash for consumers to spend on other goods and services. Mortgage rates are already very low, but some Fed officials believe they might be pushed lower. Moreover, Fed officials believe their past purchase programs helped to lift stock markets, by driving investors from low-risk investments toward riskier investments.
4. Wall Street is fighting back the only way it knows how - By threatening Democrats that they might withdraw electioneering funds.
If there's any doubt that America is a corporate run plutocracy rather than a functioning democracy, this should remove it.
Here's Politico on the latest behind-the-scenes shenanigans after a few Democrats quietly voiced their support for the Occupy Wall Street movement.
After the Democratic Congressional Campaign Committee sent a recent email urging supporters to sign a petition backing the wave of Occupy Wall Street protests, phones at the party committee started ringing.

Banking executives personally called the offices of DCCC Chairman Steve Israel (D-N.Y.) and DCCC Finance Chairman Joe Crowley (D-N.Y.) last week demanding answers, three financial services lobbyists told POLITICO.

"They were livid," said one Democratic lobbyist with banking clients.

The execs asked the lawmakers: "What are you doing? Do you even understand some of the things that they've called for?" said another lobbyist with financial services clients who is a former Democratic Senate aide.

Democrats' friends on Wall Street have a message for them: you can't have it both ways. President Barack Obama and other top Democrats are parroting the anti-corporate rhetoric running through the Occupy Wall Street protests, trying to tap into the movement's energy but keep the protesters at arms' length.

But many bankers aren't buying the distinction. And some financial services lobbyists and industry insiders say the liberal line will make swing givers think twice before opening their checkbooks this year.
5. No wonder they're protesting - David Cay Johnston writes at Reuters about figures that have just emerged about jobs and paychecks in America for 2010.
The figures from payroll taxes reported to the Social Security Administration on jobs and pay are, in a word, awful.

These are important and powerful figures. Maybe the reason the government does not announce their release -- and so far I am the only journalist who writes about them each year -- is the data show how the United States smolders while Washington fiddles.

There were fewer jobs and they paid less last year, except at the very top where, the number of people making more than $1 million increased by 20 percent over 2009.

The median paycheck -- half made more, half less -- fell again in 2010, down 1.2 percent to $26,364. That works out to $507 a week, the lowest level, after adjusting for inflation, since 1999.
6. NZ an easy place to do business - This International Finance Corporation/World Bank list of which countries are the easiest places to do business puts New Zealand at number 3 for the second year running.
It's a useful website that's worth a click through.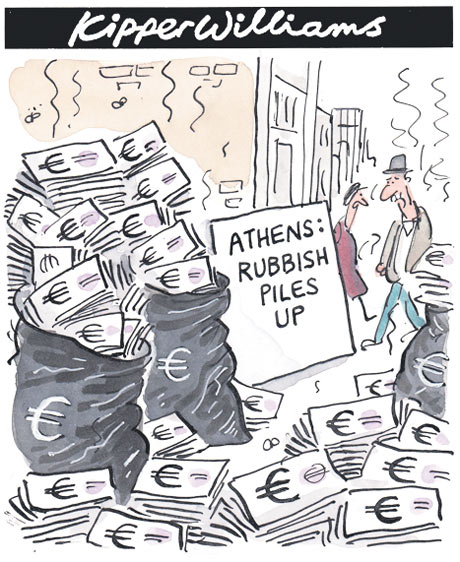 7. The problem of low interest rates - Global Macro Monitor writes at The Big Picture about the astonishingly low interest cost of all the US public debt right now.
It's all because of record low interest rates, which are dangerous in a profound way, explained here:
The chart may surprise many given the huge run up in the U.S. federal debt over the past 10 years.  The data show that the total public debt stock has increased from $5.7 trillion on September 30, 2000 to $14.8 trillion on September 30, 2011.

The net interest cost to service the debt, however, has fallen as percent of GDP due to the sharp drop in the average interest rate paid on the debt, which fell from 6.63% in 2000 to 2.886% on September 30, 2011.  Growth also contributed to the drop and as a rule of thumb if the average interest rate is below the nominal growth rate, the ratio falls.

The danger of massive borrowing at record low interest rates is that it makes the borrower extremely vulnerable to an increase in rates.  This was the case of the housing bubble.   This is the case of Greece.   Furthermore, debt and leverage is rewarded in a declining interest rate environment and punished as rates increase.   A repeat of the 30-year secular decline in interest rates is not likely.

Rising interest rates can also reduce market confidence in a heavily indebted borrower's ability to service its debt, which in turn reduces market access and increases the rollover risk of maturing debt.   Default, bailout, or, in the case of a country with an autonomous central bank, hyperinflationary monetization of maturing debt becomes the only options.    

What puts the "acute" in an acute sovereign debt crisis is the inability to roll over maturing debt.  No doubt Secretary Geithner understands this and, as the chart illustrates, is trying to extend the average maturity of the public debt.
8. The case for a hard landing in China - Darrel Whitten at Seeking Alpha puts the case for a hard landing in China.
According to the McKinsey Global Institute, the proportion of China's total debt to gross domestic product was 159% at the end of 2008, even before it began the massive stimulus program that racked up piles of local government debt.

The IMF estimates the stimulus-instigated loan spree raised credit from 100% to almost 200% of China's GDP, including off-books trusts, letters of credit and sub-radar loans from Hong Kong. The 30% annual pace of loan growth is unprecedented in any major country in modern history. It is double the pace of America's housing boom and Japan's Nikkei bubble in the late 1980s, and may match US loan growth in the late 1920s, according to the Telegraph's Evans-Prichard. By comparison, a study by Fitch Ratings found that credit in America rose by just 42% of GDP in the five-year period before the housing bubble popped, and rose by 45% of GDP in Japan from before the Nikkei cracked in 1990, while it rose to 47% before the Korean crisis in 1998.

The lesson from other such excess credit bubbles in history is that such bubbles are impossible to deflate in an orderly manner and inevitably end in crashing stock and property prices that leave mountains of unpaid debt. The modern (Keynesian) solution for such crashes is an effective transfer of irrecoverable debt in the corporate and private sector onto the books of the government through deficit spending and an equally large increase in government debt—as is seen in the sharp deterioration in government finances in Euroland, the U.S. and Japan. Further, once this government debt reaches 80%~90% of GDP, it begins to choke off economic growth. Thus Barclays Capital has predicted the next global recession would trigger a "hard landing" in China, with gross domestic product sinking well below the 8% mark seen as the minimum for assuring enough job creation to keep up with urban migration and preventing social unrest. China bears like Kynikos Associates' Jim Chanos see an incipient property bust, the scale of which could make Japan's infamous stock and property market bust from 1990 look relatively mild.
9. The problem with China's falling consumption rate - China's economy needs to switch from one based on investment and exports to one based on consumption if the world's capital and trade imbalances are to be resolved.
That's why there's such tension around China's undervalued exchange rate (which stops this switch from happening) and worries about overinvestment in China creating dangerous asset bubbles and bad loans.
Here's a great chart showing how each segment of the economy is growing (investment exploding while consumption falls in relative importance) and how the problem is getting worse, not better.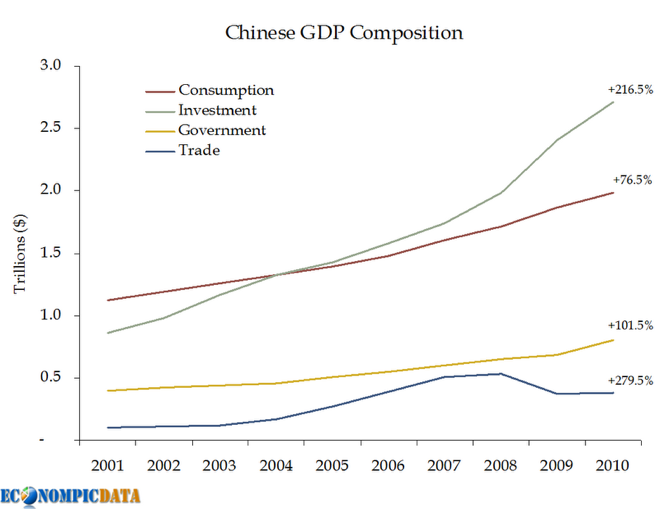 Here's Beijing based economist Michael Pettis explaining in more depth.
Aside from the extraordinary decline in the consumption rate, it is interesting to see what happened to the trade surplus.  At 6.4% of GDP in 2010, it is extremely high, but well off its record levels in 2007 and 2008, when as a share of global GDP China's trade surplus may well have been the highest in modern history.  Notice that as it declined from its peak, investment surged. 

This is just what we would have expected.  The negative growth impact of the sharp drop in China's trade surplus may have forced GDP growth rates to nearly zero, and the sudden and violent expansion in investment was necessary as the counterbalance to keep growth rates high.  Changes in the declining consumption share of GDP have had very little impact on changes in GDP growth.  And it continues to decline.
10. Totally irrelevant video from Clarke and Dawe because it's a Friday - John Clarke is an economist talking about Quantitative Easing and some advice he's giving to central banks.
"Take printer out of box and place on table with printer facing window."
And I laughed like a drain.
Go the All Blacks !! (Right, that's my quota of exclamation marks used up for the year)