Friday's Top 10 with NZ Mint: Don't mention the Weimar Republic (or the war); Fed to test how US banks would handle depression scenario; The Economist sees NZ housing 25% overvalued; Clarke and Dawe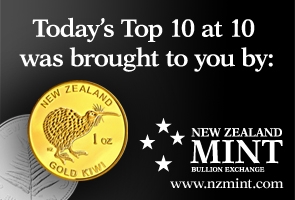 Here's my Top 10 links from around the Internet at 5 pm in association with NZ Mint.
I welcome your additions in the comments below or via email tobernard.hickey@interest.co.nz.
I'll pop the extras into the comment stream. See all previous Top 10s here.
Steve Keen is revolutionary at #9. John Key would love what he has to say...
1. Don't mention the W word - That's Weimar, not War.
After the First World War Germany had an extremely volatile period of alleged democracy that allowed money printing and hyperinflation.
We know what happened after that.
So that Weimar Republic period is something people are looking at closely again.
I don't think hyper inflation is likely any time soon.
You often need more than just money printing to make it happen.
Some sort of social disruption or natural disaster often proves the catalyst. The photo below is of Angela Merkel and Nicholas Sarkozy pointing to new Italian (unelected) Prime Minister Mario Monti (via AFP and FTAlphaville)
Here's PFP Wealth Management's Tim Price quoted via Zerohedge on the W word.
Those who have studied the Weimar experience suggest that the point of no return in the inflationary process did not come about through currency depreciation alone, nor from the growing velocity of money in circulation (as German savers tried desperately to spend their fast-eroding paper wealth), nor from the balance of payments deficit.

In fact it came from a devaluation of political principles. Yale Economist Robert Shiller has suggested that one of the reasons for equity investors' irrational exuberance in the 1990s (it was Shiller, and not Greenspan, who coined the phrase) was the fall of the Berlin Wall- which seemed to conclusively display the superiority of western free market capitalism over the discredited Soviet model.

Now the superiority of the western model is so apparent that we have cash-strapped eurocrats looking to raise money from the Communist leaders of a country, most of whose citizens live in abject poverty. This writer is proud to call himself British; he would be disgusted to be regarded as European.
2. Stress test - Reuters reports the US Federal Reserve has asked US banks to imagine what would happen if Europe's financial system imploded, sparking a depression that pushed unemployment to 13%, halved the Dow and shrank US GDP by 8% as part of new stress tests.
Comprendez vous?
Here's a nervous banking analyst:
Richard Bove, a banking analyst at Rochdale Securities, says it is irresponsible to put 31 U.S. banks through a worst-case scenario. A stress test this tough risks forcing banks to prepare for the worst, possibly creating what regulators fear.

"They are going to dump loans, they are going to stop lending and they are going to put us into the recession that the government wants to know how they will function within. "This is a really stupid stress test," Bove told Reuters Insider Television.
3. When will Merkel cave? - This is the question everyone in a bank in Europe is asking? When will Germany finally relent and allow the European Central Bank to start printing money to buy toxic sovereign bonds.
Not yet.
But it can't be far away.
Here's Bloomberg on the mess. It uses the Titanic as a metaphor.
Bunds are losing the haven status they share with Treasuries as Germany rules out common bond sales to solve the debt crisis, and argues against the European Central Bank becoming the lender of last resort. As recently as Nov. 10, bunds yielded 28 basis points less than the American debt. Ten- year yields advanced to a four-week high of 2.26 percent today in London.

"The Titanic and the single currency cannot continue in its current form," said Stuart Thomson, who helps oversee about $121 billion at Ignis Asset Management in Glasgow. "Safety lies in another ship, RMS Political Union, which is just over the horizon. It remains to be seen whether the third-class passengers of the peripheral economies and the second-class passengers of the semi-core will be willing to decamp from their current luxury liner to this cramped tramp steamer."
4. 'Worse than Lehman' - This Reuters piece on the mood in London's financial markets is grim. The bankers realise the game is nearly up.
Hard to feel that sorry for them.
One senior European banker, who declined to be named, said many of his colleagues had been "crisis-deniers" and were given false hope of a rapid return to big bonuses and job security by the significant economic rally in 2009.

"What they are realizing now, and it's even more brutal for them, is that this is in fact the new normal, that the industry is going back to what it was in the early 2000s," the banker said, adding that the recent round of layoffs had cut much deeper than the last, because no bank was hiring.

Money men once cynically described as the "Masters of the Universe" are feeling powerless to influence, much less prevent a potential unraveling of Europe's monetary union -- a calamity that would define their generation, possibly even the century.

"You have to think that eventually the penny will drop and they'll have to do something. But...quite sensible people were sitting around in 1914 and saying Europe's not going to tear itself apart over some arch duke being shot by a Serbian fanatic, is it?," said Rob Burgeman, a director at British investment manager Brewin Dolphin.
5. Why does she keep saying 'Nein!'? - Der Spiegel tries to explain in this piece why Angela Merkel is so implacably opposed to creating euro zone bonds and allowing the European Central Bank to print money to buy toxic euro debt.
The public see the Southern Europeans as lazy and the EU apologists for Italy and Spain and Greece as 'mercenaries for Dolce Vita countries.'
Weimar is mentioned.
Governments across the Continent are clamoring for a solution. And analysts around the world have come to the conclusion that the spread of Europe's ongoing debt crisis can only be halted by implementing one -- or both -- of two methods: Either debt must be pooled in the form of euro bonds, or the European Central Bank must become the lender of last resort by buying up massive quantities of sovereign bonds from indebted euro-zone members.

Virtually all euro-zone members have thrown their support behind one of those two antidotes. Germany, though, has firmly opposed both. Berlin fears that massive ECB bond purchases could significantly drive up inflation (indeed, it evokes fears of 1920s hyperinflation in the country) and sacrifice the independence of the Frankfurt institution, which was modelled after the German central bank, the Bundesbank, that for decades served as guardian of the highly stable deutsche mark.

 A survey performed by Emnid in August found that fully 76 percent of Germans oppose euro bonds, with only 15 percent in favor.

Furthermore, Merkel isn't the only one who has made it abundantly clear that euro bonds are not high on Berlin's wish list. On Wednesday, Alexander Dobrindt, general secretary of the Christian Social Union (CSU) -- the Bavarian sister party to Merkel's Christian Democrats (CDU) -- blasted Barroso, telling Bild that the Commission president had "made himself the mercenary of Dolce Vita countries who want to get access to our tax money."

Merkel's junior coalition partner, the Free Democrats, are no less opposed. Party head Philipp Rösler on Thursday said clearly: "We don't want euro bonds." Several others in his party have been even more vehement in recent weeks.
7. Hold on to your hats - The SMH reports Outgoing Commonwealth Bank of Australia CEO Ralph Norris has warned a second round of the Global Financial Crisis is imminent.
Norris said global money markets ''effectively froze'' this week as Germany failed to sell the entire stock of €6 billion ($8.2 billion) worth of long-term bonds.

''This has potential to be significantly worse than the Lehman Brothers collapse and the subprime crisis because now we are talking about nation states,'' Mr Norris told BusinessDay.

''If you have a situation like you had today, where markets had effectively frozen, then it doesn't matter how good your name is, you are not going to be able to access markets,'' Mr Norris said. ''As of today, no banks could access these markets.'"
8. Brilliant graphics - The Economist has updated its excellent interactive graphic of house prices globally. New Zealand is included and it shows we're still wildly over valued vs the rest of the world. Sigh. But prices in central Auckland are up 16% from a year ago...
Based on the average of the two measures, home prices are overvalued by about 25% or more in Australia, Belgium, Canada, France, New Zealand, Britain, the Netherlands, Spain and Sweden (see table). Indeed, in the first four of those countries housing looks more overvalued than it was in America at the peak of its bubble.

American prices fell sharply, even though homes were less overvalued than they were in many other countries, because high-risk mortgages and a surge in unemployment caused distressed sales. In most other countries, lenders avoided the worst excesses of subprime lending, and unemployment rose by less, so there were fewer forced sales dragging prices down. America is also unusual in having non-recourse mortgages that let borrowers walk away with no liability.

An optimist could therefore argue that our gauges overstate the extent to which house prices are overvalued, and that if markets are only a bit too expensive they can adjust gradually without a sharp fall. It is important to remember, however, that lower interest rates and rising populations were used to justify higher prices in America and Ireland before their bubbles burst so spectacularly.

Another concern is that Australia, Britain, Canada, the Netherlands, New Zealand, Spain and Sweden all have even higher household-debt burdens in relation to income than America did at the peak of its bubble. Overvalued prices and large debts leave households vulnerable to a rise in unemployment or higher mortgage rates. A credit crunch or recession could cause house prices to tumble in many more countries.
9. Steve Keen says bankrupt the banks - Renegade Australian economist Steve Keen says in this BBC Hardtalk interview the world is in a Great Depression and there is one Great Solution.
Economist Steve Keen is one of the few economists to have predicted the global financial crisis and now he says we are already in a Great Depression. He says the way to escape it is to bankrupt the banks, nationalise the financial system and pay off people's debt.

He admits what he is advocating is radical but says it is time governments gave money to debtors to pay down debt instead of to creditors such as banks who have held onto it.
10. Totally Clarke and Dawe - Qantas CEO Alan Joyce says he deeply regrets grounding the airline. And there is a large block of concrete hovering over Brian Dawe's head.