Successful economies need more manufacturing, not less, says Neville Bennett. Your view?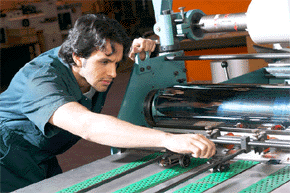 By Neville Bennett*
The West is no longer the dominant part of the world in GDP terms.
At the same time is has de-industrialised to a high degree.
Most economists think this process is inevitable and desirable, as the work force can move on into higher paid jobs in the tertiary sector.
Using the IMF as a proxy for economists, this view will be outlined later. But I remain uneasy.
I have doubts that everyone is so mobile. What do you do with a fitter and turner, aged 50, when Widget Co of Northland closes, unable to compete with Chinese widgets?
Chances are you pay him unemployment benefits for a long time. His skills wither.
It may make sense for the owners of Widget Co to close down, but their decision impacts on the community and even on the country.
As manufacturing jobs are lost, so are the chances of fresh innovation. Widget Co perhaps had R&D that will go to China. Young people in that area might have thought of new ways to make widgets but that avenue is closed. Young people no longer think of making new things.
Except for IT and even music, innovation is abating.
De-industrialization, or hollowing out, is a tragedy for youth and the blue-collar class. New Zealand has low growth; but youth and blue collar are in a deep depression.
Western economies are finding it hard to find work for younger people, and displaced experienced workers. Their unemployment is structural and their plight will be ignored although it is clearly linked remotely to the unrest now seen in the Middle East.
Vanishing Factories
Forks and spoons are no longer made in the USA. The last factory closed 8 months ago throwing many on the scrap heap. But cutlery had been a mainstay of many firms since the US's inception.
A nation of 300 million will soon lack the skill to make cutlery. Not the end of the earth, but it is a symbol of change. The least sardine cannery has gone. So have stainless steel rebars (crucial in construction), vending machines, cell-phones, laptops and light bulbs.
Less apparently, US manufacturers use more imported components than previously. Once Boeing made everything, but now even the wings are brought from Japan. A New York Times article cites the chief economist of Moody's analytics claiming "a diminished manufacturing sector will undermine our economy".
The US is still innovative: hence the iPad and iPhone, but the next innovation might come from the Chinese who make them. This in not fanciful: China's patent filings increased by 56% in 2010. China is now third in patent filing, Japan second and Korea fourth. The US leads but its filing has declined for three consecutive years. It is harder to be innovative when you are not making stuff.
I would suggest that countries like Germany, Japan, and Sweden are more resilient because they have a robust manufacturing base. The US, for example, has shed 8.1million of manufacturing jobs since 1979; and now has only 11.6 million in manufacturing.
US job-shedding
Bill Gross, co-CEO of Pimco, says that "over the least 20 years we have simply borrowed more money in order to prosper. We forgot that the more stable and safe way to go is to make things". The US has "structural unemployment", an army of permanently unemployed people who will be a drag on economic growth until they are retrained.
Meanwhile about 150 plants are closed each week, and the machinery is often shipped overseas. This is a patent hollowing out of manufacturing capacity. But the workers are not recycled. Many remain, bound to their family and community.
Manufacturing employs only 9% of the workforce, yet it accounted for 26% of the lay-off in the recent recession. 2.2 million manufacturing workers lost their jobs in the recent recession some workers found employment in construction which employed 7.7 million in 2006, but now the bubble has burst, employment is very tight in construction.
The official unemployment rate in the US stands at 8% but it is 19.5% for blue-collar workers. So this is a depression for blue-collar workers whose standard of living has been deteriorating since the 1970's. The unemployed will be searching for work, but the jobs do not seem to be there. 41% of the unemployed have been jobless for 27 weeks of more. Their skills may be deteriorating, making future employment more problematic.
As in New Zealand, new employees are offered lower wages in most industry. Skilled steel worker might get US$12 an hour. Many are on the minimum wage of US$7.25. Many plants have a 2-tier system, where newer worker get much less than senior co-workers. This is the case at Caterpillar, the big three auto companies and Harley-Davidson.
Many car workers earned US$20 in the past but rates have been sharply eroded. Workers were middle class but now the minimum for middle class is defined at $20 p.h or $41,000 p.a. There is enormous pressure on wages to make the US competitive.
The IMF view
The IMF sees deindustrialisation as a successful feature of economic development. The pattern of trade specialisation explains why some countries deindustrialise faster than others. Future advances in the service sector will raise living standards in the future.
In the 23 most advanced economies, employment in manufacturing declined from 28% of the workforce in 1970 to about 18% in 1994. Meanwhile, the services workforce grew to absorb the displaced. The shift can be because of shocks, especially exchange-rate changes.
My view
My view is that we need manufacturing.
Unfortunately policy-makers tend to listen to the finance lobby rather than manufacturers. I was conscious of this as an undergraduate where I felt the north of the UK was being hollowed out by the high exchange rate favoured by the finance industry based on London.
I feel distressed when New Zealand manufacturers move off-shore because we lose a lot of skills which could be needed if we move to a period of lower exchange rates. Given the level of our overseas debt of close to 80% of GDP, a change in the valuation of the dollar is not impossible.
The high New Zealand dollar may be expediting the hollowing out of our economy. The economic mainstream, as represented by The Economist, views the global decline of manufacturing as inevitable. It says recent "economic miracles" were achieved by developing countries exporting manufactures to rich countries. The goods were produced "with developed-country technology but with emerging-country labour costs. This will no longer work".
One wonders why Switzerland, Germany, Sweden and Japan do not read The Economist and close down their industry. The displaced could presumably work its beloved financial services. I see the "post-industrial economy" as a dangerous myth.
The US is a good example of a country recently reversing the trend and re-industrialising. In the last 2 years manufacturing has expanded by 10% and has added 300,000 jobs. US firms are moving jobs back to the US.
This is excellent news because it helps rebalance the economy away from consumption based on borrowing. It has also led to an increase in exporting. Manufacturing benefits not only the lowly skilled blue collar worker, it adds high-productivity, high value added jobs.
Manufacturing plays a disproportionate role in innovation as it employs a skilled scientific, engineering and technical workforce. Manufacturing contributes 11% of US GDP but it employs the majority of US scientists and engineers and accounts for about 70% of US R&D spending.
The Obama regime understands this and is promoting manufacturing by adopting measures to increase time spent in school, workforce training programs at community colleges, more basic research, infrastructure investment, and improved scientific, engineering and technical education.
--------------------------------
* Neville Bennett was a long-time Senior Lecturer in History at the University of Canterbury, where he taught since 1971. His focus is economic history and markets. He is also a columnist for the NBR.
nevillebennett@clear.net.nz
www.bennetteconomics.com