Here's my Top 10 links from around the Internet at 1 pm in association with NZ Mint.
I welcome your additions in the comments below or via email to bernard.hickey@interest.co.nz.
I'll pop the extras into the comment stream. See all previous Top 10s here.
My must read today is #9 on China's banks. I love a good discussion about capital quality and non performing loans, particularly the ones that get rolled over by the government...
1. China slows sharply - With all the noise about Greece and JP Morgan over the weekend, most people missed the bigger news.
Data was published showing China's economy slowed very sharply in April, FT.com reported.
Market players are now baying for some stimulus from the Chinese government.
But this may not happen as quickly or as decisively as it came in late 2008 and early 2009 (and saved NZ and Australia from the worst of the GFC).
There is a lot of bad debt weighing down the local governments that did a lot of the stimulus spending last time around. The banks aren't that healthy either (see #9 below).
Also, many of the politicians are more worried about inflation and housing affordability than last time around.
And, most crucially, China's political leadership is fractured in the wake of the Bo Xilai scandal and ahead of the leadership changeover later this year.
Here's the FT with some atmospherics:
A broad range of official monthly data released on Friday by the Chinese government showed much weaker industrial activity, retail spending and investment than analysts and officials had predicted. These numbers, together with weak trade figures released on Thursday, paint a picture of a continued deceleration in Chinese economic growth.

"Data on April spending and output put another nail into hopes that China's economy is bottoming out," said Mark Williams, chief Asia economist at Capital Economics. "This run of poor data will shake policy makers' confidence and we expect it to prompt further policy easing."
2. 'China actually contracting now' - Gordon Chang at Fortune has a somewhat more alarming interpretation, backed up by some on-the-ground stats, particularly around new lending, electricity production and orders by toy factories on the coast.
Beijing needs to do something fast.  New lending is considered the third-most reliable indicator of economic activity in China, so it's apparent the economy is in distress.

That conclusion is confirmed by the most reliable indicator, electricity output, which last month grew by only 0.7% year-on-year.  Because the growth in electricity historically outpaces the growth of the underlying economy, the best China is doing at the moment is hovering around 0%.  In all likelihood, it is contracting.  And this is occurring when the Chinese economy almost always shows robust expansion.  In China's export belt it is, after all, the beginning of the Christmas season.

Orders placed at the most recent session of the closely watched Canton Fair fell more than 4% from the October session.  As they said at the conclusion of the event a week ago, factories producing for Christmas are now feeling an "early winter."
3. 'We'll be out of money soon' - Greece's Deputy Prime Minister warns in this Telegraph interview Greece will be out of cash within weeks and the anti-austerity parties shouldn't be so sure the Germans are bluffing about kicking them out of the euro.
"The majority of the people voted for a very strange mental construction," he said. "We want to be in the EU and the euro, but we don't want to pay anything for the past."

Mr Pangalos warned: "There is a school of thought that says the Germans are bluffing. They need Greece and will never throw us out of the eurozone. But what will happen, which is almost certain, is they will not give us the money to pay our debts.

"We will be in wild bankruptcy, out-of-control bankruptcy. The state will not be able to pay salaries and pensions. This is not recognised by the citizens. We have got until June before we run out of money.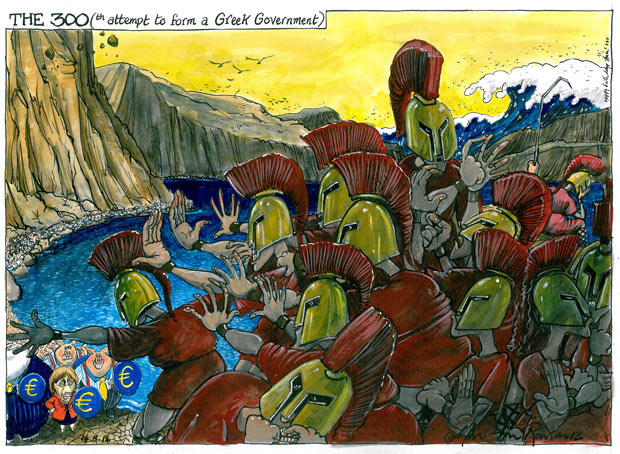 4. Eurodammerung - Paul Krugman details here what he thinks the Greek end game looks like. It ends with the break up of the Euro.
1. Greek euro exit, very possibly next month.

2. Huge withdrawals from Spanish and Italian banks, as depositors try to move their money to Germany.

3a. Maybe, just possibly, de facto controls, with banks forbidden to transfer deposits out of country and limits on cash withdrawals.

3b. Alternatively, or maybe in tandem, huge draws on ECB credit to keep the banks from collapsing.

4a. Germany has a choice. Accept huge indirect public claims on Italy and Spain, plus a drastic revision of strategy — basically, to give Spain in particular any hope you need both guarantees on its debt to hold borrowing costs down and a higher eurozone inflation target to make relative price adjustment possible; or:

4b. End of the euro.

And we're talking about months, not years, for this to play out.
5. Italian-style tax protests - Social unrest is turning ugly in Italy, where protestors are fire-bombing tax offices, The Telegraph reports.
The government is considering stationing troops outside said tax offices....
Annamaria Cancellieri, the interior minister, said she was considering calling in the army in a bid to quell the rising social tensions.

"There have been several attacks on the offices of Equitalia in recent weeks. I want to remind people that attacking Equitalia is the equivalent of attacking the State," she said in an interview with La Repubblica newspaper.

Saturday night's attack took place on the Equitalia office in Livorno and the front of the building was left severely damaged by fire after the bombs exploded. The phrases "Thieves" and "Death to Equitalia" were sprayed onto outside walls. It came just 24 hours after more than 200 people had been involved in running battles with police outside a branch in Naples which left a dozen protesters and officers hurt.
6. WTF - John Key thinks Christchurch should have a covered rugby stadium...
Eric Crampton's view on his OffsettingBehaviour is the correct one.
No.
Please.
God.
No.
There is absolutely no evidence that stadiums help broader city economies; what evidence we have points in the opposite direction. Spending a pile of money on a stadium is best seen as providing a  consumption good for sports fans and a transfer to sports teams. Maybe a rich city that isn't trying to rebuild a substantial portion of its base infrastructure after an earthquake for which it was under-insured could consider it. Encouraging Christchurch to do it now is reckless.
7. Financial Repression - Grant's Interest rate Observer Jim Grant tells CNBC in this video that financial markets are a lot like 'The Truman Show'. He compares investors to Jim Carey and says gold is likely to move higher. He says the world is in a bull market for fear. HT Zerohedge
8. Fourth time lucky - Reuters reports Spain announced its fourth attempt in four years to clean up its bombed-out property lending sector.
This is not going to end well.
Youth unemployment there is well over 50%.
9. China's big banks more like paper tigers - Jonathan Weil at Bloomberg thinks China's big banks are built on quick sand. He has a closer look at their accounts.
The warning signs about China's construction boom and state-owned banks have been evident for years. News reports of local-government financing vehicles that can't repay their loans are so abundant, they are hardly surprising anymore. The Big Four banks each have set up loan-loss reserves ranging from about two to three times the size of their nonperforming loans, which probably are understated to begin with. Those reserves wouldn't be enough should loan losses return to historical norms.

Charlene Chu, a Beijing-based analyst for Fitch Ratings, wrote in a Dec. 2 report on Chinese banks that "Fitch expects the authorities to continue a selective policy of forbearance and liquidity support for borrowers, including loan rollovers and restructurings, new loans, and bond issuance." As a result, "asset quality issues may not fully appear in NPL (nonperforming loan) ratios until well into a deterioration, if at all." By the time any big problems show up in the banks' numbers, the jig will be up.

The hard part is figuring out the timing. Foreign shareholders would suffer the brunt of any losses should the government need to inject capital or restructure the banks again. The banks would survive, though. The Chinese government is like Wall Street in that it always pays itself first.
10. Totally fun thing to do with a shopping trolley and a couple of propellors - Not sure this is registered by the FAA.