Here's my Top 10 links from around the Internet at 8.30 pm (what a week) in association with NZ Mint.
I welcome your additions in the comments below or via email tobernard.hickey@interest.co.nz.
I'll pop the extras into the comment stream. See all previous Top 10s here.
My must read today is #4 from Martin Wolf. He lays it out. And it's scary.
1. 'No worries. They'll bail us out again' - Banks and hedge fund investors are betting the cavalry at the European Central Bank, the US Federal Reserve and the Bank of Japan is mounting up to ride to the market's rescue with another big intervention of free money to stop a meltdown because of fears about a 'Grexit'.
Brilliant.
No wonder the peasants are beginning to revolt.
Whenever the peasants lose their jobs or their costs of living are increased (GST hike anyone?) they are told to take their austerity medicine and bear with the 'markets'.
Yet the moment the banks start wobbling and hedge funds are imploding the powers-that-be come riding to the rescue with big pots of free money to keep everyone (in the banks and hedge funds) happy (and still gambling to win their bonuses).
Until the next meltdown. Meanwhile hedge funds are now positioning with borrowed money for the next rescue injection. Is there no shame or any sense of the moral hazard being created?
Is it any wonder parties from the extremes of the left and right that aren't part of this 'deal' to rescue banks and hedge funds are now getting elected?
In the end, voters will get their way.  Or rioters will. How long before we see pitchforks and burning torches brandished outside central banks and Presidential Palaces?
Here's Ambrose Evans Pritchard with the words of the experts predicting a cavalry charge from the central banks. The smugness and sense of entitlement just seeps through their words:
"We think the worst is over for the euro," said David Bloom, currency chief at HSBC. "The central banks will have to step in massively and that will be a soothing balm for the markets. The Fed is already leaving the door open for more QE. We could see quite a powerful rally."

Gary Jenkins from the bond advisers Swordfish said those betting on a market crash should be careful. "The global central banks are going to respond with the biggest flood of liquidity the world has ever seen. It will make the LTRO (the ECB's €1 trillion lending to banks) look like small change," he said.

"They have to act. We have reached the point where the peripheral bond markets are going to implode unless the ECB and EU politicians show they have deep pockets and start buying the debt on the secondary market. It is a quasi-fiscal union or bust at this stage," he said.

Bob Janjuah from Nomura, `Bob the Bear' to global fans, said the EU will not dare to push Greece out. "The Europeans will blink and renegotiate the bail-out terms. Whatever happens we think the Fed and the ECB will respond over the next week or two and trigger a short sharp rally," he said.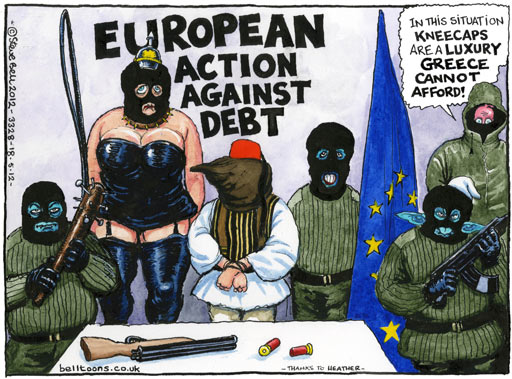 2. Hundreds of billions of euros - Reuters reports that's the likely cost of any 'Grexit' would be hundreds of billions of euros, enough to wipe out the capital of the European Central Bank, which now owns most of the Greek government's bonds. And the other central banks. And many of France's banks. And that's before any run on Italy, Spanish and Portugese banks.
Even once Greece had left the currency club, the costs to the rest of the euro zone would continue to mount as it would probably be compelled to avert a complete Greek collapse and wider contagion.

"Large-scale ECB intervention would be necessary to stabilize the system, along with intervention from Germany, the European Stability Mechanism (ESM), its predecessor the European Financial Stability Facility (EFSF) and the IMF, potentially costing hundreds of billions of euros," said Georgios Tsapouris, investment strategist at Coutts.

The ECB, which has its own paid-in capital of 6.4 billion euros, is essentially a joint venture between the 17 euro zone national central banks (NCBs). Combined, the Eurosystem of euro zone central banks has capital and reserves of 86 billion euros.
3. Deja Vu - Reuters reports the British government may lose a further 2 billion pounds from Northern Rock, the building society that collapsed at the beginning of the Global Financial Crisis and was then bailed out by British taxpayers.
4. Eurotoast - The FT's Martin Wolf says a 'Grexit' would shatter confidence in the euro forever and spark a financial crisis worse than the Lehman collapse.
He says Germany must capitulate and effectively guarantee all of Europe's debts.
No pressure then...
The eurozone either is an irrevocable currency union or it is not. If countries in difficulty leave, it is not. It is then an exceptionally rigid fixed-currency system. That would have two dire results: people would not trust in its survival and the economic benefits of the single currency would largely disappear.

These perils are not of concern to the eurozone alone. Taken as a whole, this is the world's second-largest economy, with the largest banking system. The risk that a bigger eurozone upheaval would cause a global crisis is real. As frightening is the likelihood that eurozone crises would become permanent features of the world economy.

A Greek exit, particularly a disorderly one, is likely to trigger bank runs in Portugal, Ireland, Italy and Spain, and even further afield. It could also cause collapses in the prices of financial and other assets. A flight to safety, to Germany or beyond the eurozone, could accelerate. The doom loop in which several other nations are caught could worsen substantially.

If Greece leaves, the eurozone will have to change fundamentally to make survival less painful and therefore more credible. If that is impossible, as many suppose, irrevocability must be seen as a mirage, which would in turn guarantee the repetition of large crises. It also destroys the economic arguments for the currency union by undermining financial integration and rendering long-term investments dependent on access to the entire eurozone economy far riskier. It is a nightmare.

Greek exit then would create a choice between big moves to a stronger union and a future of endless crises. It is a choice the dominant creditor nation, Germany, must make – among big steps to integration that horrify many of its people, a future of horrible crises or a horrible break up right now. No good choices exist. But the eurozone must become a stronger union or it will disappear.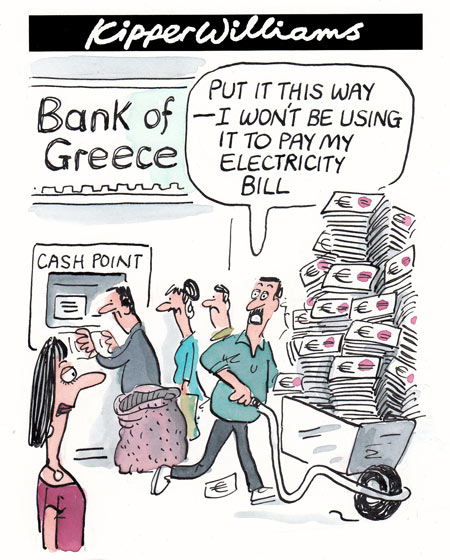 5. The drums of trade war beat again - AFP reports America has slapped big anti-dumping duties on China's solar cell exporters.
The Chinese are very grumpy about it.
The Commerce Department said it had found that Chinese solar cell producers and exporters had been selling solar cells into the United States at artificially low prices, meriting anti-dumping duties of between 31 percent and 250 percent.

It named Suntech Power, the world's largest maker of solar cells, and another large producer, Trina Solar, as key offenders, but said at least 59 other Chinese companies would also be hit with anti-dumping charges.

The ruling follows a March decision that China was unfairly subsidizing solar cell exports and set counterveiling duties of 2.9 percent to 4.7 percent.
6. Apocalypse fairly soon - So says Paul Krugman in the New York Times.
He says the ECB and Germany need to encourage inflation to rise to 3% or 4% in Europe, and higher than that in Germany if Europe is to survive in anything like its current state.
Italy and, in particular, Spain must be offered hope — an economic environment in which they have some reasonable prospect of emerging from austerity and depression. Realistically, the only way to provide such an environment would be for the central bank to drop its obsession with price stability, to accept and indeed encourage several years of 3 percent or 4 percent inflation in Europe (and more than that in Germany).

Both the central bankers and the Germans hate this idea, but it's the only plausible way the euro might be saved. For the past two-and-a-half years, European leaders have responded to crisis with half-measures that buy time, yet they have made no use of that time. Now time has run out.
7. Jamie Dimon knew about it all - JP Morgan boss Jamie Dimon thundered this week about how bad the management of JP Morgan's loss making synthetic credit trade was. Several weeks earlier he dismissed reports of the 'London Whale' as a 'tempest in a teapot'.
The WSJ reports that Dimon knew about this montrous trade all along and actually personally approved it.
This story will run and run.
Mr. Dimon personally approved the concept behind the disastrous trades, according to people familiar with the matter. But he didn't monitor how they were executed, triggering some resentment among other business chiefs who say the activities of their units are routinely and vigorously scrutinized.

Blessed by Mr. Dimon, the activity originally was designed to provide an economic hedge for the bank's other holdings, executives say. It expanded, particularly after J.P. Morgan in 2008 bought troubled lender Washington Mutual, which held riskier securities and assets that required hedging.

In recent years, some of the group's trading morphed into what essentially amounted to big directional bets, and its profits and clout grew. Last year, Mr. Macris dropped risk-control caps that had required traders to exit positions when their losses exceeded $20 million. Ms. Drew and Mr. Macris declined to comment.

Mr. Dimon was unaware of the risk-control change, according to colleagues. Indeed, he had appeared to have started paying less attention to details of the group's trading activities amid the hefty profits, colleagues say.
8. A dog that doesn't bark - Robert Reich has a go at fellow Democrat Barack Obama and his lack of reaction to the JP Morgan mess.
The dog that didn't bark this week, let alone bite, was the President's response to JP Morgan Chase's bombshell admission of losing more than $2 billion in risky derivative trades that should never have been made.

"JP Morgan is one of the best-managed banks there is. Jamie Dimon, the head of it, is one of the smartest bankers we got and they still lost $2 billion," the President said on the television show "The View," which aired Tuesday, suggesting that a weaker bank might not have survived.

That was it.

Not a word about Jamie Dimon's tireless campaign to eviscerate the Dodd-Frank financial reform bill; his loud and repeated charge that the Street's near meltdown in 2008 didn't warrant more financial regulation; his leadership of Wall Street's brazen lobbying campaign to delay the Volcker Rule under Dodd-Frank, which is still delayed; and his efforts to make that rule meaningless by widening a loophole allowing banks to use commercial deposits to "hedge" (that is, make offsetting bets) their derivative trades.

Nor any mention Dimon's outrageous flaunting of Dodd-Frank and of the Volcker Rule by setting up a special division in the bank to make huge (and hugely profitable, when the bets paid off) derivative trades disguised as hedges.
9. A personal tribute to Donna Summer - I'm a bit of a disco chick at heart.
Here's the Blue Man Group with their version of 'I feel Love'. This rocks. For a disco tune.
10. Totally Clarke and Dawe - A member of the Australian public comments on public events.