Here's my Top 10 links from around the Internet at 11:00 am today in association with NZ Mint.
We welcome your additions in the comments below or via email to bernard.hickey@interest.co.nz.
See all previous Top 10s here.
My must read today is #8 on national delusions and political opportunism. And we have some fresh Jon Stewart for your viewing pleasure today.
1. Here's one way to repay your debt - Make sure investors are so scared they'll pay you to look after their money.
Interest rates in Switzerland have gone negative, the Washington Post reports.
That way you get the lender, rather than the borrower, to pay off the debt.
What has the world come to?
Germany's 2 year bond yield hit 0% overnight.
Interest rates seem set to stay lower for longer at this rate. Unless of course you are the Spanish or Italian governments...
Switzerland first offered negative interest on government debt last year when the franc surged on market fears about the euro.

Unicredit economist Alexander Koch says it underscores how investors are willing to incur some losses to preserve capital.

Tuesday's debt sale comes after the Swiss National Bank said Switzerland was preparing for a possible collapse of the euro. SNB president Thomas Jordan told Zurich Newspaper SonntagsZeitung on Sunday that Switzerland was considering introducing cross-border capital controls.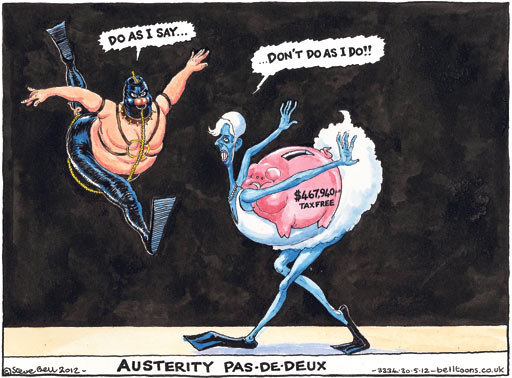 2. This is a hilarious version of Waiting for Godot - It's well worth a click through. It's from a JP Morgan banker with too much time on his hands. It's brilliant and explains the euro doom loop perfectly.
3. The US debt ceiling fight could get very ugly - With all the euro-grief around, the attention has shifted away from a looming fiscal cliff in America.
Business Insider says a lot of people are getting worried.
At Bloomberg View, economist partners Betsey Stevenson and Justin Wolfers predict that the next debt ceiling fight could sink the entire economy, in part thanks to the fiscal cliff issues being felt at the same time. They point to the economic deterioration seen last summer (when confidence collapsed around the time of the debt ceiling fight) as evidence for the trouble.

Ezra Klein recently called the next debt ceiling fight as something approaching a Lehman moment, again because it could come amidst the fiscal cliff miss.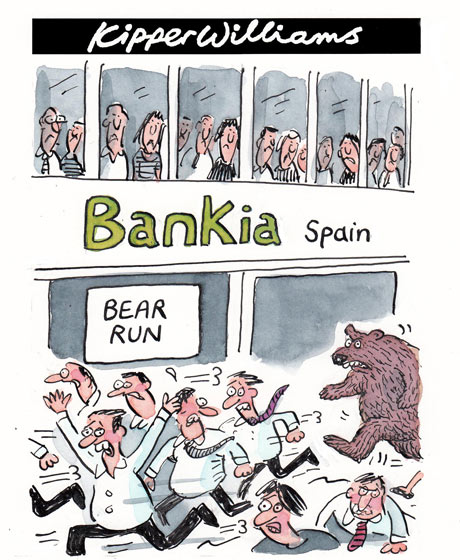 4. Rejected - The FT points out the European Central Bank's decision this week to reject a fancy back-door bailout of Spain's bailout of Bankia has set up a giant game of chicken.
The ECB's rebuff appeared to toughen Madrid's insistence that the only solution to a crisis that is pushing its borrowing costs close to unsustainable levels is for the ECB to become a government lender of last resort. Spanish 10-year sovereign bond yields topped 6.5 per cent on Monday and only fell back slightly on Tuesday.

Senior government officials in Madrid argue that bailouts in Portugal, Greece and Ireland have been catastrophic and Spain will not compromise on its refusal to accept a similar form of intervention. They said the country had implemented reforms requested by Brussels and must now be granted relief by the ECB, or the future of the single currency will be threatened. The government would like to see the ECB restart its government bond-buying programme and wants the nascent European Stability Mechanism to be retooled as a bank bailout fund.

"This is like a game of poker now," one government adviser said, "and I don't think Spain is bluffing".
5. Watch out for Chinese local government debt - Northwestern University Professor Victor Shih, who has written a book about China's politics and its financial system talks here with Credit Suisse's Cushla Sherlock (a New Zealander) at an Asian Investment Conference in Hong Kong about local government debt in China, which he says is around 40-45% of GDP. HT Macrobusiness
He says the central bank will continue to bail out these local governments, but it may not be able to do so much of it in years to come.
6. 'Pledge us your gold' - Ambrose Evans Pritchard writes here at the Telegraph about how the Germans might get their hands on the Greek, Spanish and Italian gold.
Southern Europe's debtor states must pledge their gold reserves and national treasure as collateral under a €2.3 trillion stabilisation plan gaining momentum in Germany.

Germany would have a lockhold over the fund, able to enforce discipline. Each state would have to pledge 20pc of their debt as collateral. "The assets could be taken from the country's currency and gold reserves. The collateral nominated would only be used in the event that a country does not meet its payment obligations," said the proposal.

This demand could enflame opinion in Italy and Portugal. Both states have kept their bullion, resisting the rush to sell by Britain and others. Italy has 2,451 tonnes of gold, valued at €98bn in March.

Alessandro di Carpegna Brivio, a gold expert at Camperio Sim in Milan, said Italy should treat such proposals with care. "Everything being done at a European level is in the interests of Germany and France, to save their banks. It is not in the interest of Italy," he said.
7. The countdown to zero of Spain vs Portugal - This chart via Sober Look shows the paths that the spreads to German bond yields took for Portugal and Spain.
This suggests that Spain has just a few days to go before it has to ask for a bailout. About 15 days by this measure.
8. Delusions and opportunists - This is a fascinating musing from Mark Dow about how people close to a market delude themselves and how politicians react.
The table below is a great laugh. Everyone thinks the Germans are the hardest working, except for the Greeks, who think the Greeks are the hardest working. Everyone thinks the Greeks are the laziest, except for the Greeks, who think the Italians are. Here's a sample of Dow's musing:
What politicians can be blamed for is opportunistically tapping into our cognitive weaknesses. At this, they are ruthlessly efficient. Having observed politic cycles in countless countries over the past 20 years, I have boiled campaigns down to a three point message.

1.       I feel your pain. Politicians need to connect, to empathize convincingly. Or, to paraphrase George Bernard Shaw, they need to be able to fake sincerity.

2.       You deserve more than you are getting, and it is not your fault.

3.       I'm gonna get the bastards who are keeping you down.

You can fill in the details about what you should be getting, and who is keeping whom down, but I have seen this formula play out, from Equatorial Guinea to the United States. The bottom line, brutal though it may be, is that when we are in pain, human nature is well equipped to convince itself that the group it belongs to is not to blame and then to find another group at whom to lash out. And while politicians are less responsible for crises than we are inclined to allege, they are certainly there to pitch themselves to us opportunistically in our moments of weakness.

As things continue to heat up in Europe, expect less rationality, not more—especially from the countries deepest in the pressure cooker. And, be on the lookout for more, not fewer opportunistic politicians.
9. Six reasons Spain will leave the euro first - Here's Matthew Lynn at Bloomberg with his list.
One: Spain is too big too rescue. Two: Spain has tired of austerity already.Three: Spain has a real economy. Four: Spain is politically secure. Five: Spain has bigger horizons. Six: The debate has already started.

For all those reasons, the Spain is the nation within the single currency that might conclude first that a negotiated departure from the single currency is a logical step. It might not be alphabetically correct, but the Spexit will come before the Grexit.
10. Yay. He's back. Totally Jon Stewart on his roots as a socialist.