Here's my Top 10 links from around the Internet at 12.30 pm today in association with NZ Mint.
We welcome your additions in the comments below or via email to bernard.hickey@interest.co.nz.
See all previous Top 10s here.
My must read today is #9 on the problems in Europe. They are monstrous. Bon Appetit!
1. So many ways to kick the can down the road - The whole world is now expecting the US Federal Reserve to step in again to resuce the markets and try (with the emphasis on the word try) to  boost activity in the world's largest economy. We should know more from 6am Thursday morning.
Debate is raging about exactly how it could be done and what would be most (or least) successful.
The US Federal Reserve has already done two rounds of Quantitative Easing or money printing to buy government bonds. The problem is much of this cash has just circulated back through the banking system to end up on deposit back at the US Federal Reserve. Or it's sitting in government bonds at increasingly low interest rates.
US banks can effectively borrow from the central bank at nearly 0% and then put the money into shorter and longer term bonds at 1.5% to 3%. They don't have to take many risks and can build up their profits and capital over time.
US Federal Reserve Chairman Ben Bernanke spoke in 2002 about how to boost an economy once short term interest rates were cut to zero. He spoke of figuratively flying a helicopter over the economy and showering consumers with cash, who would then pick up the money, spend it and then get activity going again.
Unfortunately, all Bernanke has done so far is print the money, put it in his helicopter and dump it in pallets on the front lawns of the banks, who have then put in the garage. The money has not circulated. There's a couple of reasons why not. Banks are reluctant to lend to riskier businesses and many of the stronger and larger businesses already have plenty of their own cash they're unwilling to invest. Households are also reluctant to borrow more. They're busy repaying previous debt or may be under water with their existing assets.
Here's FTAlphaville with the possible options for Fed action, none of which seem very effective:
1) Extend Twist

– Perhaps for only a few months rather than through the end of the year

– Possibly combine sales of short-end Treasuries with purchases of Agency MBS along with Treasuries

2) Quantitative Easing via outright expansion of its balance sheet

– How much: we've estimates all over the place, up to $600bn

– Composition: Treasuries vs Agency MBS

3) Change the "rates exceptionally low" language in the statement, push back to 2015

– Could create further confusion depending on how the individual forecasts of the FOMC members shift

– Might also just change the language to be more dove-ish generally

4) Telegraph future easing through changes in the statement (thanks to Robin Harding for reminding us of this possibility)

– Emphasise here again that this could be done in combination with one or more of the other options

All of the above are real possibilities. The next few are less likely but can't be ruled out entirely. …

6) Cut the interest on excess reserves

– Doubtful, as the Fed likely believes that this is crucial for orderly functioning of money markets, which are having enough problems as it is

7a) Cut the discount rate (now at 0.75 per cent), aka the primary credit rate that American banks have to pay if they tap the Fed's discount window

7b) Lower the swap rate for foreign central banks – Meh.

Long shot: introduce an improvement to its new communications approach (see Robin's post from April for some ideas, and ours for why it might help)

– We haven't seen this possibility reported or discussed much lately, so we really doubt it.

9) Even longer shot: Make it clear that the Fed would tolerate a period of higher-than-target inflation until unemployment declines further

– Note that this is different from temporarily raising the inflation target, which stays the same: indeed keeping the 2 per cent target would (in theory) help to keep inflation and inflation expectations from running away during the temporary period of catchup inflation. Bernanke actually might have leaned in that direction at the last presser more than we'd initially realised (minus the "make it clear" part).
2. Greed is good, but good is better - Here's a farewell column from David Weidner at MarketWatch about how Wall St operates. He's a long time observer.
Simple is better: For 60 years, a 37-page document kept the financial system relatively safe. It was called Glass-Steagall. In the 13 years since it was repealed in the name of modernization, we've seen a tech bubble and the greatest financial crisis since the stock-market crash of 1929.
3. The problem in China - All our attention in New Zealand and Australia should really be on how successful China's attempts to fire up its economy again are.
Will it be able to repeat the remarkable 4 trillion yuan spurt of infrastructure investment it carried out in 2008 and 2009? That softened the blow of the GFC for Australia and New Zealand.
But now China is struggling to repeat that quick burst of spending. There's a once-in-a-decade political leadership transition going on that is slowing decision making. Also that infrastructure spending burst unleashed a housing boom that the leadership are trying to cool down.
Here's Westpac's closely watched Phat Dragon report (courtesy of Marcobusiness) looking at what's happening with credit supply and demand in China. It suggests China has opened the credit taps, but not nearly enough want to drink it in because of falling apartment prices and low profits.
This chart tells the story, as does Phat Dragon here:
The June quarter observation for"loan demand" (bankers' assessment) fell to 12% below average,lower even than the Dec-2008 reading, even as the "lending attitude of banks" (corporate assessment) rose for a second straight quarter and the 'easiness' of the monetary policy stance (bankers' assessment) rose to 21% above average.  This combination argues that policymakers are finding it difficult to re-energise demand, despite their willingness to loosen the monetary trammels they imposed last year.

These moves have of course included a rate cut, with some of the gap between borrowers and lenders presumably related to the widening spread between benchmark and actual lending rates as banks were able to pad their margins with less competition from shadow financiers. Interest rates aside, Phat Dragon puts the bulk of the weak demand for credit down to the depressed state of asset prices and the emerging belief among the citizenry that the administration is really serious about staring down the housing industry.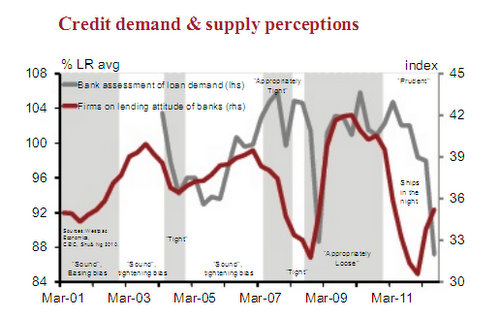 4. G20 failure - Ambrose Evans Pritchard at The Telegraph describes the apparent and still murky deal hammered out at the G20 meeting overnight as a half baked rescue.
Chancellor Angela Merkel and President Francois Hollande have to do something. The market reaction to Spain's €100bn EMU rescue for its banks has been calamitous. Monday's explosive rise in Spanish two-year bond yields was a warning that Spain's crisis would spiral out of control within days, taking Italy with it.

Yet the deal explored over ceviche and mango at Los Cabos in Mexico remains murky. Any plan will backfire horribly unless conducted in the right way, and with overwhelming force.

From what we know, the eurozone's leaders aim to deploy the European Stability Mechanism (ESM) to cap borrowing costs for Spain and Italy by purchasing sovereign bonds on the open market.

Unfortunately, the ESM fund does not yet exist. It has not been ratified by Germany and Italy. When it does come into being, it won't have much money. It has a theoretical limit of €500bn -- a nice wish -- but its paid up capital will start at just €22bn.
5. North Euro and South euro - Ambrose also points to a debate now going on within Germany about breaking out of the current euro into a north and south euro.
Unease over escalating euro rescues is building by the day in Germany. Forty economists and professors have written a joint letter to Mrs Merkel proposing a break-away "Northern Euro", exhorting her to step back from the brink before making the "even greater error" of ratifying the ESM.

The group said Berlin must clarify exactly how much Germany could stand to lose from the ECB's internal payments system, known as Target2. The Bundesbank claims on fellow central banks have exploded to €699bn, or 27pc of German GDP. The arcane issue of Target2 has fueled a hot-tempered debate in Germany over who foots the bill if monetary union falls apart.

The professors called for study laying out the pros and cons of a return to the D-Mark, or the creation of a new currency or "North Euro" led by Germany, the Netherlands, and like-minded states.

The idea of a North Euro -- or "Thaler", the coin of the late Holy Roman Empire -- was first nooted by the former chief of the German Industry Federation, Hans-Olaf Henkel.

It would let southern EMU states to keep the euro and uphold euro debt contracts. The region could reflate and regain trade competitivenes with a weaker exchange rate.

While the letter is unlikely to sway thinking in Berlin, such radical proposals are gaining a wider hearing. Georg Schuh, chief investor of Deutsche Bank's DB Advisers, said the crisis is terminal. "A break-up of the eurozone is very likely. Capital markets have already priced it it. I think we are in the end-phase," he said.
6. More on the G20 bailout plan - The FT.com says the Eurozone is edging towards using the European Stability Mechanism to buy Spanish and Italian bonds directly, possibly by the ESM borrowing directly from the ECB.
Eurozone members of the Group of 20 leading economies will commit to driving down borrowing costs across the single currency area, according to a leaked draft of the communiqué from the summit in Mexico on Tuesday.

According to officials briefed on the discussions, Mario Monti, Italy's prime minister, raised the possibility of using the eurozone's €440bn rescue fund to buy peripheral bonds on the open market. But Angela Merkel, Germany's chancellor, was non-committal about the idea during a formal session on Monday night.

However, officials said Ms Merkel had subsequent conversations on the sidelines of the summit which led her interlocutors to believe "she may be willing to do more," said one European official. The official cautioned, however, that Ms Merkel was not yet ready to commit to any definite course of action.
7. The problems in Christchurch - The Press reports New Zealand builders in Australia are reluctant to return home to Christchurch to help with the rebuild because they've given up waiting for things to get started.
James Bunn, who is in his mid-40s, commutes weekly to work in Australia, along with more than 30 other Cantabrians. He said many had originally planned to return to take part in the rebuild but had since changed their minds.

"The impression over here is that the rebuild is struggling to get under way, primarily due to too many unqualified, inexperienced councillors riddled with internal politics," he said. There was "no comparison" with the rebuild of Christchurch and that of flood-hit Queensland.

"Kiwis over here are asking what's going on back home. It's not a good impression."
8. Spanish bank audit delayed - The more the experts look under the covers in Spain's banking system the uglier it gets. Reuters reports another delay in a closely-watched audit was announced last ngiht.
A second and more detailed audit of Spanish banks will be delayed to September after originally being scheduled for completion on July 31, a source at the Bank of Spain said on Tuesday.

"The decision to delay the second part of the audit of Spanish lenders has been made by the assessment committee. The reason is to gather more information on the loan books on an individual basis and this will delay ... the whole process to September," said the source, who did not want to be named.
9. The scale of the mess - Wolfgang Munchau writes brilliantly in this FT column about the scale of the mess in Europe. A fiscal union is required, as is a banking union and a political union. Within 10 days.
The Bundesbank said there should be no banking union until there is a fiscal union. Angela Merkel said that there should be no fiscal union until there is political union. And François Hollande said that there should be no political union until there is a banking union. They have 10 days to disentangle that knot.

The obvious solution to a sequencing problem is to have it all: a banking union, a fiscal union and a political union. That may well happen. But I somehow did not have the impression that Ms Merkel was kidding when she rejected any proposal that could solve the crisis. So 10 days before the next European summit, my optimism is restrained.

What if there is no deal or another fudge? In that case, I would expect Italy and Spain to leave the eurozone. If a banking union is a necessary prequisite for a monetary union, and you are told that a banking union is politically unacceptable, then one must sadly conclude that the monetary union is unfeasible. I do not say this lightly. A break-up would be catastrophic.

In the absence of a deal next week, I would expect to see an acceleration of a slow-motion bank run. Why should citizens leave their money in their local banks, when foreign investors are pulling out and when even the EU is making preparations to impose capital controls? Market interest rates will rise further and it will only be a matter of time before both Italy and Spain are cut off from market funding.
10. Totally Jon Stewart on the Greek crisis. He's calling it Feta Accompli. Geddit? Stewart also interviews Drachma and Lira. The Pound makes an appearance.