Bernard Hickey sifts through the angry reactions to his argument for an intergenerational wealth deal. He points out baby-boomer housing wealth fell from the skies - it was not earned or built. You agree?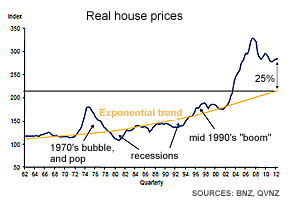 By Bernard Hickey
Last week's column about the need for an intergenerational wealth and debt deal sure struck a nerve.
I was swamped with comments and emails from outraged baby boomers telling me to stop indulging in scapegoating and blame-gaming.
I was told to get back in my box with the rest of the lazy, selfish Generation Xers and Yers who were whingeing for no good reason.
I was told the youth of today never had it so good with all their Xboxes and iPads and 5% interest rates and should just buckle down and save hard like they did.
I was told the baby boomers had to cope with 20% interest rates and washing machines with wringers in their day and had to work harder and longer for less.
I was told they had worked hard and paid taxes all their lives and they were 'due' their pension at 65.
I was told they deserved their wealth and I was an ungrateful stirrer even suggesting these gains should be clawed back.
Here's a nice summary in this response to the article on NZHerald.co.nz from KC in NZ:
"Get over it Bernard. Why should anyone that has worked hard to get what they have give it up for a generation that doesnt want to work for it?"
It's worth rebutting the rebuttals because I think many people don't understand how our tax and welfare systems work, or what happened during the last 10 years in our property market.
Firstly, the argument that it was just as hard to buy a house in the 1980s and 1990s as it is now. Productivity Commission figures show the national house price to disposable income ratio rose from around 2 in 1980 to around 3 in 2003, before doubling to almost 6 in 2008. It is now around 5. Treasury figures show the percentage of gross income needed for an average mortgage payment rose from around 35% in the mid 1990s to a high of 65% in 2008 when interest rates hit 10%. It is now around 45%. See more on home loan afffordability here.
Essentially, home buyers now paying almost twice as much to buy a house as they were in the 1980s and 1990s, relative to incomes. The relative costs are much worse in Auckland.
Property is much more expensive for first home buyers now than in the 1980s and 1990s when baby boomers were buying their first homes. First home buying would be impossible for most, particularly in Auckland, if interest rates were not now at record lows. It also requires both income earners in a home to stay working. The stay-at-home mum of the 1970s and 1980s is not an option now.
Secondly, the argument that baby boomers worked hard for that property wealth and don't deserve to have it taken off them. Reserve Bank figures show the net equity in housing wealth more than doubled from NZ$203.5 billion in 2002 to NZ$456.7 billion in 2007. Property owners' wealth rose the equivalent of more than 125% of GDP in 5 years.
That wealth fell from the skies.
It was not earned or built.
House values did not improve by NZ$253.2 billion because a few decks and conservatories and double garages were added. A housing boom fueled by a lack of new houses being built, a migration surge and an astonishing amount of easy lending created this wealth out of thin air, or more accurately, from indoor-outflow flow of thin air.
Finally, the argument that baby boomers paid their taxes and are 'due' their pensions and 'free' health care.
New Zealand has a pay-as-you-go pension and health care system. The baby boomers' taxes paid from the 1980s until now were used to pay for the relatively small amount of pensions and healthcare incurred by their parents, who fought and died in a few wars to ensure their kids could live comfortably in freedom.
The baby boomers' pensions and healthcare will be paid for by Generations X and Y and anyone else still paying taxes over the next 30 years. We do not have a European or US style social security system where insurance type payments are paid, saved and then withdrawn to pay for the retirement costs of those who made the payments.
I'll leave my final word to Stephen, a listener to a Radio NZ interview with World War Two veteran Bob Wood a couple of weeks ago.
"As his generation passes, I consider it important to acknowledge how great his generation was. They had a childhood marred by The Depression and a youth lost at war. They were educated by a generation almost lost in World War One. Social commentators have described Mr Wood's generation as the best generation, deservedly so. An acknowledgement of what they did is why I and others of the younger generation have been going to Anzac Day parades in recent years. That generation's children, the baby boomers, come across as shallow and self-absorbed in comparison. They dismantled the welfare state set up by the best generation and even disrupted Anzac day parades in the 1970s. They labelled these poor traumatised men as war criminals. I would like to say to the Bob Woods -- thankyou, thankyou, thankyou."