Here's my Top 10 links from around the Internet at 12.30 pm today in association with NZ Mint.
As always, we welcome your additions in the comments below or via email tobernard.hickey@interest.co.nz.
See all previous Top 10s here.
My must read today is #1 from Leith van Onselen on the RBA's surprisingly large blind spot on housing affordability.
1. RBA wags the dog - Leith van Onselen has written an excellent rebuttal at Macrobusiness.com.au to the Reserve Bank of Australia's Glenn Stevens' 'Lucky Country' speech on how affordable Australian housing still was.
Stevens said Australia's house price to income ratio was down to around 4 times income, whereas Leith points out this implies the Australian average wage would therefore be around A$105,000. 
Both the Australian and New Zealand central banks appear to be in denial about how massive lending growth over the last decade has inflated property values and is distorting the economy.
They have stuck to their inflation-targeting mantra and their naive belief that free floating exchange rates without capital controls won't distort their economies.
How long before they look at the data showing New Zealand and Australia are both suffering an extreme case of Dutch Disease combined with QE-itis?
Here's Leith highlighting the RBA's group-think on housing affordability:
Indeed, only recently RP Data published research confirming that the RBA's ratio is significantly understated. Using household income figures derived from the 2011 Census, RP Data estimated that the national median capital city dwelling price to median household income was 6.3 times in 2011

Moreover, the calculations used in Glenn Stevens' speech directly contradicts those of the RBA's then Head of Research, Anthony Richards, who in 2008 provided the below chart showing "Australia's median house price to income ratio [to be] quite high by international standards". Note that the ratios shown for the other nations are also prior to the global house price crash.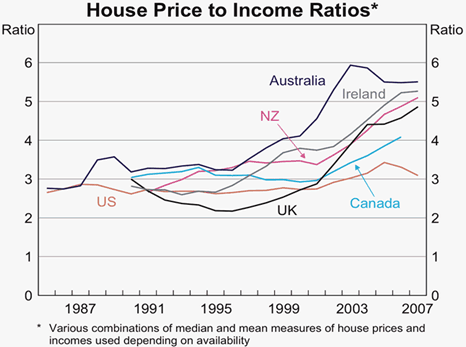 2. Brazilian stimulus plan - BBC reports Brazil is feeling the pain of a slump in commodity prices as China slows down. It is also being hammered by the strength in its real currency.
Now Brazil's government is planning a US$60 billion stimulus package, including building 8,000 kilometres of new roads and 8,000 kilometres of new railways.
So what is New Zealand planning to do to cope with the same high currency and low commodity prices?
Further announcements involving investment in ports and airports are expected in the coming weeks.

Growth in Brazil is predicted to be less than 2% this year, the weakest annual performance since 2009 and a sharp slowdown from an impressive 7.5% rise in 2010.
3. Spain's Zombie banks - FTAlphaville reports on Bank of Spain figures showing how almost completely reliant Spain's banks now are on loans from the European Central Banks.
Other banks won't lend to them.
4. Now that's some paperclip - Mike Watson reports at Stuff the Taupo District Council spent NZ$520,000 on 13 giant paperclip information boards. Some ratepayers aren't happy. HT Andrew Patterson via email.
Jack Laugesen wrote in a letter to the local paper that the clips were a "disgraceful waste of money". It was no wonder the town was indebted and homeowners were paying high rates, he said.

Another resident, Bill Lomas, said he could not understand the expense being approved when Taupo was heavily indebted. "We are the second-most-indebted council in the country. I cannot believe the cost and where the value of money spent is.
5. The case for an early Euro-zone divorce? - Nouriel Roubini has argued in this Project Syndicate piece that it may be time for an early breakup.
If a gradual process of disintegration eventually makes a eurozone breakup unavoidable, the path chosen by Germany and the ECB – large-scale financing for the eurozone periphery – would destroy the core central banks' balance sheets. Worse still, massive losses resulting from the materialization of credit risk might jeopardize core eurozone economies' debt sustainability, placing the survival of the European Union itself in question. In that case, surely an "orderly divorce" now is preferable to a messy split down the line.

CommentsOf course, a breakup now would be very costly, requiring an international debt conference to restructure the periphery's debts and the core's claims. But breaking up earlier could allow the survival of the single market and of the EU. A futile attempt to avoid a breakup for a year or two – after wasting trillions of euros in additional official financing by the core – would mean a disorderly end, including the destruction of the single market, owing to the introduction of protectionist policies on a massive scale. So, if a breakup is unavoidable, delaying it implies much higher costs.

CommentsBut politics in the eurozone does not permit consideration of an early breakup. Germany and the ECB are relying on large-scale liquidity to buy time to allow the adjustments necessary to restore growth and debt sustainability. And, despite the huge risk implied if a breakup eventually occurs, this remains the strategy to which most of the players in the eurozone are committed. Only time will tell whether betting the house to save the garage was the right move.
6.A battle of wills - Caixin reports on how central and local governments in China are locking horns over property taxes and incentives, given local governments have based their financial structures around land sales and property development.
China is in political flux in more ways than the current national once-in-a-decade changeover at a national level.
Over the past six months local governments have introduced various policies to stimulate real estate markets, which they see as a source of much-needed funds. This is in contrast to efforts by the central government, which in 2010 implemented controls to cool the market, something many fear was a dangerous bubble in the making.

Local governments pay lip service to the central governments curbs, but at the same time have made efforts to boost the market. This is a sign that they see the need to balance central government policies with finance needs.

On July 16, Shenzhen, the bustling special economic zone in southern China, said home buyers could get loans of up to 800,000 yuan from the city's Housing Fund Management Center and enjoy interest rates lower than what commercial banks offer.

Three days later two ministries said there would be no relaxation of housing control policies and governments at all levels should firmly combat rebounding home prices. Then in late July, the State Council, the country's cabinet, sent eight teams to 16 provinces and cities to supervise the implementation of its housing purchase and mortgage restrictions.
7. Inside China's graft - Caixin also reports on the now-disgraced Railways Minister Liu Zhijun and how he managed to rort the system and have a lot of fun with the ladies along the way.
Several of the charges were connected to a close associate, Shaanxi businesswoman Ding Shumiao. Ministry prosecutors say Liu helped Ding secure supply contracts worth 3 billion yuan and allowed middlemen to take kickbacks during contract procurement.

The investigation into Ding, which started in January 2011, is also finished, a source close to the inquiry said. The amount of kickbacks that Liu and Ding shared will be a key factor in determining the money involved in Liu's graft charges, a source close to the situation said.

Ding also facilitated Liu's love affairs, the notice said. The investigators found that Liu had sexual relationships with a number of women, some of them introduced to him by Ding.
8. Way too big to fail - WSJ's Gillian Tan points to some BoA Merrill Lynch research showing Australia's banks and insurers (red line) are now worth more than the entire Euro-zone's banks and insurers (blue line).
Crikey.
"Investors seeking big dividend yields will find them in Eurozone telecommunications, Brazilian materials, Australian financials and Taiwan technology," Mr. Hartnett said. Australia, along with Canada, Spain, Hong Kong, Singapore, China, Turkey and Indonesia, carries at least a third of its market weight in financials.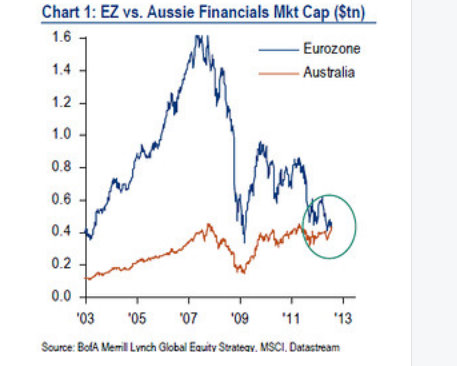 9.Finland and the Euro-zone - BBC reports Finland is having its doubts about staying in the Euro-zone.
"The Euro or Not?" That was the question posed by the front page of a recent edition of Finland's leading news magazine, Suomen Kuvalehti.

It continued: "Finland's return to the markka [the national currency before the Euro] is not impossible."
10. Totally Jon Stewart on Paul Ryan's budget plan