Here's my Top 10 links from around the Internet at 1.00 pm today in association with NZ Mint.
As always, we welcome your additions in the comments below or via email tobernard.hickey@interest.co.nz.
See all previous Top 10s here.
My must read today is #8. It's an academic paper about debt. I need to get out more.
1. Interesting housing control - Just imagine if Auckland did this. It would certainly have an impact.
Bloomberg reports Shanghai has banned non-married non-locals from buying property.
There's an interesting Catch 22 developing there because the tradition is the man can't ask a woman to marry him until he has bought a house...but they can't buy a house until they are married...
Some young Chinese men are understandably grumpy.
It's a fascinating detail showing just how determined the Chinese government is to control rampant house price inflation and why the Chinese construction-driven economy (and therefore steel and coal and iron ore prices) has slowed down sharply.
This might not end well.
Tank Zhao is being forced to ditch tradition by taking a bride before buying a home as Shanghai bans unmarried non-locals like him from purchasing property. The 28-year-old software engineer from Fujian province had been looking for an apartment ahead of plans to marry his girlfriend next year, in accordance with the Chinese proverb "Zhu Chao Yin Feng" -- build a nest before attracting the phoenix. He'll now have to secure the phoenix before the nest.

"The policy is unreasonable; we aren't speculators, we just need a place to live," said Zhao. "Getting married first goes against our culture. I'll have to explain to my girlfriend's family that the Shanghai policy is what it is."

Shanghai last year started limiting locals to owning two homes, while families among the city's 9 million non-local residents were capped at one. Unmarried non-locals, who had been able to buy as long as they proved a year or more of tax payments, are now being frozen out altogether after the city toughened implementation of the curbs following Chinese Premier Wen Jiabao's vow in July to "unswervingly" contain prices.

Chinese males are expected to own a home before they approach their would-be wife's family for approval to wed. In rural parts of the country, parents extract most of the family's wealth to build houses for their sons ahead of the marriage; in cities, securing an apartment is the equivalent.
2. Spain's Robin Hood - Reuters reports on a Spanish Mayor who has become a cult hero there for staging robberies of supermarkets to feed the poor. He's about to march on the capital.
Seven people have been arrested for participating in the two raids, in which labor unionists, cheered on by supporters, piled food into supermarket carts and walked out without paying while Sanchez Gordillo, 59, stood outside. He has political immunity as an elected member of Andalusia's regional parliament, but says he would be happy to renounce it and be arrested himself.

"There are people who don't have enough to eat. In the 21st century, this is an absolute disgrace," he told Reuters this week in an interview in the Atocha train station in Madrid, tugging on his graying Fidel Castro-style beard.

"They say I'm dangerous. And the bankers who are let off for fraud? That's not dangerous? The banks which borrow from the ECB for 1 percent then resell that debt to Spaniards for 6 percent - they're not dangerous?" he said.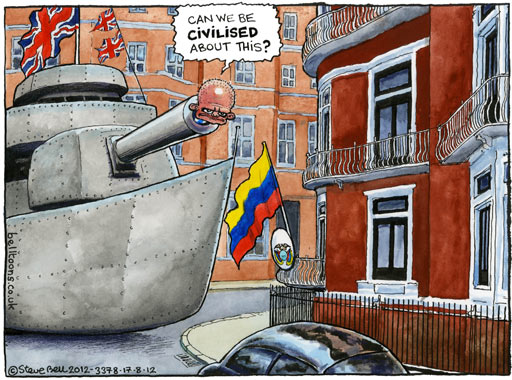 3. Look over your shoulder - Bloomberg reports Swiss banks are so desperate to get the US tax authorities off their back they are dobbing in their own employees. This could be entertaining in a rats-jumping-from-ships sort of way.
At least five banks supplied e-mails and telephone records containing as many as 10,000 names to the U.S. Department of Justice, according to estimates by Douglas Hornung, a Geneva- based lawyer representing 40 current and former employees of HSBC Holdings Plc's Swiss unit, Credit Suisse Group AG (CSGN) and Julius Baer Group Ltd. (BAER) The data handover is illegal, said Alec Reymond, a former president of the Geneva Bar Association, who is representing two Credit Suisse staff members.

"The banks are burning their own people to try and cut deals with the DOJ," said Hornung. "This violation of personal privacy is unprecedented in the Swiss banking industry."
4. Running out of Gold - This Boomberg story on how Portugese people are running out of gold to sell to compensate for their economic collapse is one of the stories of the moment.
In Portugal, the historical home of some of Europe's biggestgold reserves, the number of jewelry stores, which include cash-for-gold shops, increased 29 percent in 2011 from a year earlier, a study commissioned by parliament found. In the first quarter, an average of two new stores opened every day, the report said. Now some of them are closing.

"Business has gone from great to terrible in a matter of months," Luis Almeida, whose family has owned a gold store near Lisbon's Rossio Square for more than 40 years, said in an interview. "The sad truth is that most of my clients have already sold all of their gold rings."
5. China's shadow banking disaster in waiting - Also Sprach Analyst has an interesting piece on companies that gave credit guarantees to other people and companies in China that are dropping like flies as the economy comes under pressure and the credit pyramid start collapses. A leading indicator is suicides of company CEOs...
Along with the 'Wealth Management Products' and Local Government Financing Vehicles, China's shadow banking structure looks to be under severe pressure.
The solar sector also demonstrates some of the practices that many other companies in China seem to share, and that is potentially going to make matter worse – the credit guarantee.

We have recently discussed a few interesting cases related to the practices of obtaining loans from banks with a third party guarantees.  One Beijing-based credit guarantee company, for instance, has gone bust.  Meanwhile, many more companies have been guaranteeing loans for each other, and that practice has dragged some 600 or more companies into a mini credit crunch in Zhejiang of China.  This practice is also popular in among steel, energy and in other sectors, including solar sector.

Li Fei, the CEO of Chengxing Solar Company, committed suicide after it becomes apparent that his company will not be able to service the loans that it guaranteed for another company.  Like quite a few other businessmen who are running away/hiding/killing themselves, his company was highly leverage and was under pressure. One of the sources of trouble, as it turns out, was that it has guaranteed some tens of millions yuan of loans for yet another solar company owned by a Wenzhou businessman called Hu Fulin, who, if some of you remember, ran away from creditors last year

The credit guarantees system has been an important part for many Chinese companies, especially for the small- and medium-sized businesses.  As more and more cases of credit guarantees causing troubles, we believe these are not isolated cases.  Rather, we suspect that it reflects a potentially serious systemic problem.
6. How much time we have left before the stuff runs out - This BBC infographic is self explanatory.
7. Mass mortgage refinancing - We all know the ultimate solution to too much debt is either inflation running higher than interest rates or debt forgiveness and restructuring.
Theere are different winners and losers in each scenario. So far central banks and policymakers have opted for the default via inflation and financial repression rather than a mass debt restructure.
Now Joseph Stiglitz is suggesting at Washington Post a mass debt restructure for America's over-burdened households. Fair enough. The banks and pension funds behind that restructure might not be so happy though...
Housing remains the biggest impediment to economic recovery, yet Washington seems paralyzed. While the Obama administration's housing policies have fallen short, Mitt Romney hasn't offered any meaningful new proposals to aid distressed or underwater homeowners.

Late last month, the top regulator overseeing Fannie Mae and Freddie Mac blocked a plan backed by the Obama administration to let the companies forgive some of the mortgage debt owed by stressed homeowners. While half a million homeowners could be helped with a principal writedown, the regulator, Edward J. DeMarco, argued (we believe incorrectly) that helping some homeowners might cause others who are paying on their loans to stop so that they also could get their mortgages reduced.

With principal writedown no longer an option, the government needs to find a new way to facilitate mass mortgage refinancings. With rates at record lows, refinancing would allow homeowners to significantly reduce their monthly payments, freeing up money to spend on other things. A mass refinancing program would work like a potent tax cut.
8. When too much debt is too much for the economy - The Bank for International Settlements has done some research showing that household debt over 85% of income becomes a drag on growth in any economy.
New Zealand's household debt is around 93% of GDP at the moment...
That might explain a few things, including the Reserve Bank's recent reduction in New Zealand's economic growth potential from over 3% to around 1.5% in the last decade. Perhaps we need to get the debt down? See number 7 above.
At moderate levels, debt improves welfare and enhances growth. But high levels can be damaging. When does debt go from good to bad? We address this question using a new dataset that includes the level of government, non-financial corporate and household debt in 18 OECD countries from 1980 to 2010. Our results support the view that, beyond a certain level, debt is a drag on growth. For government debt, the threshold is around 85% of GDP. The immediate implication is that countries with high debt must act quickly and decisively to address their fiscal problems.

The longer-term lesson is that, to build the fiscal buffer required to address extraordinary events, governments should keep debt well below the estimated thresholds. Our examination of other types of debt yields similar conclusions. When corporate debt goes beyond 90% of GDP, it becomes a drag on growth. And for household debt, we report a threshold around 85% of GDP, although the impact is very imprecisely estimated.
9. The need for full employment - Professor Bill Mitchell works at the University of Western Sydney and is a proponent of Modern Monetary Theory. Here he is talking with Commonwealth Age Discrimination Commissioner Susan Ryan.
10. Totally Clarke and Dawe - Jeff Demission is a political scientist, not the head of Australia's Olympic Team. Australia has a lot of thinking to do. A lot of its problems are about the allocation of resources.
And there are an awful lot of Senates in Australia....