Foreign institutions that buy covered bonds in our banks get priority over bank assets in the event an institution fails and that is not fair says Bernard Hickey. Your view?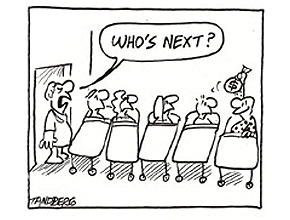 By Bernard Hickey
How would you feel if someone muscled in ahead of you in the queue at the bank?
How would you feel if bank manager actually encouraged the queue jumping?
Would you want to be compensated?
That is what has just happened to hundreds of thousands of New Zealanders who have over NZ$110 billion in term deposits in banks.
Up until a couple of years ago, term depositers had priority over other bank creditors. That meant they would be paid out first if the bank was to collapse.
They were at the front of the queue.
But starting in mid 2010 New Zealand's big four banks started issuing covered bonds to mostly European investors. These bonds are securities that are 'covered' by the underlying assets owned by banks, which is in this case means mortgages.
If a bank were to collapse, these bonds have to be paid back from the proceeds of those mortgages.
These covered bond holders, therefore, have first dibs on the rubble left over after a bank collapse. They also have the pick of the 'rubble' because the mortgages underpinning these covered bonds are often the best quality ones. For example, Westpac excluded earthquake affected post codes from its mortgage cover pool for its covered bonds.
These bond holders, mostly pension funds in Europe, have essentially jumped the queue ahead of New Zealand term deposit holders. This was done initially with the Reserve Bank's tacit approval, and more recently with Reserve Bank guidelines.
Now Parliament is considering a bill to enshrine this queue jumping in law.
Both the Reserve Bank and most of the parliament have been relatively relaxed about this move by the big four banks (and Kiwibank is also planning to issue covered bonds too) to issue covered bonds. The Reserve Bank imposed a 10% limit on the issue of covered bonds as a percentage of total assets. This is above an 8% limit in Australia, where they had been banned until this year, and above a 4% limit in Canada.
The Reserve Bank and the banks have argued these issues of covered bonds make banks safer because it secures a more reliable and cheaper source of funding than the 'hot' commercial paper funding on wholesale markets that proved so dangerous during the Global Financial Crisis. For example, ANZ New Zealand raised NZ$1.2 billion earlier this month through an issue of five year covered bonds in Europe with an effective interest rate of around 2.4%.
That is certainly cheaper than the 5% ANZ and its soon-to-be subsumed sister brand National Bank offer for five year term deposits to 'Mum and Dad' investors in New Zealand.
No wonder the banks are keen on this funding. The big four banks have issued NZ$11 billion worth of covered bonds since mid 2010 and have room to issue another NZ$20 billion worth these bonds.
The Parliamentary Select Committee examining the bill (retrospectively) approving these covered bond issues has given them the big tick, even suggesting that the lower funding costs from these bond issues could be passed on to 'Mums and Dads' in the form of higher term deposit rates. That certainly hasn't happened so far, given the lower funding costs have helped boost bank net interest or profit margins by about 20 basis points.
The National-led committee even suggested the 10% limit could be relaxed if the banks needed it.
This issue has received little public attention and only one submission to the committee was against it. Yet this practice of issuing covered bonds has shunted almost NZ$110 billion of savings back down the queue, and without any compensation in the form of higher term deposit rates for the slightly higher risk.
Choosing to refinance the 'hot' foreign money with 'cold' foreign money also reduces the incentive for New Zealand as a nation to cut its foreign debts.
If covered bonds had not been issued and the Reserve Bank had encouraged the banks to raise more long term and stable funds from New Zealand savers, term deposit rates would have risen and there would not have been so much upward pressure on the New Zealand dollar.
However, it has meant higher profits for the big Australian owned banks, which ultimately means a bigger current account deficit for New Zealand as those profits are at least partially repatriated to Australia.
--------------------------------------------------------------------
This article first appeared in the Herald on Sunday. It is used here with permission.