Bernard Hickey finds flat fees charged to customers for using credit cards are an egregious rip-off; he bridles at the lack of choice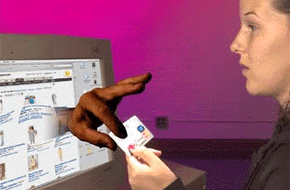 By Bernard Hickey
I went to a barber in Wellington this week and got a surprise when it came time to pay with a credit card - there was a 'processing fee' to pay.
I regularly use my credit card for these sort of day-to-day purchases to get the reward points and some 'free' credit for 55 days, given I pay off our balance in full before any interest is due.
I was about to pay with EFTPOS, but was curious to see how much the fee was because it wasn't stated on the sign. The haircut cost NZ$35 and the processing fee was 87 cents.
Given I'm no 'Rainman', I later used my calculator to work out the fee was 2.5% of the total cost.
That's high, but not too bad, given this barber isn't in a position to negotiate hard with the credit card processing firms.
Credit card industry sources tell me the cost to the barber is around 2%, so this is about fair. Although I have plenty of choices around where I work, I'll go to the barber again. The haircut made me look slightly less ugly and I didn't feel ripped off.
Airlines, taxis and online concert ticket sales are in another league of ripping off their customers with their flat fee credit card charges, which can end up costing 5-10% of the purchase price.
This makes me much grumpier than my visit to the barber, not only because the fee is unfairly high, but because I have no choice.
Anyone buying a return domestic fare online from Air New Zealand with a credit card will pay NZ$8 for a 'card payment fee', which is NZ$4 per flight. Jetstar's 'card payment fee' is NZ$5 per flight or NZ$10 return. For most flights that means the fee is 5-10%, which is vastly higher than the 1% or lower that the airlines pay the credit card companies.
The airlines say the fee simply covers their overall costs of selling tickets online, but that's disingenuous.
The airlines are using this over-charging for credit cards on main-trunk domestic flights to subsidise their less profitable foreign routes and the entire cost of their online sales process. It would be like a hotel charging customers NZ$10 for using power in their rooms that costs the hotel NZ$2, and arguing it only covers the cost of putting lights and power points in the room.
Taxis are just as bad.
Depending on the length of the trip, the flat fees of NZ$2 or more are far north of 5%.
The online concert ticket duopoly of Ticketmaster and Ticketek are even worse, adding on all manner of fees, as well as collecting a commission from the ticket itself.
My main complaint is I have no choice.
The POLi online banking system offered by the airlines is actively discouraged by banks as being unsafe. Using a call centre incurs yet more fees.
These flat fees for credit cards are an egregious rip-off.
Companies wanting to keep their customers happy (or at least not feeling plundered) should do what my barber did and charge a simple percentage which is close to the 1-2% they pay for the service.
----------------------------------------------------------------------------------------
This article first appeared in the Herald on Sunday. It is used here with permission.