In the rush to sign up to the Mighty River Power float, Bernard Hickey wants to point out a few risks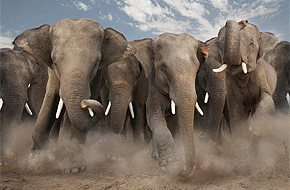 By Bernard Hickey
Trying to wave down a stampede of elephants can be a thankless and possibly dangerous task, but someone's got to try do it.
Right now potential investors in Mighty River Power sound like the thundering herd.
They can smell the water in the muddy oasis on the other side of the hill and nothin's gonna stop them.
Demand for the shares in the state-owned power generator and retailer has appeared overwhelming in recent weeks.The speed and the number of pre-registrations blew expectations out of the water.
Demand was so heavy and fast it took down the registration website on the first day.
Institutional investors seem to be drooling just as much. New Zealand stocks generally have risen almost 30% in the last year. 
The two most comparable stocks to Mighty River, Trustpower and Contact Energy, have risen 21% and 16% respectively.
This salivation is all about dividend yield.
Bank and government bond interest rates around most of the world are in the 0-2% range and even in New Zealand, where term deposit rates are around 4%, there is huge investor demand for shares in solid companies with dividend yields in the mid to high single digits.
Also, trillions of dollars of money is being printed this year by central banks in the northern hemisphere to buy government bonds.
Investors are looking to invest that cash in other countries that generate real returns from economic growth and aren't printing money.
New Zealand is a prime candidate for investing this freshly minted money in solid dividend yielding assets.
Mighty River's yield from its solid market position is its main attraction.
It will remain 51% owned by the government and produces 17% of New Zealand's power. It has the dominant electricity retailer in the country's biggest residential market, Mercury Energy in Auckland, and produces 90% of its power from renewable means, including 30% from geothermal power, which isn't dependent on rain or wind.
It supplies nearly 1 in 5 New Zealand households and has 390,000 customers who have to buy its product every hour of the day.
Mighty River Power is forecasting a gross dividend yield of up to 7.7%, including imputation credits, which mean investors don't have to pay tax on the dividends. The cash dividend yield is forecast to be up to 5.5%.
It seems the surest of sure things. 'What could possibly go wrong,' the herd thunders.
Quite a lot, it turns out, if you read the 257 page offer document, as all potential investors should.
Firstly, Mighty River Power has a fair amount of debt and is forecasting to increase that debt by NZ$250 million to NZ$1.126 billion in the two years to mid 2014 as it ramps up its geothermal investments.
This higher debt and a rise in interest costs helps explain why its underlying earnings are expected to fall 13% next year.
Yet Mighty River Power isn't keeping anything in reserve. It is forecasting paying out 107% of its profits in dividends this year. In effect, it is borrowing a bit to pay next year's dividend.
There are risks aplenty in the offer documents outlook too. The expected closure of Tiwai Pt "could lead to a sustained reduction in electricity prices in general."
Electricity demand has also been strangely flat over the last four years, despite a growing economy. This breaks a century-long run of growth and suggests a structural change in electricity usage in New Zealand towards more efficient appliances and fewer factories could reduce demand.
Mighty River is also relatively expensive, forecasting a price to earnings multiple of up to 24.4, which is higher than the forecast multiples of 17 and 18 for Trustpower and Contact respectively.
There's a few red flags to distract the thundering herd.
It may still thunder on and drink happily from the oasis, but at least it has been warned.
------------------------------------------------------------------------
This article was first published in the Herald on Sunday. It is used here with permission.