Bernard Hickey argues EFTPOS is a national champion that saves NZ Inc hundreds of millions of dollars a year. He says it should not be surrendered in the shift to contactless payments and mobile wallets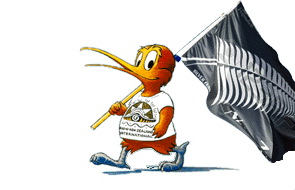 By Bernard Hickey
New Zealand's isolation from the rest of the world can be a handicap, but it also means we can evolve our own special species that are perfectly adapted to our environment.
The Kiwi's long beak works perfectly to dig up the insects that infest our damp forest floor in the dead of night. The arrival of predators such as rats and stoats was almost enough to wipe out the Kiwi, but our more recent preservation efforts appear to have saved our national symbol.
New Zealand's business landscape has also evolved its own species of businesses that would not exist anywhere else in the world, again because of our small size and isolation.
Trade Me was allowed to grow and thrive because E-Bay was focused elsewhere.
Air New Zealand has also built its own special culture and profitable business model from a strong local base.
But one of the least-heralded and unusual local adaptations in our business and economic life is New Zealand's EFTPOS (Electronic Funds Transfers at Point of Sale) system, which was launched in 1984 and has grown to handle 75% of all electronic transactions.
New Zealanders now take it for granted that they can walk to the dairy with an EFTPOS card and pay for a bottle of milk without having to pay any surcharge.
It is simple, it works and it's cheap from a consumer point of view.
EFTPOS is admired all around the world for its ubiquity, its low cost and the way it helps keep our economy out of the shadows.
It means shoppers, shopkeepers and banks don't have to hold and shift around huge lumps of money. That means we're all more likely to pay our GST and the cost of doing business isn't weighed down by the costs of handling cash or paying a little clip of the ticket to some overseas payments system network.
Estimates vary, but some think these cost savings could be worth more than NZ$500 million a year to our economy, which helps reduce our current account deficit by that amount.
But this golden era for the great Kiwi version of EFTPOS may be about to end.
It now faces the evolutionary equivalent of the arrival of the rat and stoat as new waves of mobile and so-called 'contactless' technology wash through our shopping centres and payment systems.
Over the last two years, Visa, Mastercard and the big banks have ramped up their rollouts of payWave and Paypass contactless credit and debit cards to bank customers.
At the same time the big retailing and petrol station chains such as Countdown, Pak'n'Save, Four Square and Z Energy have begun rolling out the terminals needed to 'wave and pay'.
By the end of March more than 15,000 or 10% of the nation's 'fleet' of payment terminals had been set up and contactless payment volumes doubled to more than two million that month from a million as recently as August last year.
The biggest retailing chains can afford to both absorb the extra fees of the payments made via Visa and and Mastercard and also negotiate bulk deals on the fees with the banks. The smaller retailers such as dairies and cafes aren't so lucky. Either they absorb the 2% plus fees being charged for using these credit cards, or charge their customers the extra 2% or more.
Hotels and airlines are increasingly imposing that charge, but most smaller businesses have yet to take that step.
For many customers with these 'wave and pay' cards, it makes sense to use them to collect the various 'bonuses' the card schemes offer, particularly when there's no surcharge being imposed.
For now this is not a major issue because the volumes going through the card schemes rather than EFTPOS is still under 30%. But New Zealand is getting closer to that tipping point where credit and debit card use becomes more dominant.
The big drawback of contactless, however, is that the aerial technology used in these cards is owned by Visa and Mastercard and they won't allow it to be used for EFTPOS payments.
Regular visitors to Australia will know what a landscape dominated by those card schemes looks like.
Surcharges are endemic and most people pay for smaller items with cash.
This is a real headache for retailers, shoppers and regulators alike.
Australia is so desperate to emulate New Zealand's much cheaper EFTPOS system that the Reserve Bank of Australia is trying to build one from scratch.
Meanwhile, New Zealand's still EFTPOS-dominated landscape faces the arrival of mobile phone wallets, which could either hasten the demise of EFTPOS, or prove another one of those moments, like in the late 1980s, when New Zealand chose to go it alone with its own solution.
Banks, credit card schemes, phone companies are all jostling for position at the starting line, awaiting the arrival and adoption of 'virtual' wallets inside mobile phones.
These would be phones with apps that contain all the details of payment and loyalty cards and that could be simply 'waved' at a terminal.
No one is quite sure yet which type of wireless technology could be the payments system equivalent of the 'one ring to rule them all'. Many android phones now have NFC or near field communications chips that would allow the 'wave and pay' facility. Many had hoped Apple would adopt the NFC standard as well, but so far it has focused more on its own iBeacon system that uses the Bluetooth Low Energy standard.
Amid the uncertainty and the jostling, there is one body that could effectively repeat the history of EFTPOS and create an industry standard that allows New Zealand to go it alone again.
Up until now, few have heard of TSM. It's a combination of Paymark, which is the group owned by the big four banks that already runs the EFTPOS system, and the three mobile phone companies -- Telecom, Vodafone and 2Degrees.
TSM is building a mobile wallet system that could include apps for payment systems such as EFTPOS, Visa and Mastercard, and for stored value transport cards such as Snapper or Hop cards. It could even include loyalty schemes such as FlyBuys or cafe cards.
They hope to launch later this year.
This is a key moment for EFTPOS. If the TSM alliance can include EFTPOS in its mobile wallet and get collective action from the banks and mobile phone companies to adopt the standard and market it to customers than EFTPOS has a chance to survive and thrive.
New Zealand's shopping landscape and our wallets looked very different 30 years ago just before the adoption of EFTPOS.
Will we have a similarly brilliant, low cost and local version of this payments system in our mobile phone wallets in 2044?
The decisions made in the boardrooms of the big four banks and the big three mobile phone companies in the next couple of years will decide that future.
The end result matters an awful lot for NZ Inc.
A landscape dominated by Visa and Mastercard payments could add a regular 2% to every electronic transaction and collectively cost our economy hundreds of millions dollars extra each year.
It would revive the incentives for a more cash-driven and shadowy economy that made it harder for our Government to collect GST.
A landscape without EFTPOS would also encourage the use of credit.
It's no accident that those economies without EFTPOS have much heavier use of credit cards and a bigger build up of consumer debt.
For the sake of New Zealand Inc, somehow we need to keep our mobile wallets as 'Kiwi as'.
----------------------------------------------------
A version of this article has also appeared in the Herald on Sunday. It is here with permission.