Shamubeel Eaqub says we are failing to grasp the reasons and the outcomes of diverging regional economies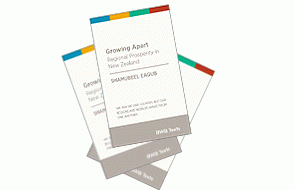 By Shamubeel Eaqub*

A recent NZIER report with colleague John Stephenson and my book Growing Apart describe large and growing differences across regions.
The purpose is to encourage debate and discussion.
Current strategies of investment attraction and picking winners are not working.
The public and media reaction has ranged from incensed outrage to relief at giving voice to a growing divide. It feels like the balance is about right.
We may be one country, but we are increasingly worlds apart from one another – when we look at the differences in incomes, employment, population and economic performance. Critically, deep-seated economics forces – urbanisation, globalisation, technological change and ageing – will only increase these gaps in the years ahead.
Our economic focus, however, often remains fixed on national issues, with increasingly acute regional differences left under the surface. It is critical to understand and debate the shape and drivers of these forces and what they mean for the changing economic fortunes of New Zealand's regions, and the country as a whole.
Many provinces are experiencing low economic growth, stagnant or declining populations, concentrations of poverty, low levels of skilled and educated workers, low social mobility and the loss of their youth to major urban centres in New Zealand or abroad. The combined effect of these problems is causing a downward spiral for these provinces that is only likely to accelerate on our present course – some regions now represent a 'burning platform', requiring urgent attention.
We need to think differently about different parts of New Zealand. Not all places can succeed on all measures. Local communities need to help themselves.
In areas of growth we need to unshackle potential, because it will be the future engine of growth.  The worst thing we could do is to stifle them in the hope economic prosperity will turn up elsewhere.  It won't.  If we stifle growth in Auckland, it won't turn up in Northland – it will turn up in Sydney or Singapore. 
For stagnating regions we need to build on their capabilities – help where there is a credible chance that the cost of investments will be more than repaid by future benefits. 
Declining regions will present some of the hardest questions of all: Is the decline irreversible and, if it is, do we need a strategy to wind down with dignity and certainty?  A Royal Society report suggested 'red zoning' parts of declining regions as a solution.
While the Royal Society described them as ghost towns, I described them as zombie towns. This caused much outrage.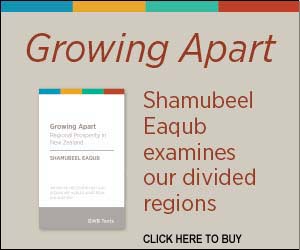 My book and the NZIER report are about much more than that. I write with concern that we are failing grasp the reasons and the outcomes of diverging regional economies. In too many cases they can only be described as a poverty trap.
It is not good enough for New Zealanders to miss out on opportunities because of where they were born. It goes against our culture of 'fair go' egalitarian meritocracy.
Nevil Gibson in an NBR editorial wrote "Mr Eaqub's book is short and snappy – a mere 85 pages – but is a must read for any understanding of the future and the options available."
Love it or hate it – please join the conversation.
-------------------------------------------------------------
Shamubeel Eaqub (CFA) is a Principal Economist at the New Zealand Institute of Economic Research.
To make it easy to buy this book ($14.99 delivered in NZ), we are making it available online here.
-------------------------------------------------------------