Elizabeth Davies argues an act of charity is supposed to be selfless, not a source of pride or bragging rights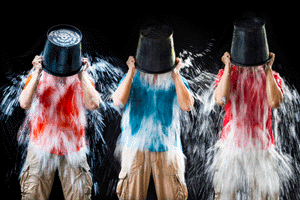 By Elizabeth Davies
If you engage with social media on any platform there's no way you have avoided coming face to face with the world-wide phenomenon that is the ice bucket challenge. If you're smart enough to avoid Facebook and Twitter chances are that hasn't kept you completely in the dark either as every news source under the sun has reported on it from some angle.
My news feed has been littered with videos, nominations and beer chugging participants all determined to one-up their mates. My complete lack of social allure has kept me safe from a nomination thus far but rest assured I've prepared my answer if the need should arise. It's pretty simple, it's a big fat 'No thanks'.
There's something inherently hypocritical about this form of socially enforced charity that rubs me the wrong way. First of all an act of charity is supposed to be selfless, not a source of pride or bragging rights. In the same way an act done as a result of social pressure isn't motivated by a charitable spirit but a fear of judgement or embarrassment if you should decline.
The Ice bucket challenge started off in the US raising money for ALS (amyotrophic lateral sclerosis) but these days participants donate to a huge range of charities, or at least say they do. Things took off when celebrities started jumping on board, making their own videos and nominating other celebrities ( how endearing, they're just like real people).
I'm 100% supportive of celebrities using their fame and influence as a platform to raise money and more importantly awareness about important issues. At the 1973 Academy Awards Ceremony Marlon Brando refused to accept his Oscar. Instead Sacheen Littlefeather took the stage in full Apache attire and stated Brando would not accept the award due to the poor treatment of Native American people in the film industry. Brando's act and public support for an important cause captured the attention of the world media.
At this year's VMAs ( video music awards ) Miley Cyrus won the award for video of the year. Rather than accepting it herself she sent an unknown young man on stage who identified himself as a homeless youth and drew the audience's attention to the thousands of homeless people across the United States. Cyrus said when she noticed the stir her twerking performance at last years' VMAs caused she realised she was in a position to use that attention to raise awareness about a hugely important issue. If people are going to talk about her no matter what, they may as well be talking about homeless youth rather than her arse.
Compared to these huge personal gestures a 30 second video seems like a celebrity jumping on a trend focused band wagon with no more personal motivation than the average participant – wanting to fit in. It's not so much about wanting to do good as wanting to be seen to be doing good.
Ultimately I know it's not how the money is raised that's important, it's the fact that the money is getting where it needs to go that we should be concentrating on. I can only hope that all these people make good on their promises and follow through with their donation. But I can't help but suspect there are more than a couple of slacktivists in the bunch. My friend Jamie Small wrote a fantastic article about the discrepancy between perceived funds raised and actual donations made when it comes to these kinds of campaigns. The ice bucket challenge seems like it could fit the bill.
Charity is a fantastic thing. If you want to support a cause think carefully, make an informed decision and donate what you are willing and able to. If you are not able to financially contribute donate your time. An act of charity isn't about your social relationship with the 647 Facebook friends you avoid eye contact with in public. It's about your personal relationship with a cause. So don't challenge others to do what you tell them, challenge yourself to be a better person when no one is logged on.
--------------------------------------------------
Elizabeth Davies is a 24 year-old graduate of the Auckland University of Technology post graduate journalism course. She lives with her partner in Epsom and spends her free time refurbishing vintage furniture and attempting to bake while fighting a daily battle against her bank balance. She writes a weekly article for interest.co.nz on money matters and financial struggles from a young person's perspective.