Elizabeth Davies describes the joys of moving to a friendly new community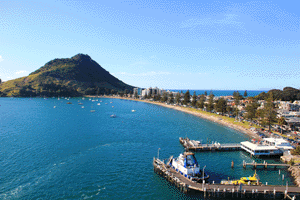 By Elizabeth Davies
The first thing any businessman will tell you is that time is money. If this age old saying is to be trusted as truth then the savings in Tauranga are beyond anything I've ever experienced in Auckland.

Moving houses and cities is a stressful process. Our first week in the Bay saw us interacting with multiple tradesman and services. All of our experiences so far have left me speechless ( not easily accomplished, rest assured ). I've been left dumbfounded by how painless, efficient and downright pleasant every experience has been.

Our TV man was booked one day in advance and gave us a half hour time frame in which he would turn up. The exact same service in Auckland told us they would arrive sometime between nine and five on Tuesday… hopefully. While the financial cost may have been the same – the time savings are already starting to tick up.

The delivery men who bought our couches were two of the nicest guys you can imagine. They recommended restaurants for us to check out and pointed out an indentation on the couch and made a note of it in case it didn't pop out and we needed a replacement.

The glazier who installed our dog door was at the house within an hour of calling to book. He was a genuinely lovely middle aged guy who invited us to his annual New Year's Eve party on his farm – proudly letting us know there would be three live bands. This was all within fifteen minutes of meeting the man. When he left he forgot his cash on our bench and we had to call him to remind him. He was the kind of man that could forget cash – that says it all really.

For the first time in my life I'm living in a community that understands and appreciates the green dollar. While walking along the beach Mike and I stopped to let our dog play with another couple's dogs. We got chatting and Mike mentioned he was a sparky, in return they mentioned they needed a couple of new power points. Long story short we're going to their place for a big BBQ in exchange for a little bit of electrical work.

Our first morning we opened the door to find our neighbour standing there with a huge basket of freshly baked scones to welcome us to the neighbourhood. Three days later I returned her basket full of chocolate brownies.
I've offered to babysit our other neighbour's seven year old and she's offered us use of her staff discount at Bunnings.

I'll admit I was sceptical about moving to a smaller city but the reality is Tauranga isn't some backwater hick town with 500 people. It's a city in its own right, but there is a much greater sense of community and closeness. There's a generosity there based on favour exchange and a genuine willingness and openness that simply doesn't exist in a large portion of Auckland.

We're quickly discovering that those people who trade in higher earning jobs and sky rocketing property values for a different kind of lifestyle out of Auckland may not be the richest, but they seem pretty damn wealthy to me.
-----------------------------------------------
Elizabeth Davies is a 24 year-old graduate of the Auckland University of Technology post graduate journalism course. She lives with her partner in Epsom and spends her free time refurbishing vintage furniture and attempting to bake while fighting a daily battle against her bank balance. She writes a weekly article for interest.co.nz on money matters and financial struggles from a young person's perspective.