Elizabeth Davies says she's learning that a committed relationship is not a financial competition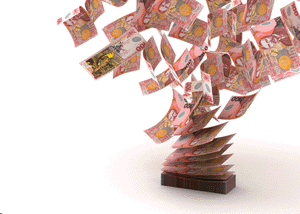 By Elizabeth Davies
They say one of the most common reasons cited for divorce is stress and disagreements caused by financial issues. What's mine, what's yours and what… if anything… is ours?

I've always been pretty good with my money and from a young age have tried – to the best of my ability – to be financially independent. I've never taken out a loan, had a credit card, or borrowed money from family or friends. I live within my means and pride myself on paying my own way. I've never had a sugar daddy and for the most part in my relationships we've always gone dutch.

I never wanted to feel like someone had power over me by financially supporting me. I never wanted to feel like I owe someone something because they're paying my bills. So far, apart from thoroughly appreciating the years where my family supported me, I've happily stood on my own two feet.

Here comes the first big test of my long term relationship. Now that we have moved to Tauranga I do not have a full time job. I work Saturdays and Sundays as well as the writing I do for Interest.co.nz. As a result I'm now, to a certain extent, financially dependent on my partner Mike.

I'm not going to lie, it's a big change and it's difficult. For the first time our very title 'partners' is being redefined and balance is becoming about more than financial contribution.
In situations like this it's easy to see how relationships become strained, and resentment can develop. Either I resent him because I'm now in the situation where I rely on him, or he resents me because he has to support me.

Thankfully neither of these issues are effecting us at this stage. I financially contribute what I can, as well as keeping the house running by cooking, cleaning and looking after the dog etc. We're striking a balance, and each pulling our weight in different ways.

For a lot of people relationships and commitment can be measured by the extent to which your two lives are entwined.

Realistically, in life and relationships, and everything else, money is power. When you allow someone to financially support you, you give them all of your power. That level of commitment is terrifying, especially when experiencing it for the first time.

The last person to financially support me was my Dad, and it goes without saying I don't want my relationship to resemble that of a parent/child.

It takes a huge amount of love and trust to allow yourself to rely on someone else. I'm learning that in a committed relationship it's not a financial competition, or it sure as hell shouldn't be. It's not him versus me in a unhealthy money power struggle. It's not about him supporting me, it's about us supporting each other.
-----------------------------------------------
Elizabeth Davies is a 24 year-old graduate of the Auckland University of Technology post graduate journalism course. She writes a weekly article for interest.co.nz on money matters and financial struggles from a young person's perspective.