Elizabeth Davies on how the annual Christmas shopping expedition is less stressful in Tauranga than Auckland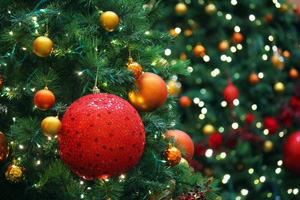 By Elizabeth Davies
As Christmas approaches my anxiety begins to reach its peak.
Most Christmases I spend the 22nd and the 23rd of December wandering shell shocked around a mall fighting back tears as the crowds and the pressure threaten to overwhelm and send me fleeing.

On a number of occasions I find myself driving around for half an hour looking for a car park before eventually giving up and just going home. At this time of year, especially in Auckland, parking wardens stalk the streets, ready and willing to bless you with a ticket if you should overstay your car park by thirty seconds.T'is the season.

When you do find a car park you better be ready and willing to throw money at hungry machines and swiftly recalculate your present budget. If you're lucky enough to find a carpark on the street you're looking at $4 an hour and in most cases you'll end up in a parking building paying more.

If you're smart you stay home and order all you presents online and just avoid going out altogether.

You can imagine my shock when I arrived in Tauranga. In the most central part of town parking is $2 an hour from Monday to Friday. One street back it's $1 an hour and one street further back it's free.
On the weekends parking is completely free with generous time restrictions. After four in the afternoon on any day of the week parking is free.

If you do have to resort to parking in car parking buildings the council website suggests you go in a group as carpooling cars receive a discounted rate.

Every carpark comes with a ten minute grace period. According to the council website if you're just parking to pop in and drop off your library books you shouldn't bother getting a ticket. If your lunch meeting runs ten minutes late, don't panic, you've got a further ten minutes after your ticket has expired before anyone is going to pounce.

If we were living in Auckland my partner would be spending about $50 a week on parking or $34 a week on buses. By living in Tauranga and taking advantage of the free parking he's saving either $200 or $136 a month. Not to mention the extra hour or so additional travel time required to sit in Auckland traffic every day.

Our close proximity to town means that even when you factor in spending more money on petrol due to driving to work, you're still seeing a saving of $100 a month minimum. Not to mention the money saved when you pop into town to go to dinner, catch a movie or grab a coffee or the barely justifiable fines generously presented to you on a frequent basis by over-zealous parking wardens.

I won't lie and say the second I got here it felt like home, nor will I say it feels like home now, after more than a month. I will say that the savings I'm seeing are positive. We've moved away from home in the hopes that one day in the not too distant future, we'll be able to afford a home of our own.
-----------------------------------------------
Elizabeth Davies is a 24 year-old graduate of the Auckland University of Technology post graduate journalism course. She writes a weekly article for interest.co.nz on money matters and financial struggles from a young person's perspective.