Elizabeth Davies attends a graduation ceremony, says university's great but not the be all and end all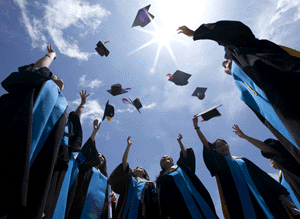 By Elizabeth Davies
This week I was lucky enough to witness my partner graduate from AUT with a bachelor of electrical engineering.
To say I was proud is probably an understatement, in fact I probably bordered on embarrassing him.

There's something about the bagpipes, the regalia, the emotional parents, the screaming children, and the scantily clad graduates that makes graduation an invaluable life experience.

I was all geared up for the inspirational opening speech, the kind I remember from my own graduation ceremony.
However things seem to have changed in the last few years.
I fondly remember my grad speech. The speaker quoted Invictus and left us all feeling warm and fuzzy about our bright, educated futures. We were told just how much we had grown as people by pursuing tertiary education.

We would go on to do brilliant things, master our fates, inspire others, and make our parents proud.

Things at this graduation ceremony were a little different. Instead of quoting inspirational poetry about succeeding against all odds the speaker quoted OECD statistics to assure graduates that their money was well spent.

According to this heartfelt speech university graduates are less likely to drink in excess, take drugs, commit crime, or become obese. University graduates are apparently more likely to make education a top priority for their own children, and in general they make for happier, shinier people.

The speech, while coming from a good place, seemed a little bit strange. I had to double check if I was sitting in the Aotea centre or some kind of military recruitment office. I wanted to stand up and ask who she was trying to convince, the fees are paid, the degrees are complete, surely, you're preaching to the choir.

I couldn't help but feel a little bit sad and almost guilty. I wanted to take some of these fresh faced graduates and warn them.
It's not that easy, university isn't a connect the dots recipe to guaranteed success. You don't walk out of that graduation ceremony and straight into your dream job.
Sure some people are lucky enough to get straight down to business, but for the rest of us it can take a little longer, or it can be a case of realising that our qualification isn't actually the direction we ultimately want to go in.

In no way am I saying that university is a waste of time. I loved university, I think it's an amazing and hugely beneficial experience.
On the other hand I think it's deceptive to tell people that a university degree will make you a happier, better person. In fact depression and anxiety disorders occur more frequently in well educated people. High earning executives often have weight problems and over indulge in alcohol at long work lunches, or to ease the stress of a high pressured working environment.

I genuinely don't think you can generalise about quality of life entirely on education. Personal happiness is exactly that, personal.
Every individual is responsible for making themselves happy, and keeping themselves that way.
Your degree is not a guarantee, if young New Zealanders are learning anything it's that job entitlement is a thing of the past.
For young aspirational graduates now is not a time for rest and relief, it's a time to push harder than ever before.
-----------------------------------------------
Elizabeth Davies is a 24 year-old graduate of the Auckland University of Technology post graduate journalism course. She writes a weekly article for interest.co.nz on money matters and financial struggles from a young person's perspective.