Elizabeth Davies tells her generation to stand on their own feet and not rely on inheritance from their parents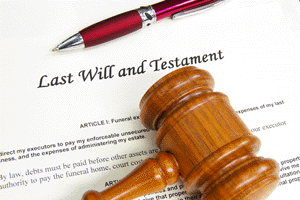 By Elizabeth Davies
There once was a time when children counted on their parents leaving them a tidy inheritance to give them a helping hand a little later on in life. Parents made it a priority to save money to pass on to their kids, often making financial sacrifices throughout their own lives so that they had something to leave behind.

I'll be the first to put my hand up and say that kids need to stop expecting this from their parents. They didn't work hard their entire lives to live like paupers in their final years just so you can buy a vintage sports car when you're 60. They've devoted the majority of their lives to raising you, they don't owe you anything else, you're not entitled to their bank balance simply because you're a product of their genes.

Over the last few years I've heard of way too many cases where money brings out the absolute worst in people. Nothing brings out the selfish little demon in all of us like the reading of an 'unfair' will.

I've seen families completely torn apart when a parent dies, not due to grief but due to a sick sense of entitlement. People seem to think they 'deserve' more, they've 'earned' more by doing things like supporting their parents through illness or calling regularly, and you know, just generally doing the things that kids should do out of love not in a greasy attempt to get a bigger piece of pie.

On the same theme of traditional financial expectation, at one time it was safe to assume the father of the bride would pay for the wedding. Things have definitely changed and these days couples are mostly expected to foot the bill for their own nuptials. Needless to say my Dad is hugely relieved as being the father of five daughters he'd go broke trying to marry us all off.

I think most families are willing to pitch in with their kid's weddings, helping them make the day special. I think this is a great way to manage the occasion. If couples have to budget and pay for their own weddings they'll be motivated to keep things smaller and more simple rather than get caught up in the ridiculous fanfare of fairy tale weddings, never really thinking about cost because someone else is footing the bill.

For a while now I've been a firm advocate of standing on your own two feet. Our generation can't afford to financially rely on the goodwill of others to get what we want out of life. Stop counting on an inheritance and start counting your pennies because your finances are on your shoulders, right where they should be.
-----------------------------------------------
Elizabeth Davies is a graduate of the Auckland University of Technology post graduate journalism course. She writes a weekly article for interest.co.nz on money matters and financial struggles from a young person's perspective.