Why young people should look beyond the lure of big city life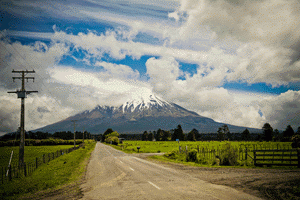 By Jenée Tibshraeny*

"When are you moving to Auckland?"
There wasn't a question that made me flush with rage more, during the 21 months I spent living in New Plymouth.
Why?
Because the question I was really being asked was; what is a bright-eyed young person doing on the edge of the country, while there's a more enthralling life to be lived in the city?
Many of you are probably thinking those in Generation Y should stop complaining about living costs in Ponsonby, and do the hard yards starting their careers in the regions.
But we rarely hear this rhetoric from a 20-something-year-old who too enjoys sipping a flat white in a trendy café, while reading Metro magazine.
I hesitantly moved to New Plymouth for a job, after working in Auckland for a year in 2012.
While my time to take on a new challenge here at interest.co.nz (in Auckland) has come, I urge young people to do a stint in the regions.
1: You get more experience than you would in a large place, where you're often cubby-holed to a certain type of work.
As well as doing the fundamentals of your job, you may be the person who gets tasked with doing your senior's job when they go on holiday, or get sent to represent your company at a local business lunch.
2: There's easier access to the movers and shakers of the community.
Whether it be a district court judge, a CEO or arts festival organiser, it's likely you'll run into them at the pub on a Friday night. Having contact with these sorts of people is a great way to learn and broaden your professional network.
3: You can rent a decent room, in a decent house, in a decent area, for less than $140 a week.
4: Making a deposit on a house, or gathering enough savings to invest elsewhere isn't out of the question.
5: There's no traffic, so finishing work at 5.30 means hitting the surf at 5.45.
I need to acknowledge smaller places don't provide as many opportunities for people in less traditional or particularly niche careers.
I also admit New Plymouth's wealth largely defined my positive experience.
While plunging oil prices and a slow down in oil and gas exploration have deferred projects and seen engineers made redundant, the summer of 2013/14 was the busiest the industry's ever seen in New Zealand.
This activity created jobs and sparked the likes of doctors, accountants and builders, as well as engineers, to move to the traditionally dairy farming region.
So yes, I can't say whether I'd sing the praises of the regions quite so much if I'd spent 21 months on the West Coast, which conversely to Taranaki has the country's lowest GDP per capita.
But Taranaki is a good example of why fostering regional development should be a high priority for the government.
Whether it is through weakening the dollar to prevent companies like Fitzroy Yachts closing, or creating incentives for businesses that don't need to be based in the city to set up in the regions, I acknowledge there isn't a silver bullet.
But my message to young people remains: don't write off the regions.
If not for the experience, then to make more rentals in Ponsonby available for a fellow Gen Yer, ready to embrace the city with somewhat of a fresh perspective.
-------------------------------
* Jenée joined interest.co.nz this month moving to Auckland from New Plymouth where she worked as Newstalk ZB's central North Island reporter. See Jenée's full profile here.