Elizabeth Davies says she has stopped questioning what she's capable of, is ignoring the doubtful voice in the back of her head, and is dreaming big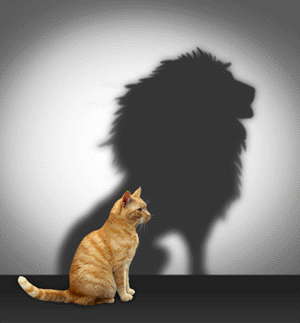 By Elizabeth Davies
When I was a little kid I always had an answer when adults asked me what I wanted to be when I grew up. The thing is that answer changed almost every week, apart from that solid six weeks over Christmas when I was seven when I was determined to be a professional gift wrapper – a vocation I still maintain I would be amazing at.

I also briefly entertained the idea of being an animal photographer, a chef and an actress, before settling on an equally unattainable goal of novelist. This goal was later downgraded to journalist when I realised one doesn't simply write a best seller overnight then spend the rest of their life living off royalties in an eclectic, rambling summer house, drinking too much wine and having deep and meaningful conversations with my ageing dogs.

For a long time I've been an incredibly indecisive person. There's often no point in asking me what I want. Don't even bother asking me what I want for lunch or dinner – it will likely result in a twenty minute argument or a close call with an anxiety attack. Personally I think it has something to do with the fact that if I avoid making the decision all together I can't feel guilty or depressed about having made the wrong decision.

I think there are many times in life where it would be a lot more helpful to stop asking people what they want and start asking them what they don't want, it's a lot easier to identify the latter. Personally I identify what I don't want by trying it out. I figure out what makes me unhappy in the hopes I will point in the direction of what will make me happy.

At the tender age of nearly 25 I've finally come to terms with the fact that what I really want takes me in a pretty different direction to my trained profession. I think young people often get trapped in the idea that their future is determined and set in stone because they've invested time and money in an idea. Even when that idea starts to lose its shine and the rose tinted glasses come off, they feel stuck, as if changing direction would mean breaking some kind of promise.

I was inspired by my step brother who trained as a geologist, moved to Australia to work in the industry, did so for a year or two before realising it simply didn't make him happy. He's since started his own landscaping company and is genuinely happy in this unexpected turn his life has taken.

I've recently defined my big dream. My partner and I want to buy a lifestyle block, build a large barn venue and I intend to run it as a wedding venue. I plan on doing a wedding planning and design course, and hopefully becoming a wedding celebrant. I can maintain freelance writing, have space to do furniture projects, indulge my love for design and execute beautiful events.

I've finally gained the confidence to stop questioning what I'm capable of, start ignoring the doubtful voice in the back of my head and dare to dream big.
--------------------------------------------
Elizabeth Davies is a graduate of the Auckland University of Technology post graduate journalism course. She writes a weekly article for interest.co.nz on money matters and financial struggles from a young person's perspective.