Bernard Hickey challenges the near universal belief (in New Zealand at least) that a 10 year mortgage at 5.89% is as good as it gets, and is a "good thing"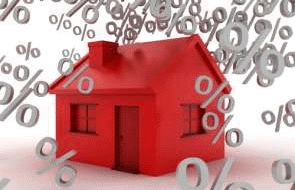 By Bernard Hickey
Like any successful politician, John Key knows the saying that a week is a long time in politics.
He is a master of not over-committing to a public stance or taking the long term support of the public for granted.
The Prime Minister knows when to hold 'em, and he knows when to fold 'em, as he discovered last week when his 'eyesore' comments triggered a public backlash against any taxpayer money being used to build the Sky City Convention centre.
His stance changed within days, proving his Ali-esque ability to roll with the punches and dance around the ring to avoid a knock-out blow.
A week is not that long in the world of mortgages and interest rates, but these days a lot can change in a month or two. Just before Christmas the Reserve Bank of New Zealand was still forecasting higher interest rates by the end of 2015 and most people thought a recovering global economy would eventually start to push up inflation and interest rates.
Fast forward to late February and everything has changed.
Eighteen central banks have cut interest rates or launched "Quantitative Easing" programmes whereby they create money out of thin air to buy Government bonds. All of New Zealand's major trading partners have either eased monetary policy or have set their interest rates near 0% for years. The Reserve Bank itself has said the Official Cash Rate is on hold for the foreseeable future.
The scale of the cheap and easy money pulsing around the globe is mind blowing.
Central banks in Sweden, Denmark, Switzerland and the European Union have cut their deposit rates to below 0%. That means other banks have to pay the central banks to look after their money.
JP Morgan estimates there is now US$2 trillion invested in Government bonds that are yielding negative interest rates.
That means investors are so convinced that prices are falling and the money printing will go on for years that they are willing to effectively pay their Governments to look after their money. Two year Swiss Government bond yields are now below minus 1.2%. German ten year 'bunds' are yielding 0.3% per annum and the wisdom of the crowds in global bond markets have been driving bond yields ever lower for most of the last decade.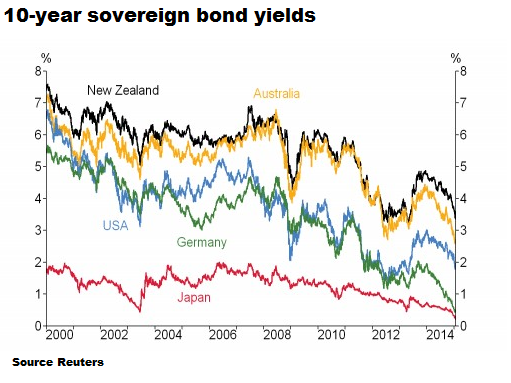 In the last month our two largest trading partners, China and Australia, have eased monetary policy and are expected to cut interest rates even more in the months to come.
Yet New Zealanders, and the Prime Minister, are apparently unshakeable in their belief that interest rates can't fall much lower than they already have and that any interest rate with a 5 in front of it is a great deal.
That was clear in the near euphoria that greeted the TSB's announcement on Waitangi weekend that it would offer a 10 year mortgage for the apparently astonishing rate of 5.89%. Surely, people thought, that rate will never be repeated.
One television network led its nightly news bulletin with the sensation of it.
The next Monday morning Mr Key reflected the nation's celebratory mood in a breakfast television interview with the comment that a 10 year mortgage was a "good thing" and would give borrowers a lot of confidence.
Yet since TSB's announcement, fixed mortgage rates have fallen further. HSBC even set the same 5.29% rate for every mortgage from 1 year to five years. The average two year mortgage rate has dropped from over 6% to under 5.4% since October.
So it's worth challenging the national assumption from the Prime Minister down that interest rates can't fall any further and that fixing for as long as humanly possible with a rate with a 5 in front of it is a good idea.
The assumption is that 5% is 'below normal' and a quick reading of history would suggest that is true. The average two year mortgage rate in New Zealand over the last 10 years is 7.2% and just six years ago it was well over 9%.
But what if the new 'normal' is something much lower than 7%?
The global bond markets have come to that conclusion and both global and local economies keep surprising central banks with unusually low inflation rates and even deflation, despite often solid economic growth and exploding asset prices. It's as if the usual inflation-generating parts of the economic machine are broken.
There is a growing body of thought that cheap and powerful new technology such as smart phones, ageing populations and the globalisation of services are driving prices down all around the world in a way not seen since all of the 1800s, when the first age of industrialisation created regular deflation and interest rates were typically around 3%.
The disconnect between New Zealanders perceptions about 'normal' mortgage rates and the rest of the world is cavernous. In Britain banks offer initial two year fixed mortgages at 1.2%. One Danish bank toyed with the idea of offering mortgages with a negative interest rate this month. That means the bank pays the borrower. The average long term Danish mortgage rate is 2.6% and the average short term rate is 0.3%.
So why are New Zealanders so sure that mortgage rates can't fall much lower over the next 10 years? In late 2008 many Kiwi borrowers leapt at the chance to borrow for five years at less than 8%. Within a year many were paying huge break fees. Just imagine the break fees on a 10 year mortgage if rates fell to European levels.
Mr Key would never dream of committing himself to a policy stance for 10 years, yet was comfortable suggesting borrowers commit themselves to a mortgage for 10 years. TSB even boasted of the Prime Minister's support on its Facebook page.
The mortgage times they are a changin' and borrowers should be just as light on their feet as the Prime Minister is with his policy stances.
-------------------------------
A version of this article was first published in the Herald on Sunday. It is here with permission.