Motu's Catherine Leining on climate change, energy Darwinism, fossil fuels, what the climate movements must learn from religion, whether extreme weather is the new normal & more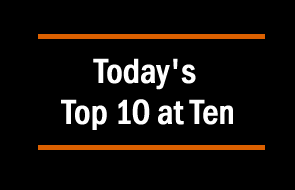 Today's Top 10 is a guest post from Catherine Leining, Policy Fellow at economic and public policy research institute Motu.
As always, we welcome your additions in the comment stream below or via email to david.chaston@interest.co.nz.
And if you're interested in contributing the occasional Top 10 yourself, contact gareth.vaughan@interest.co.nz.
See all previous Top 10s here.

1. Fossil fuel subsidies are trending down.
This is great to hear, especially because reducing fossil fuel subsidies helps reduce GHG (greenhouse gas) emissions, although international government subsidies to fossil fuel companies still totalled between US$160-200 billion between 2010-2014. NZ's Minister of Climate Change Issues and of Trade, Tim Groser, has played a key leadership role on this on NZ's behalf. This doesn't mean there isn't more for us to do. NZ still subsidises fossil fuel research to the tune of $12 million a year and provides other support for oil and gas exploration. Perhaps the government should reconsider this commitment. Motu Senior Fellow Suzi Kerr addressed the different political dimensions around reducing production versus consumption subsidies for fossil fuels in this 2014 interview. 
2. International markets trading emissions.
So far, six nations, including NZ, are explicitly intending to use international markets to trade in order to meet their international commitments around climate change for the period through 2030 (their INDCs – or intended nationally determined contributions). The current dilemma is a lack of sellers and internationally agreed mechanisms that ensure the environmental integrity of trading. This is a great example of how NZ might be able to help innovate in finding more robust ways to structure international emissions trading so that mitigation investment can flow efficiently to the most cost-effective opportunities, allowing global mitigation ambition to increase at lower cost.One thing to note however is that the IEA (International Energy Agency) scenarios appear to cover energy CO2 only and don't look at sinks or other sectors. Some of this reduction would happen through domestic effort under new policy.
3. Energy Darwinism.
This report by Citi Global Perspectives & Solutions (a division of Citi Group) assesses the economic costs and benefits of a low-carbon future, and finds that both the incremental costs and returns on investment appear reasonable. Citi forecasts that the sums of money to be spent on energy (both capital expenditure and fuel) over the next quarter century will be around $200 trillion. I can't speak for the robustness of their results, but it's great to see banks getting involved and exploring climate change solutions from a constructive financial perspective. 
4. Points to consider in the lead up to the Paris talks.
Pep Canadell from Australia's CSIRO has some very sensible points to think about when looking at climate action. Targets are not just about numbers; we should also be looking at the long-term effectiveness of the actions underneath. He uses simple questions that elucidate answers clear answers for those making policy.
5. Climate change seen as top global threat.
I find it fascinating to look at what people in different countries are most afraid of, and how this is impacted by media. It interests me that climate change is seen as the biggest threat in Mexico, China, India and much of South America and Africa, but that ISIS tends to be of more concern to Western and Middle Eastern countries.
6. Fossil Fuels - necessity or lethal indulgence?
This is a great Radio NZ Insight Documentary that really gives a Kiwi perspective on the fossil fuel industry and how NZ should work to combat climate change. 
7. Point Carbon Market Survey.
Because I helped design the NZ Emissions Trading Scheme and continue to work on emissions trading, this vote of confidence for the use of emissions trading schemes in policy was an encouraging read. It's interesting to look back with the vantage point of six months after this was released to see how we're doing internationally now. I believe, however, that this post comparing trading schemes with a carbon tax on our Low Emissions Future Blog is still totally relevant.  
8 What the climate movement must learn from religion.
One of the most interesting reads this year was this piece in The Guardian about how those of us combating climate change can learn from Evangelical Christians. It talks about a transformative moment and how this is needed at an individual level to affect us globally. Sometimes it feels difficult to stay positive in the face of information about future climate impacts if we stick with business as usual, but I believe that we can make powerful strategic choices that will direct us down a brighter path towards a low-emissions future.
9. Is extreme weather the new normal?
Understanding NZ's vulnerability to climate change and building our capacity to "adapt, manage risk and thrive in a changing climate" are among the goals of the Deep South National Science Challenge which is underway. Deep South will improve researchers' understanding of Antarctic and Southern Ocean systems, build our climate change modelling capability, and boost engagement to help make the findings from climate research more accessible to decision makers across sectors. Watch this space.  
10. Angry birds are now angry about climate change.
I love this. A sense of humour and lightness around climate change is sometimes hard to hold onto and a game that enables players to smash emissions is a great way to carry the message.