Amy Duncan on getting the most from our ageing workforce, why we won't lose our jobs to robots anytime soon, the workplace collaboration vs competition debate and more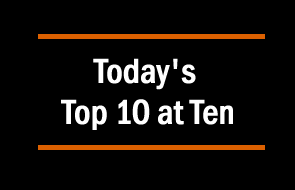 This week's Top 10 is by Amy Duncan, an advisor in Grant Thornton New Zealand's People and Culture team.
As always, we welcome your additions in the comment stream below or via email to david.chaston@interest.co.nz.
If you're interested in contributing the occasional Top 10 yourself, contact gareth.vaughan@interest.co.nz.
See all previous Top 10s here.
1. Could innovation solve the ageing population problem?
New Zealand like many other countries is experiencing the aging population phenomenon and our Government has yet to address the productivity dilemma our aging population may present. The University of Luxembourg's Andreas Irmen and Anastasia Litina offer some insight into the role innovation could play in boosting the productivity of the labour force.
2. From silver to gold – the benefits of mature workers
Naturally, the big issue facing our economy is the mass exodus of baby boomers from their businesses which will occur in the years ahead. This will become critical given the volume of companies they collectively own, but there's also a silent epidemic of discrimination in workforces across the world: ageism. Many businesses are raising awareness of possible age-discrimination and promoting the value of 'mature-age workers'.
3. Oh Canada!
Of course ageism is prohibited by New Zealand employment law, but it's surprising to see how late Canadian states are to the party.
4. The dark side of transparency
The London Business School's Julian Birkinshaw and Dan Cable suggest possible scenarios in which transparency can back fire. The article provides an interesting case study about transparency in employee efforts and rewards.
5. Collaboration or competition?
Today you would be hard pushed to find an organisation that doesn't promote collaboration to achieve team objectives and the business's goals – but is the tide about turn again? HRD journalist, Lauren Acurantes, looks at why businesses should also consider an element of competition to drive success.
6. Fear not – the robots are coming in peace and they won't be here for a while yet…
If you're worried about if or when a robot is going to roll into work to replace you – relax. Research conducted by McKinsey reveals that automation can only reach its full potential with people and technology working together, and that the automation revolution isn't going to happen overnight.
7. Recruitment costs disputed
Last week's EMA Employer Bulletin reveals a court case about a breach of the Wages Protection Act 1983; payroll processing teams should take note!
8. Putting your best foot forward?
You may be familiar with the outcry that occurred in the UK in recent months about a receptionist being sent home after not following the firm's requirement for her to wear '2in – 4in' heels. Last week, News Hub looked at whether such strict and specific dress codes could be enforced here in New Zealand.
9. Managers beware: don't let your cognitive bias get in the way of decision making
A fascinating insight into how our own experiences impact our decision making; and how bringing cognitive biases to the forefront of consciousness can improve management skills.
10. Don't forget to celebrate International Women's Day!
The level of women in senior roles globally has risen just 3% in the last five years, according to Grant Thornton's last annual Women in Business Report. Research also reveals the percentage of senior management positions held by women in New Zealand is steadily declining. How have things changed in the last year? Grant Thornton will release its 2017 report on March 8 – International Women's Day.