The University of Auckland's David Mayes argues reducing the impact of financial downturns should be a higher priority than it is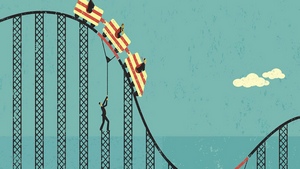 By David Mayes*

There is a lot of talk in this country about minimising financial booms by using the debt-to-income ratio (DTI) to measure loan serviceability. It is a very crude measure, says David Mayes, Professor of Banking and Finance at the University of Auckland Business School. And in any case, that is not where our priorities should lie.
Mayes says that New Zealand has fewer ways to limit the costs of financial downturns than other advanced countries. Righting that imbalance through deposit insurance, deposit and resolution funds, and measures to better manage non-performing loans should come before further attempts to control financial booms.
 "There has been much less emphasis in this country on limiting the impact of a falling housing market and a general economic downturn than elsewhere in the developed world."
He says the Reserve Bank's long-standing Open Bank Resolution (OBR) policy – which allows a bank to remain open after being placed under statutory management – is designed to limit risk-taking, and to encourage private sector solutions for troubled banks.
"But OBR is expensive, because New Zealand does not have deposit insurance, so depositors are likely to feel the impact, and that in turn is likely to have a larger effect on consumers than elsewhere."
Nor are deposit insurance or resolution funds available. The accumulation of such funds when the economy is doing well tends to slow lending growth, and when used, they dampen the effect of a downturn on consumption and economic activity.
Mayes says we also lack other mechanisms that are common elsewhere for reducing the harm of financial downturns, including:
• a system for ameliorating problems with mortgage defaults
• insurance through the public sector
• the facility for sale by banks to a corporation that could restructure mortgages
"The lack of such a safety net is largely due to fears of 'moral hazard', but this does not alter the fact that in a downturn, the costs are higher under the existing framework," says Mayes.
A further approach to minimising the costs of a down phase, which is yet to be addressed in New Zealand, but which is being considered elsewhere, is the handling of non-performing loans, he says.
"The typical cycle with such loans is, first, to fail to recognise their actual or potential size as problems start to emerge, and second, to make insufficient provision for non-performance."
Then, when problems do become apparent, the bank faces twin difficulties, he says. Any actual losses cause capital ratios to fall and more capital is needed at the very time when it is hardest to raise in the market; and, the pressure on capital will result in a much harsher credit crunch, with the bank unable to resolve problem loans or make new, profitable ones.
"In looking at what macro-prudential tools ought to be used, we should therefore avoid focusing on those that restrict lending. This is particularly the case for DTIs, which constrain serviceable loans in order to have sufficient impact on loans that might become non-serviceable in the event of a downturn.
"The focus needs to be on the ability to handle problems in a downturn, at a low cost to society."
---
*David Mayes is a Professor of Accounting and Finance at the University of Auckland Business School.
This article was first published in UABS Insights, and is reproduced with the permission of the University of Auckland Business School.