Amanda Morrall talks to NZ Mint CEO Simon Harding about the red hot market for gold, domestic demand and the upcoming sale of the Fijian double Taku
By Amanda Morrall
An unrelenting demand for gold bullion by foreign and local investors will see the NZ Mint add another coin to its internationally coveted collection.
The Fijian double taku is set to go on the market next week and at current spot prices will sale for around NZ$2,300.
(See interest.co.nz Gold section here for current spot prices).
NZ Mint CEO Simon Harding said the taku, which features the endangered Fijian turtle in replicate, is already on the wish list of eager foreign investors who have placed their orders in advance of a potential Christmas rush.
While the NZ Mint's iconic golden Kiwi remains a perennial favourite among investors, Harding said the golden taku could prove a hot seller too.
"What we can be sure of is that gold likes uncertain times and we're looking at that with the U.S. economy facing the fiscal cliff, with the Bank of England continuing with quantitative easing programmes and the uncertainty of the eurozone. There is a flight in some sectors to the certainty of commodity investment and gold rates highly with investors."
Despite Goldman's Sach Damien Courvalin assertion earlier this week that the bull market for gold had reached the end of the road, many including Morgan Stanley maintain that gold hasn't lost is lustre. Far from it. On Thursday, Morgan Stanley analyst Hussein Allidina declared gold would be the best performing commodity of 2013.
"We maintain our long-standing recommendation of overweight exposure to precious metals as conditions underpinning the gold bull-run largely remain in place," Allidina publicly stated. (See Business Insider story here for more).
It's a prediction that bodes well for NZ Mint. Through the global financial crisis, the business has doubled.
Harding, who bought the company in April, said growth is being driven from within and outside New Zealand's borders.
"New Zealand investors are becoming more sophisticated. New Zealand doesn't traditionally have a bullion investment culture and that's gradually changing. Obviously there has been a series of people who have been adversly affected by the share market crash firstly, then the more recent finance company sector crash. The absolutely certainty of gold has been attractive."
Foreign investors are also hungry for it.
"We're perceived as a safe haven for overseas investors. We have large U.S. and European clients who deliberately chose NZ Mint as an investment vehicle because we are perceived as being politically stable, we are geographically remote and that's attractive for people looking for a bolt hole."
Harding said domestic and foreign demand have been equal contributors to the company's growth.
"Both strands of our business have increased dramatically. It's now not uncommon for mum and pa investors to turn up and take a bullion position."
So what's the appropriate amount of gold one should have in their portfolio?
The accepted range seems to fall between 5 and 10%.
Would Harding agree?
"Five to 10 is conservative. I think there are a few advisors who would recommend (and I'm not one of them) that you take all your investment in gold but many people would view it as a part of a conservative portfolio to hold a small percentage in gold or silver."
Harding said silver bullion coins have rivalled gold in popularity although prices have been more volatile.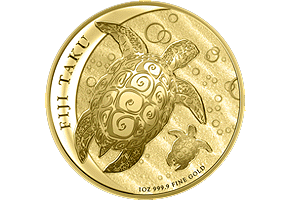 "It's been up and down and silver has a much larger industrial use which tends to effect pricing.''
Harding was also keen to point out that gold, as an asset class, has out-performed residential property over the past 10 years.
While New Zealand Mint sources its gold from around the world, Harding said its supply chain tends to be Switzerland, South Africa and Australia.
"It's a homogenous commodity, "he said. "Anyone of these coins probably contains an element of gold from Biblical times, an element from the 16th Century, potentially from the Holocaust, it could have been dug out of the ground a year ago. Once it's refined and mixed it becomes an untraceable commodity in terms of its origin.''
While high demand has led to supply problems in the past, Harding said sourcing it was not an issue right now with stock held on site and large or specialist orders taking a few weeks to fill.
That said the Pacific Sovereign, legal tender in Fiji, will be off the market soon for New Zealand investors.
A German coin house has undertaken to buy the entire mintage for the next five years, said Harding.
That could be good news for those holding the Pacific Sovereign as scarcity could push up their value.