Shrinking the McMansion? 'Yeah right!'; Expanding disequilibrium; Five stupid money fantasies; Well-being and money; Protecting yourself against sexually transmitted debt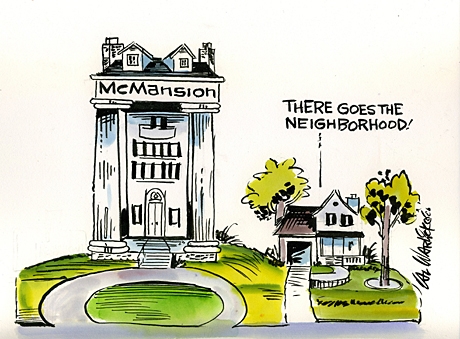 By Amanda Morrall
1) Shrinking the McMansion
So, your retirement fund is a bit thin, possibly anorexic, but you think you have it covered because you're planning on downsizing that four or five bedroom home when it becomes too unmanageable in old age? That's all well and good provided someone pays what you think it's worth. And therein lies the danger that many financial planners are signalling given looming affordability problems for Gen Y and Z. Vanguard Investments explains why shrinking the McMansion is not a reliable retirement financing plan. The times they are a changin'.
2) Expanding disequilibrium
The latest posting in the Economist's Buttonwood blog, explores the vagaries of the financial markets, finance's expanding role in the economy and the inherent dangers for investors trying to chase returns. The columnist opines that investors will be better off in simple index trackers but predicts they'll rush into high risk alternative funds instead.
3) Five stupid money fantasies
Another ill-fated solution to the anaemic retirement fund? Vain hopes of winning the lottery, marrying rich, becoming an Internet billionaire...Learnvest.com explains why these and two other common financial fantasies are not only foolish but deadly to your personal financial well-being.
4) Well-being and money
Motley Fool's Robert Brokamp, in this sequel to his latest blog on longevity, explains why health and well-being are a crucial part of financial planning. Brokamp also fills us in on his personal plan to get fit in 2013 and his aspirations to reform his "awfulizer" worrying ways. Can I suggest yoga Bob? Does wonders for anxiety.
5) Sexually transmitted debt and how to prevent it
Claire Brown, writing for Get Rich Slowly, looks at the widespread problem of sexually transmitted debt, and how to avoid it. See also my interview with Dun & Bradstreet's John Scott on what steps you ought to take to contain the problem in the event of a break-up.
To read other Take Fives by Amanda Morrall click here. You can also follow Amanda on Twitter @amandamorrall or at www.amandamorrall.com