Have your say: Auckland councillor who suggested creation of trailer parks would help fix city's housing shortage accused of being in 'la-la land'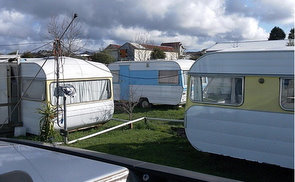 An Auckland councillor has suggested the city create trailer parks to help fix a housing shortage that if not addressed could be in the hundreds of thousands within 30 years, Radio New Zealand reports.
George Wood's suggestion at yesterday's council meeting was rubbished by other councillors, who said Wood was in la-la land if he thought trailer parks would help fix the city's property squeeze which has seen prices rise while the property market in the rest of the country remained stagnant.
"I think trailer parks is an extreme kind of example, but it's something that we may have to look at because housing for families, and especially for young people is such an important aspect of our way of life," Wood said on Radio NZ.
Radio New Zealand reported the Auckland council saying the shortage was as much as 10,000 homes, which left unchecked would rise into the hundreds of thousands in 30 years.
Councillor Cathy Casey rubbished the trailer park idea:
"It's not a solution, so it has to be a joke. Anybody that can imagine that a transit camp is a solution to a housing problem is in la-la land, because a transit camp is not an appropriate environment to bring up kids," Casey said.
Your view?
Is Wood in la-la land?
Is the Auckland housing market at the point where trailer parks would prove popular, even as a temporary fix while more houses are built?
What confidence does this give you that the Auckland Council is taking seriously the issue of housing affordability in their city?