Building and Construction Minister Maurice Williamson to make leaky homes announcement around 2pm today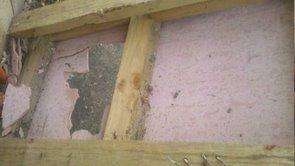 An agreement has been reached between the government and the banks on a loss-sharing arrangement for bank loans made for the repair of leaky homes that turn sour.
That means leaky home owners eligible for the government's financial assistance package will be able to sign up to the scheme from Friday.
Interest.co.nz understands the arrangement will see government generally cover between 15-25% 15-35% of bank losses on defaulted loans, although the extent of the cover – where it falls in that range - will depend on the individual circumstances of the loan.
[Update: Building and Construction Minister Maurice Williamson has provided a further possible range of 15-35% of losses covered by the Crown. See below.]
Building and Construction Minister Maurice Williamson gave further details of the loss-sharing arrangement on Thursday afternoon, saying the scope of losses covered by the Crown would be on a case by case basis, with the range anywhere between 15-35%, although in general about 20%. The loss-sharing agreement would last 10 years, Williamson said. 
The amount covered by the Crown depended on the ratio of the bank loan for repair, over how much debt the homeowner already owed on the home plus the new debt taken on.
If the homeowner were to default, that ratio would be how much the Crown would cover on the final loss, once the property was sold. 
An example would be:
A leaky homeowner currently owed NZ$400,000 on their property. The total repair cost came in at NZ$200,000 – with the homeowner having to cover half of this with a bank loan (the other half was covered by the central and local government's 25% cost cover).
"Now your ratio is 100 [thousand] over 100 plus 400 [thousand], so 100 over 500, which is 20%," Williamson said in an interview with interest.co.nz on Thursday afternoon.
"Now if finally the property goes into the fold and get sold up and it turns out there's a loss on the entire estate of, say, NZ$200,000, we're up for one-fifth [20%] of that, which is forty grand," Williamson said.
"We're up for a fifth – our share [of the loss] is the loan that was for the repair over the total amount of debt and in this case it would have been 20%. Case-by-case," he said.
Williamson said Thursday afternoon that the financial assistance package would be available from Friday after government and the banks had reached an agreement on specific details.
Although the package was passed into law earlier this month, details on any loss-sharing arrangement between government and the banks carried on in search of a common stance. Interest.co.nz understands a formula has been devised to calculate the extent to which government will cover banks' losses on loans defaulted on, given for the repair of leaky homes.
Under the scheme, government will pay 25% of affected homeowners' repair or rebuild costs, while in some instances if a local authority signed off the building consent for a dwelling, that authority would also pay 25%.
That leaves the homeowner to source either 50% or 75% of repair costs themselves, which would generally have to come from a bank mortgage.
However not all eligible homeowners may actually be able to source that 50-75% funding, as they must meet first be able to meet bank lending criteria around security and loan servicing.
See further details in this document from the Department of Building and Housing.
'It's all go'
In a media release on Thursday afternoon, Williamson said the package would be available from Friday.
"Now that all parties have agreed to the financial assistance package we will see more leaky homes fixed rather than homeowners spending thousands of dollars in costly litigation," Williamson said.
"I am proud that this Government has been able to deliver owners of leaky homes a positive, alternative way of getting their home fixed so they can move on with their lives," he said.
Homeowners who want to know whether they qualify for the package should visit the Department of Building and Housing website at www.leakyhomes.govt.nz.
NZ$11 billion problem
A 2008 estimate from PricewaterhouseCoopers put the overall costs of leaky homes at NZ$11.3 billion, although the costs could blowout to twice as much as that.
Only homes built within a ten year timeframe will be covered by the package, although homeowners approaching the limit can sign up to the Weathertight Homes Resolution Service to 'stop the clock ticking', and will be covered by the legislation if they applied before their home was ten years old.
A Department of Building and Housing report dated January this year estimated there were 23,500 eligible leaky dwellings to be fixed. This figure was based on a consensus forecast from a PricewaterhouseCoopers (PwC) report commissioned by the Government in 2009 suggesting 42,000 dwellings were likely to be leaky homes and only about 3,500, or 8%, had been repaired.
At the time of the PwC report it was estimated about 9,000 homes had fallen outside a 10-year liability limit, with another 6,000 homes estimated to have fallen outside this limit since the report was issued.
"It is estimated (therefore) there are 23,500 eligible households, so if as officials predict 70% of them take up this financial assistance package that equates to 16,450 leaky homes," the Department of Building and Housing said in January.
The PwC report estimated between 22,000 and 89,000 homes were leaky with the consensus forecast of 42,000. PwC estimated the total cost of fixing 42,000 leaky homes, including repair and transaction costs, at NZ$11.3 billion in 2008 dollar terms. The Government is currently incurring costs of about NZ$19 million a year running dispute resolution and related services. See the Government's Regulatory Impact Statement on the leaky home financial assistance package here.
The Government estimates the average cost of repair at NZ$27,500 to NZ$410,000 for stand alone houses depending on the level of repair needed from minor to full reclad, and NZ$16,250 to NZ$156,250 per unit for multi unit dwellings.
Not the only option
The package is not the only option for homeowners, who may instead choose to pursue legal action agains the local authority who signed off the building consent for their home. However this option would not be available for those who sign up to the assistance package, with government including a provision in the legislation that those who receive the government assistance cannot take further legal action against local or central government.
The NZ Bankers Association, which represented banks in the negotiation, welcomed the conclusion of negotiations:
The New Zealand Bankers' Association (NZBA) today welcomed the government's financial assistance package (FAP) for leaky homes which will provide a further option for affected home owners. 

The package will offer a government contribution of 25% of the cost of approved repairs to eligible home owners to repair their homes, and home owners may be eligible for a further contribution of 25% of the cost of approved repairs from their local authority. Home owners will then need to fund the balance of the repair costs. It is expected that many home owners who are eligible for the package will do so by way of borrowing from their bank.

"Eligibility and affordability are key elements of the package," said NZBA chief executive Sarah Mehrtens. The package announced today will go a long way towards helping in this area. Banks will work closely with affected home owners to see how they can assist.  It is important to note that lending criteria conditions will still need to be met.

"Banks have for a long time been working to assist customers who own leaky homes, and what is pleasing about this package is that it does provide some property owners with a further option," said Mehrtens. Other options that already exist include the Weathertight Homes Resolution Service.

"Customers will need to carefully consider which option best suits their needs. We encourage them to take independent legal advice because the FAP may not be appropriate for everyone," said Mehrtens.

Member banks that have agreed to work with the government are:

·         ANZ National Bank Limited

·         ASB Bank Limited

·         Bank of New Zealand

·         The Hongkong and Shanghai Banking Corporation Limited

·         Kiwibank Limited

·         SBS Bank

·         TSB Bank Limited

·         Westpac New Zealand Limited.

Customers of other banks can also seek assistance from the Department of Building and Housing under the package.

Affected home owners are encouraged to contact the Department of Building and Housing for more information on the FAP and to determine whether they are eligible for assistance under the scheme.
(Updates with comments from Williamson, background, NZBA reaction, release from Williamson, understanding banks and government have agreed on arrangement.)