Four year's after Bridgecorp collapse debenture holders get 1st repayment of just 3.5 cents in the dollar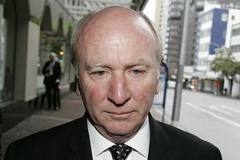 More than 14,000 beleaguered Bridgecorp' secured debenture holders will finally get some of their NZ$459 million back this week more than four years after the property financier's collapse. But it'll only be 3.5 cents in the dollar and they've been told again to expect less than 10 cents in the dollar in total.
Bridgecorp's receivers PricewaterhouseCoopers (PwC) said today they were pleased to confirm an interim dividend will be paid to secured debenture investors this week.
"Last month we signalled an interim dividend of between 3 and 3.5 cents in the dollar," PwC Partner Colin McCloy said. "We are pleased to announce an interim dividend of 3.5 cents is now being distributed."
"The receivers remain of the view total recoveries to secured debenture holders will be less than ten cents in the dollar," McCloy added.
Last month McCloy said the payment was possible because matters with the Inland Revenue Department had been resolved. McCloy said the IRD's NZ$3.9 million claim had been reduced to NZ$3.6 million and paid in full.
Bridgecorp was tipped into receivership by trustee Covenant Trustee Company on July 2, 2007. Former Bridgecorp managing director Rod Petricevic and ex-finance director Robert Roest have a trial set for next March stemming from charges brought against them by the Serious Fraud Office. Petricevic, Roest, former Bridgecorp chairman Bruce Davidson, and two other ex-directors Gary Urwin and Peter Steigrad, are also facing charges brought against them by the Securities Commission , now Financial Markets Authority, with that case due in court in September.
The FMA alleges the directors made untrue statements in investment statements and registered prospectuses in December 2006. The statements concerned Bridgecorp's overall financial position, solvency, and liquidity which the FMA believes had been substantially deteriorating since June 30, 2006. These charges carry a maximum penalty of five years in jail or fines of up to NZ$300,000.
The SFO's charges against Petricevic and Roest include the allegedly fraudulent acquisition of a luxury boat, the Medici, bought using Bridgecorp funds totalling NZ$1.8 million. It also alleges NZ$1.2 million of "dishonest payments" of Bridgecorp funds authorised by Petricevic to a business called ABb operated by Janita Wright, a personal acquaintance of Petricevic. These charges carry a maximum potential jail term of seven years.