Median weekly rent for three bedroom Auckland houses surged NZ$55 to NZ$550 in February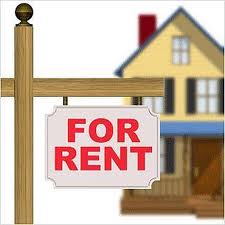 By Gareth Vaughan
The weekly median rent for a three bedroom Auckland house jumped NZ$55 during February to reach NZ$550, the highest level since interest.co.nz started tracking the data six years ago.
February is traditionally a busy month in the rental market as the summer holiday season ends and tertiary students return to their studies.
However, the February move this year easily outstrips anything seen in the month of February since interest.co.nz started tracking the data in January 2006, with NZ$550 also the highest weekly median rent for an Auckland three bedroom flat recorded over those six years.
The data is the weekly median rent based on bonds registered and comes from the Tenancy Bond Service of the Department of Building and Housing. The Auckland median covers the old Auckland City Council area.
In February last year the weekly median rent for a three bedroom Auckland house actually fell NZ$3 from January to NZ$462. In February 2010 it was unchanged at NZ$450, it rose NZ$3 to NZ$450 in February 2009, rose NZ$5 to NZ$430 in February 2008, was up NZ$5 to NZ$400 in February 2007, and was flat at NZ$390, month-on-month, in February 2006.
Despite the rise in the median rent for three bedroom Auckland houses, or perhaps because of it, the number of rental bond transactions has been trending lower. (See chart below).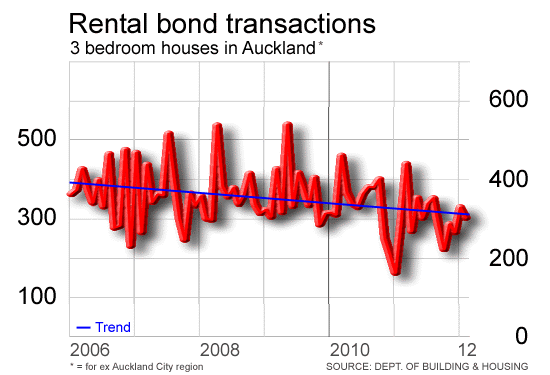 Meanwhile, figures from Crockers Property - based on Real Estate Institute of New Zealand and Department of Building and Housing data - show January weekly median rent prices for three bedroom houses in Auckland suburbs ranging from a high of NZ$715 in Ponsonby to a low of NZ$340 in Papakura and Pukekohe. The Ponsonby figure is up NZ$75 year-on-year with the Papakura figure unchanged and Pukekohe up NZ$10.
Among specific suburbs In West Auckland - Glendene, Glen Eden and Massey - it was up NZ$20 year-on-year to NZ$370, up NZ$60 to NZ$540 in Takapuna and Milford, up NZ$90 to NZ$525 in Point Chevalier and Mt Albert, up NZ$10 to NZ$460 in in One Tree Hill and Ellerslie, and up NZ$60 to NZ$490 in Howick, including Bucklands Beach and Botany.
House prices also rising
The strong rise in median Auckland rents comes with house prices also at historically strong levels. Barfoot & Thompson, Auckland's biggest real estate agent, said last Monday it sold more houses in February - 764 - than in any February since 2007 - 1,033 - with the average price up 1.2% from January to NZ$536,069. And the latest figures from government owned property valuer Quotable Value show values in the Auckland region increasing faster than in any of the other main centres, up 2.1% in the three months to January, and up 5.1% year-on-year to NZ$527,617, to be above the previous - 2007- market peak by 1.9%.
Meanwhile, the weekly median rent for a two bedroom Auckland flat rose NZ$10 in February from January to NZ$360, taking it back to the high recorded last November.
In Wellington the weekly median rent for a three bedroom house rose NZ$5 in February to NZ$480, which takes it back to the level reached last March, the highest in interest.co.nz's six-year database. In Christchurch it was unchanged at NZ$350, again the highest level in the six year period covered. 
For two bedroom flats, the Wellington median rent was up NZ$10 month-on-month to NZ$340, although this is shy of the NZ$345 of February 2011. And in Christchurch the two bedroom flat median weekly rent was unchanged at NZ$250 in February, well shy of the NZ$280 recorded in August last year.
The national three bedroom median rent was unchanged at its high of NZ$330 in February, and the national two bedroom flat weekly rent median was up NZ$5 to NZ$265, although this is below the NZ$270 peak of February 2008.
This article was first published in our email for paid subscribers this morning. See here for more details and to subscribe.