Who owns all the homes? MPs own all the homes: New Zealand's 121 Members of Parliament own at least 292 properties between them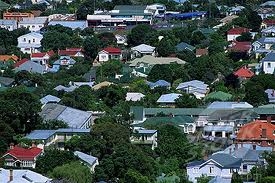 By Alex Tarrant
New Zealand's 121 members of Parliament own, or have interests in, at least 292 properties between them, according to Parliament's latest register of pecuniary interests.
That's an average of 2.4 properties each. However, that's most probably an understatement as 60% of MPs declared a beneficial interest in a trust, while some just registered "properties" without giving exact figures. Some of our Maori MPs also have large interests in communally-owned land.
Only ten of our MPs didn't declare that they owned, or had an interest in, any property. Included were Auckland Central MP Nikki Kaye and Labour contender Jacinda Ardern, who have both publicly said how hard and expensive it was for them to buy houses in their electorate.
Among the remainder, 40 owned just one property - generally the family home. That left 71 owning two or more properties - about 60% of all MPs.
National's Napier MP Chris Tremain registered the biggest holding of 20 properties, including his family home, a bach, three parcels of land, five residential investment properties, four apartment residential investment properties, and six commercial investment properties.
National list MP Jian Lang came in second, with eight properties - the family home and seven rentals.
In fact, National MPs held the top 12 spots outright. Of National's 59 MPs, 55 registered that they owned, or had an interest in, property. Of these, 40 owned more than one property.
Prime Minister John Key had six properties to his name, including his Maui beach house. Labour leader David Shearer had three. 
The best Labour could muster for any one MP was four properties, for each of Raymond Huo, Shane Jones, Iain Lees-Galloway, Sue Moroney, and finance spokesman David Parker. Thirty-one of Labour's 34 MPs owned property; 19 had more than one.
West Coast-based Green MP Kevin Hague also registered four properties. Greens co-leaders Russel Norman and Meteria Turei each listed a family home. Eleven of the Greens' 14 MPs owned property, with five owning more than one.
Perhaps competing with the Prime Minister's beach views, but probably not the heat, was Green MP Mojo Mathers' interest in Lamledra House (owned by a trust), in Gorran Haven, Cornwall, the UK.
New Zealand First Leader Winston Peters also registered four properties. All eight of NZ First's MPs owned property, with three owning more than one.
ACT leader John Banks registered an interest in just a family home, while Mana's Hone Harawira registered two family homes, and UnitedFuture leader Peter Dunne a home and bach.