Cost of upgrading NZ's 15,000-25,000 earthquake-prone buildings between NZ$2 bln and NZ$12 bln, Ministry of Business, Innovation and Employment estimates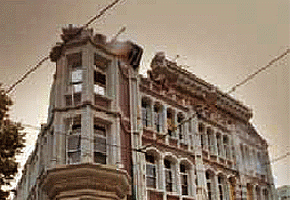 By Alex Tarrant
It will cost nearly NZ$2 billion over 15 years to upgrade all earthquake-prone buildings in New Zealand to standards proposed by the Ministry of Business, Innovation and Employment.
However it could cost up to NZ$10 billion more than that, according to more stringent options being considered.
Building owners were unlikely to be given any tax incentives to upgrade buildings, Building and Construction Minister Maurice Williamson said about an option asked for by the Property Council.
New recommendations released by Williamson on Friday were based on a report from a Royal Commission investigation into the Canterbury earthquakes. The public is now being asked to provide submissions on the recommendations before they are enforced.
Read the Royal Commission's Final Report, Part Two (Volume 4) here.
Read the Ministry of Business, Innovation and Employment's public consultation document here.
There were between 15,000-25,000 'earthquake-prone' buildings in New Zealand, the Ministry said. It recommended the current definition of earthquake prone remain the same at 33% or below new building standard.
Ministry officials stressed the 15,000-25,000 was a "very ballpark" best estimate. It represented about 8-13% of all non-residential and multi-unit, multi-storey residential buildings.
The Ministry recommended all buildings in New Zealand – excluding most residential buildings – be assessed within five years for how earthquake prone they were. Residential buildings higher than two stories and with three or more dwellings in each could be included.
Critical buildings like schools and hospitals would have to be assessed faster than the five years proposed.
Owners of buildings below 34% new building standard (NBS) would then be given 10 years to strengthen or demolish the buildings. Williamson noted the 34% NBS related to seismic risk in each location.
The Royal Commission recommended unreinforced masonry buildings should have to be strengthened within seven years of any law change, although MoBIE questioned whether this would be feasible.
Estimates provided by the Ministry put a cost of NZ$1.717 billion on upgrading all prone buildings to 34% NBS, although they estimated NZ$37 million in 'benefits' from the work, giving a net cost of NZ$1.680 billion.
If that work was to occur over 28 years, under the current building regulation system, the net cost would be less, at NZ$933 million, the Ministry said.
Other options gave higher costs:
To upgrade all buildings to 67% NBS over 15 years would cost NZ$7.692 billion, and give benefits of NZ$89 million
To upgrade all buildings to 34% NBS in 10 years would cost NZ$2.194 billion, benefits of NZ$47 million
To upgrade all buildings to 67% in 10 years would cost NZ$9.829 billion, benefits of NZ$114 million
To upgrade to 34% NBS in 5 years would cost NZ$2.798 billion, benefits of NZ$60 million
To upgrade to 67% NBS in 5 years would cost NZ$12.533 billion, benefits of NZ$145 million.
Williamson said that final option would be "catastrophic."
"The building stock in New Zealand would be pretty much uneconomic," if the 'gold standard' was demanded, Williamson said.
"The recommendations contained in the Royal Commission's report could have significant economic implications for those building owners," he said.
"We believe it's important to provide a workable balance, while still being realistic about what is practical and affordable. We want to get the views of New Zealanders to ensure our earthquake-prone building policy is robust."
Tax incentives unlikely
The Royal Commission noted a submission from the Property Council that there should be changes to the taxation regime to allow for the deductibility of earthquake strengthening expenditure.
While the Commission said this was not a matter on which it could properly make a recommendation on under its terms of reference, "we record our view that it is important that barriers to addressing the risk posed by earthquake-prone buildings are considered, and removed or mitigated as and where possible."
But Williamson told media he would be "very, very reluctant" to recommend such a move.