Alistair Helm wonders how many vendors are being told that their agent will likely earn more if their sale is by auction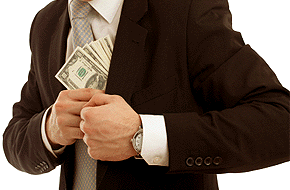 The real estate industry keeps telling us that auctions are the best way to sell a property in today's market.
They reiterate that nationally 20% of properties are sold by auction and in Auckland that number is 40%.
Leaving aside whether those numbers are truly reflective of a successful sale at the fall of a hammer at an auction, there is another side to this Pied-Piper-like behaviour by agents to encourage sellers to choose auctions.
It is simple and yet not as well reported as the "success rate".
Real Estate agents are being financially incentivised to persuade vendors to go for an auction.
I have been provided with information that shows that a real estate agent listing a median priced house in Auckland today could earn an extra $2,000 by gaining the listing as an Auction than as a standard Sale by Negotiation.
The extra $2,000 would be in addition to a standard earning of $5,300. That is, in effect a 40% bonus incentive to list a property as an Auction.
Here are the facts:
The sales commission payable by the vendors for a median priced Auckland property today would be $20,528 inc GST based on a $600,000 sale price.
It is likely that on average the real estate company will pocket 40% of this commission ($7,140) and then distribute the balance ($10,710) to the agent or agents involved in the successful sale.
If the agent who lists the property, also successfully sells the property with no other agents acting for or introducing a buyer then the sole agent will pocket the full $10,710.
However, if as does occur especially in larger companies and as a function of the heated property market, buyers are introduced to properties by eager agents, then these agents described as  "selling agents" are entitled to a split of the commission with the listing agent. 
This is where the real estate company leverages that incentive.
If you list a property as as a standard 'for sale by negotiation' or as simply a priced property and the subsequent sale involves a separate 'selling agent', then you as the listing agent pick up just 50% of the commission – you take home $5,355, and the selling agent picks up $5,355.
If however you persuade the vendor when you list a property to take it to an Auction sale (or a Tender) then you as the listing agent will receive not 50% of the commission but 70% - allowing you to take home $7,497 with the selling agent getting just $3,213. Therefore as an agent listing a property as an Auction in a way secures you a higher guaranteed income than as a standard listing.
Now there is nothing wrong, illegal or unprofessional with companies providing sales people with incentives to encourage performance or direct outcomes that suit the company – that is human nature and how commerce works and has done for centuries.
However when it comes to selling a home there is a deeper principle of conduct that should be paramount above and beyond the personal financial motivation of agents and their bosses.
After all their clients as vendors of houses look to agents to advise them on how to sell as vendors are not that aware of the best approach.
That is why the Real Estate Agents Authority, the governing body that oversees, regulates and administers the industry in their latest update to their Code of Conduct specifically included the requirement for agents to disclose to their clients any financial benefit they may receive as a result of a choice in how to sell their house.
Clause 10.5 of the Real Estate Agents Act (Professional Conduct and Client Care) Rules 2012 states:
Before a prospective client signs an agency agreement, the licensee must explain to the prospective client how choices that the prospective client may make about how to sell or otherwise dispose of his or her land or business could impact on the individual benefits that the licensee may receive.
Are agents actively informing vendors when they recommend an Auction that they may be receiving a benefit in recommending this approach to selling? – who knows, it is a legal requirement of all agents to make sure they do.
---------------------------------------------------------------------------------------
The above article was written by Alistair Helm, and is republished with his approval. The article was originally published on Properazzi here